FLS Transportation Services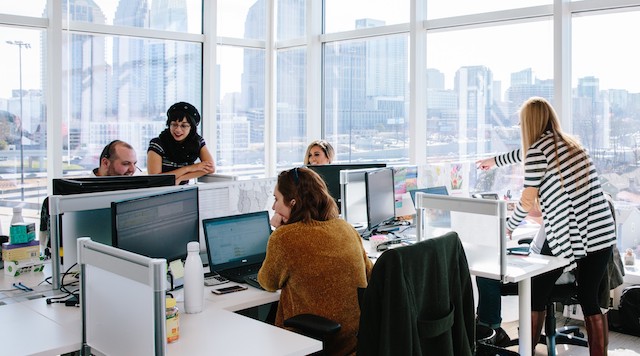 FLS Transportation Services aims to grow with positive changes in culture, technology and communication.
By Mark Lawton, Senior Editor at Knighthouse Publishing
When John Leach started at FLS Transportation Services, he inherited a $400M company that had a successful 32-year track record in third-party logistics.
FLS Transportation was founded by three people in 1987, two of whom were with the company through its 2016 purchase by ABRY, a private equity firm based in Boston, and then for two more years. Leach, who previously was chief commercial officer at Coyote Logistics, took over as CEO of FLS Transportation Services in summer of 2018. FLS is a third-party logistics broker that focuses on U.S. domestic and cross-border traffic. While it moves goods by various modes, it mostly arranges full truckload trucking, both dry and refrigerated. The company ranks 28th in size in North America based on revenue. It has six offices in Canada and four in the United States.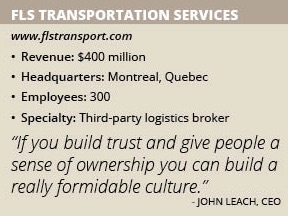 Leach describes the third-party logistics industry as both highly fragmented and highly competitive. "The barriers to entry are few," he says. "There are thousands of very small brokers that offer any number of different services. FLS has size and scale and the tenure of having been around 32 years. People can trust us to perform and be there."
Culture of Accountability
Leach decided to focus on people, technology and culture when he came on board. He brought in new senior executives to handle sales and marketing, operations and human resources. They joined a CFO and two sales presidents who stayed. "We have a good blend of existing people and new," Leach says.
With those people in place, FLS and Leach decided to work on company culture, specifically a culture of accountability. FLS now has a detailed budgeting process accessible down to the branch director level. "We give them the ability to plan from the bottom up that we are trying to marry with the bottom down to give them a sense of ownership of the business and the branch office," Leach says. "If you can gain trust and give people a sense of ownership, you can build a really formidable culture."
Building trust means that both Leach and upper management are willing to be held accountable. "That two-way accountability is important," Leach says. "If we do what we say we are going to do, trust builds."
Key to encouraging a culture of accountability is improving communications. We decided early on to be transparent around how the business was doing and how each office was operating. We highlighted our standout performers," Leach says. "This was new to the organization but built a sense of competition and community."
Leach has visited the different offices and met with both directors and employees. The senior operating officer and chief people officer are doing the same. The company started published a monthly newsletter, too. "If people have a clear idea what the goal and have a say in developing them, they will respond positively to that," Leach explains.
Technology Move
"I think the biggest issues third-party logistics providers are facing is the demand for better technology," Leach says. "There is a demand for greater visibility in the supply chain along with greater communications between shippers and carriers and brokers. Companies that are not thinking about integrating their operating system with a CRM are going to limit themselves."
Leach warns that "If you are not actively looking for ways to improve your technology, you will get passed by, at some point. This technology focus has created opportunities for those on the leading-edge and will be a headwind for people not acting on it."
The company chose Revenova, an Illinois-based firm, to supply its transportation management system. "The operating system is built on SalesForce, which is a very robust platform," Leach says. "It can support our size today and scale to handle our future growth."
Leach says Revenova will help FLS as it integrates it CRM with its transportation management system. "I think the ability to operate in an integrated system is crucial for success," he says. "This integrated approach allows us to access data quickly from multiple departments. We handle customer demands seamlessly and are able to report on activities and provide visibility to our sales, shipper and carrier partners." he says.
Finally, Leach also admires the flexibility of Revenova's TMS system. "We can not only benefit from the upgrades they are doing but we can internally develop options that are of interest to us and that may or may not be on their radar," Leach says. "We will be able to use it today in a fairly standard way but configure it over time to make it more FLS-specific."
Tradition and Future
FLS has a history of rich traditions. ""That's a good foundation to build on," Leach says. "Investing in people and developing them, investing in demand generation and holding people accountable to results are all brand-new ideas to the company. [Change] doesn't happen overnight. It takes being disciplined, consistent and living up to message."
For the future, FLS is getting ready to introduce a demand-generation program that focuses salespeople. It has an integrated marketing plan that involves using content marketing and thought leadership marketing to drive people to the company's new website, which is scheduled to launch in March. The company will soon introduce a new logo and new color scheme. "FLS will have a really neat new look and feel," Leach says.
While FLS has expertise in shipping good across the U.S.-Canadian border, it aims to find more domestic shipping business within the United States. "The U.S. market provides significant opportunity and we plan to take advantage of that," Leach says. "We have relationships with large U.S. shippers who know us in Canada and are beginning to learn about our U.S. domestic strengths. We are very excited to write the next chapter of the FLS story."