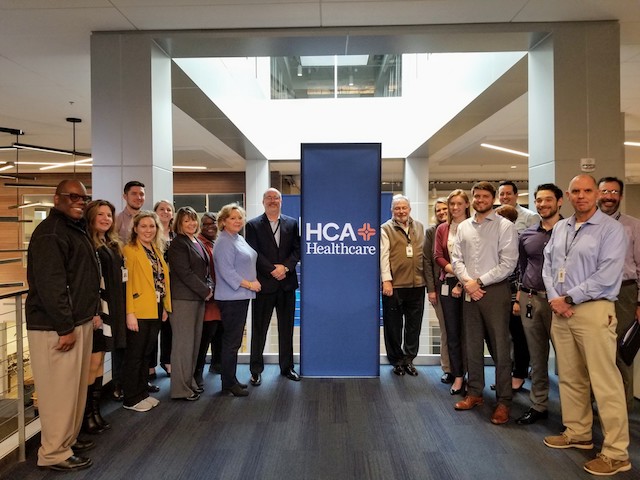 With five centers of excellence, HCA Healthcare's IT Procurement department is finding efficiencies and supporting a high level of care.
By Staci Davidson, Senior Editor at Knighthouse Media
HCA Healthcare has more than 31 million patient encounters each year and treats 8.8 million emergency room visits annually. That is a lot of treatment to provide, but HCA is dedicated to remaining a leading provider of healthcare services with its focus on best practices and improving its communities. The company has locally managed facilities that include 185 hospitals and 123 freestanding surgery centers in 21 U.S. states and in the United Kingdom, and remains a leader in its field with support from various parties. One of which is Chris Rhinehart, associate vice president of IT procurement, and his growing team.
Rhinehart is five years into his role, and takes pride in the centers of excellence he and his team have developed to strengthen its support for the HCA operation. The primary goal in all the team's work is to ensure HCA's clinicians can deliver the highest level of care to its patients. "We have been defining and building out an IT-focused procurement department for HCA," Rhinehart explains. "Like with other organizations, there is often an IT-focused specialty division. HCA arrived at the decision to specialize in IT because it takes a special skillset to effectively source, buy and negotiate IT-related products and services."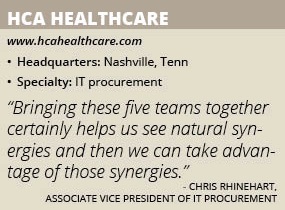 The IT Procurement department's areas of excellence are all focused on enhancing the HCA operation. There are five different functions:
* Contracting covers everything related to IT contracts;
* Strategic sourcing manages the sourcing process for HCA's products and services, larger-dollar purchases and contracts and items it should buy that are critical to the success of the organization;
* Vendor management allows IT leaders to leverage their expertise in managing vendor relationships and contracts;
* Purchasing initiates, issues and manages all of the purchase orders; and
* The contingent workforce program manages all of contract labor and outsourced labor needs for corporate IT work efforts.
"Bringing these five teams together certainly helps us see natural synergies and then we can take advantage of those synergies," Rhinehart says. "This has led to efficiency in terms of issuing purchase orders or contracts, and it shrinks the time needed to negotiate a new deal. The better we get at it, the more the teams are working together to gather and share information, and we've gotten better at how we go about negotiating, which can result in better terms and pricing from our vendors."
Additionally, acting as a center of excellence allows a team to provide counsel and/or leadership when there are vendor disputes or general vendor management issues for the organization, he notes. The IT Procurement team is increasingly involved in helping to define HCA's technology roadmap by facilitating discussions among leadership throughout the company's operations.
"We are helping coordinate with teams that often are not aware or don't realize other parts of the organization are working on something similar and may be talking to the same vendors about similar technology," Rhinehart explains. "We can bring those discussions together because it's our group's natural tendency to centralize these types of efforts.
"I've been in procurement-type roles for most of my career, so in one way or another I have been responsible or held a staff-level position for these five responsibilities," he continues. "When building something from the ground up, you have to realize there's more than one way to do it, so you have to find what's appropriate for your organization at the current time, in a future state or both. Our scope is to support corporate's needs and the shared service infrastructure."
New and Exciting
A few of HCA's IT Procurement teams are relatively new, so Rhinehart and his people are focused on training and education – not only for the procurement team, but also for the overall organization. The teams also are taking "an honest assessment of the tools we're utilizing" and doing a gap analysis, which requires a lot of customer outreach, Rhinehart says. The key, of course, is to build upon the positives, reduce the negatives and eliminate anything that does not bring value to the HCA organization."
"We are committed to keeping the patient at the center of our focus, always doing the job the best we can to improve the delivery of care," he says. "Our culture, from that perspective, is very much about having a can-do attitude.
"The very nature of the industry we work in sets our IT department apart from many others," Rhinehart adds. "Being in healthcare, we need every day to keep our focus and attention on the ability of our clinicians to provide care in a quality manner. In healthcare in general, IT is more and more a part of it, if not the center of advancements in the industry. The major advancements will almost certainly have an IT component or come from technology, and being a part of that is exciting. That is what is special about IT careers in general, you get to be a part of new and exciting things, and in healthcare, the folks really embrace that aspect of what we do."