Uber's sourcing and supply leader offers a behind-the-scenes look at the interconnectedness of its operations.
By Kat Zeman, Senior Editor at Knighthouse Publishing
Rahul Vijay has a really cool tech job. As head of connectivity, sourcing and supply for Uber, he's part of a team that operates behind the scenes to make sure that all company supply operations run smoothly. "We manage all the connectivity relationships and supply chain operations," he says. "No connectivity, no Uber."
Uber, which went public this year, has drawn billions of dollars in investments from the biggest names in technology who believe that the company is at the edge of revolutionizing transportation.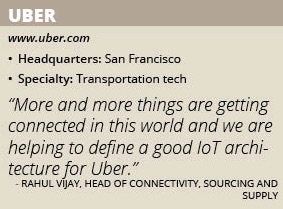 It started as a simple ride-hailing business idea but has quickly evolved into a global logistics player with a mission to "ignite opportunity by setting the world in motion" – transforming entire industry in the process.
Uber has become a $70 billion company with roughly 23,000 corporate employees, more than 30,000 BPO agents, close to 90 million monthly active Uber users and more than 3 million drivers around the globe.
That's a huge number of people who are required to be connected in some way to make it all work – and Vijay and his team are working behind the scenes to make that happen. But they are connecting more than just people. They are also connecting networks, IoT devices and wireless devices via data, messaging and voice.
"Uber started with just people moving people," Vijay says. "But today, it also involves people moving things and things moving things. You need a lot of connectivity and supply chain relationships and management to create that kind of connectivity."
Uber is a multinational transportation company offering services that include peer-to-peer ridesharing, ride service hailing, food delivery and a micro-mobility sharing system. Although still in the test stage, self-driving vehicles are already piloting their way through select cities.
"Uber currently has hundreds of autonomous cars being tested," Vijay says. "In my opinion, once some small-scale adoption for this AV ecosystem happens, this area will snowball into something bigger soon."
Uber launched its first-ever self-driving vehicle public pilot in Pittsburgh in September 2016. By December 2018, Uber's self-driving vehicles had driven more than a million miles.
Making Connections
Based in San Francisco, Uber has operations in more than 60 countries and 785 metropolitan areas worldwide. Vijay and his team are responsible for making sure that all of the company's offices, data centers and hubs stay connected. That means installing, operating and maintaining networks.
Sprint, the fourth-largest mobile network operator in the United States, is one of Uber's network and voice providers. "We help manage internet connectivity and any connectivity that physically connects the offices, data centers and hubs together," Vijay says.
The internet of things, or IoT, is another growing area that requires Vijay's attention. A system of interrelated computing devices and objects that are provided with unique identifiers (UIDs) to transfer data over a network without requiring human-to-human interaction, IoT is becoming a big deal for Uber.
"Instead of only having people move people, we now have things moving people," Vijay says, citing Uber's electric bike and scooter service as an example. "IoT enables us to manage the bikes and scooters."
In select cities, Uber customers can find an electric bike or scooter using the company's app. They simply open the app and select "bike" from the menu. The app will help them find and reserve a bike and send them a PIN number to unlock it. When finished riding, customers are asked to lock the bike and leave it in a zone near their destination – as indicated in a map in the app.
"These bikes and scooters all fall under the IoT bucket," Vijay says. "Any time you have things moving people or things moving things, that's IoT. In this case, you have the bikes talking to our network."
UberEATS, an on-demand food ordering and delivery service that launched in 2015, is quickly becoming a favorite way for many Americans to obtain food from nearby restaurants.
Recognizing that Uber has been able to develop meaningful relationships with its customers, a growing number of restaurants have been willing to join the UberEATS network.
The service has been applauded for its user-friendly process and features. Before placing their order through the UberEATS app, customers are notified of an estimated delivery time and the price of the order including tax and delivery fee. When an order is placed, the app talks to the restaurant's iPad, Android device or Uber tablet, communicating the details of the order.
"Many of the restaurants have Uber tablets," Vijay adds. "These are all IoT, or as formerly known 'M2M,' connected. This is machine-to-machine connection."
That tablet or device alerts restaurant staff of the order. Customers can follow the status of their order through the app. They'll see the restaurant accept the order and start prepping. Then, when the order's almost ready, a nearby Uber partner – in a car, on a bike or scooter – will go to the restaurant to pick it up and then deliver it.
"IoT is going to be more prevalent for us in the future," Vijay says. "More and more things are getting connected in this world and we are helping to define a good IoT architecture for Uber."
IoT is also necessary for self-driving cars. These vehicles include modules that are retrofitted with IoT SIM cards. "IoT helps locate a self-driving car on the grid since there is no driver we could potentially call to know the location and status of the vehicle," Vijay says. "It helps us do fleet management."
Millions of Messages
Vijay's team oversees wireless connectivity and relationships for all Uber employee devices and locations. "We manage wireless connectivity for all the corporate cell phones, tablets and any kind of traditional mobile devices," Vijay says. "And if a new office in a new country opens, we will supply it with wireless and wireline connectivity."
Another element that falls under Vijay's jurisdiction is text messaging. What exactly does that mean? "We are one of the biggest senders of SMS messages," he explains. "We send out a variety of messages every day, and they fall into four categories."
One type is a transactional text message. These include a variety of alerts. For example, Uber alerts drivers via text message if their driver's license is about to expire.
"Another message is promotional," Vijay says. "These messages are sent out to our drivers to alert them to bonuses and promotions."
The third type is a verification message. For example, if a customer downloads the Uber app, Uber will send out a verification message. The fourth is an "in-platform" SMS. Those are used when drivers and riders want to contact each other – but Uber protects their privacy.
"We send close to half-a-billion messages per month," Vijay says. "And we manage all these SMS relationships around the world."
In addition to text messages, Vijay's team also manages voice anonymization, which is a type of information sanitization whose intent is privacy protection of Uber riders, drivers, couriers and customers. It is the process of removing personally identifiable information from data sets. In the case of Uber, this applies to phone numbers.
"It's anonymizing phone numbers so that drivers and riders don't see each other's numbers," Vijay says. "We manage those voice relationships around the world in 60-plus countries." A technology leader helping Uber with this important effort is Sinch.
Aside from protecting rider/driver privacy, Vijay's team is also responsible for providing a variety of international toll-free, national toll-free and national and local phone numbers for Uber's call centers around the world. "At the end of the day, it's all about connectivity," Vijay says. "And Uber is using connectivity as a competitive advantage. Some of these things are key to getting an edge in the market."
According to Uber's website, the company has 91 million monthly active platform consumers and 3.9 million drivers. It has completed more than 10 billion trips worldwide in 63 countries and 700-plus cities. Roughly 14 million trips are completed each day.
"We are connecting 3 to 4 million people who are looking for work on a monthly basis," Vijay says. "We're in the labor business, not in the transportation business. Uber is only surpassed by a few other entities as far as how many people it helps make a living."
SIDEBAR – A New Class of Self-Driving Vehicle
Uber has introduced its latest self-driving vehicle in partnership with Volvo Cars, a Swedish automaker and a world leader in automotive safety.
Uber ATG and Volvo Cars first teamed up in September 2016 in a joint engineering partnership to develop several self-driving car prototypes. In June, Uber introduced the world to its latest invention at this year's Uber Elevate Summit. Say hello to the Volvo XC90 SUV.
It is the third car these two companies have developed together — and the first production car capable of fully driving itself.
Designed with a chassis ready to integrate Uber ATG's self-driving system direct from the factory, this enhanced process has created a vehicle that can be deployed in self-driving mode on Uber's network as part of an autonomous ridesharing service.
In order to deploy fully self-driving vehicles, it is critical that backup systems for steering, braking, and battery power are built-in. Uber's latest XC90 production vehicle has steering and braking system with redundant protection designed for a computer to control. If any of the primary systems should fail, the backup systems immediately act to bring the car safely to a stop.
When paired with Volvo's vehicle platform, Uber's robust self-driving system will one day allow for safe, reliable, autonomous ridesharing – without the need for a specially trained Uber employee operating and overseeing the car, known today as a Mission Specialist.
This process will begin in small, pre-determined geographies in the cities ATG operates in and will grow over time as the vehicle's capabilities expand.
Since the rider experience is fundamental to the design and development of this technology, a fully integrated passenger app is placed at the center of Volvo's luxury interior – creating an informative and dynamic way for passengers to experience their self-driving trip.
It includes environmental controls, trip details and safety functions – and requests for assistance are easily accessible from the app.
With the introduction of this vehicle into Uber ATG's fleet, Uber is one step closer to thousands of autonomous, drive-ready production cars in the coming years.