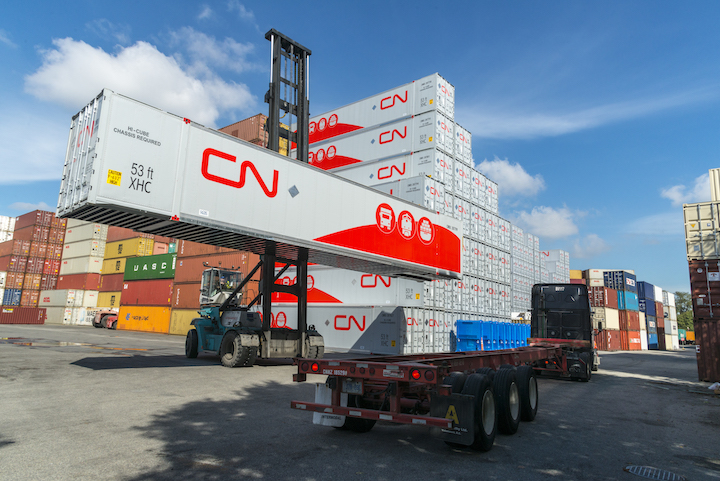 North American rail transport giant CN turns 100 this year and continues to grow its capabilities.
By Mark Lawton, Senior Editor at Knighthouse Publishing
Some companies celebrate their 100th birthday with a cake and a lot of candles. Railroad giant CN is investing nearly $4 billion (Canadian) in infrastructure (CAD), equipment and technology to continue to be an industry leader.
CN, also known as Canadian National Railway, has 20,000 miles of track throughout Canada and the United States. In a lot of areas between the west coast of Canada and the midwest United States, there are areas with only a single track. This year and for the last several, the company is adding 600 miles of track and long sidings, or about two million ties, says Paul Harridine, vice president of procurement and supply management.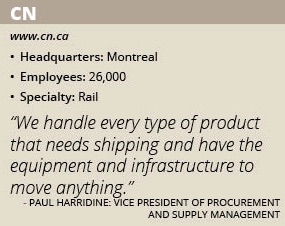 The company also has also received 200 new high-horsepower locomotives so far out of a 2017 order for 260, 1,000 new grain hopper cars plus intermodal equipment such as cranes, chassis and containers. CN investing in methods of evaluating its track including simulations such as a digital twin. A digital twin is a digital replica of physical assets, processes and systems. The company is also equipping its employees with handheld devices to improve communication.
Finally, this year CN purchased TransX, an intermodal company. "It's a strategic acquisition to feed the CN network," Harridine says.
The Most Efficient Way
CN transports more than $250 billion worth of goods each year in more than six million carloads. Those include shipments of coal, oil, grain, vehicles, fertilizer, metals, minerals, food and beverage, forest products, consumer goods and "pretty much anything that needs to be shipped from point A to point B in North America and outside North America from various ports," Harridine says.
In addition to train cargo, the company also has trucking operations and operates 23 intermodal terminals in the United States and Canada.
But for transporting goods a long distance, trains are the most cost efficient method. "A single freight train replaces 300 trucks," Harridine says. "It is obviously going to cost you a lot more to transport a container on the back of a truck and hundreds of containers go on a train. If items are imported from Asia through the west coast of Canada, a lot of those are going to the American Midwest, at least 2,000 miles. Train is really the only economical way to move goods into the American Midwest."
More than 50 percent of CN's traffic is related to shipping goods to and from the United States, with 35 percent crossing the border, 15 percent purely in the United States and 4 percent leaving the southern United States through the Gulf of Mexico.
Competitive Advantages
CN ranks second among North American freight rail companies in terms of market capitalization, Harridine says, and has a number of advantages over its competitors. First, CN is the only rail network that touches three coasts including Prince Rupert and Vancouver in western Canada, Halifax on the east Canadian coast and the Gulf of Mexico.
The second advantage is capabilities. "We handle every type of product that needs shipping and have the equipment and infrastructure to move anything," Harridine says.
CN's third advantage is the ability of CN trains to go around rather than through Chicago. Yes, Chicago. CN owns track that goes around Chicago rather than through it. "More than 25 percent of U.S. rail traffic touches Chicago on its route," Harridine says. "How quickly it goes through or around Chicago is very important."
Finally, CN is diversified in the various markets it serves. "Others might depend on particular categories and if, for example, oil or grain has a bad year, their revenues might be adversely effected," Harridine says. CN's freight load, on the other hand, is quite diverse.
All of those factors contribute to CN's consistent top line growth.
Evolving Industry
CN has seen its container business grow to account for a little more than 25 percent of total revenue, Harridine says. "It is partially the result of international trade, particularly with our strength in the west coast ports," he says. "In recent times, growth has slowed down a little bit."
The use of new technology is a continuing trend. One important example is positive train control (PTC), which will be required by the U.S. government. PTC essentially connects the locomotive, track, signals and back office so if there is a safety situation, the train is stopped automatically rather than being reliant on the driver. "It starts in the next year to 18 months and is a massive investment for all the rail companies," Harridine says.
Future
Another new technology CN is involved with is robotic process automation, which it is piloting to automate labor-intensive processes such as invoicing, purchase orders and sales documentation. "We are progressively rolling that out," Harridine says.
The company seeks to work even more closely with key suppliers by sharing more information about their strategies and perhaps making longer-term commitments. In exchange, CN is asking for those suppliers to be more flexible and to engage in continuous improvement. "The ability to respond quickly is a constant focus for us," Harridine says.
Overall, CN aims to continue its growth into its second century. "Our strategy, if you like, is more of the same," Harridine says. "Our revenues have grown 6 percent a year over the last six years and our operating income has grown 8 percent a year over the last six years. We want to keep that growth and revenue and returns for our shareholders going forward."