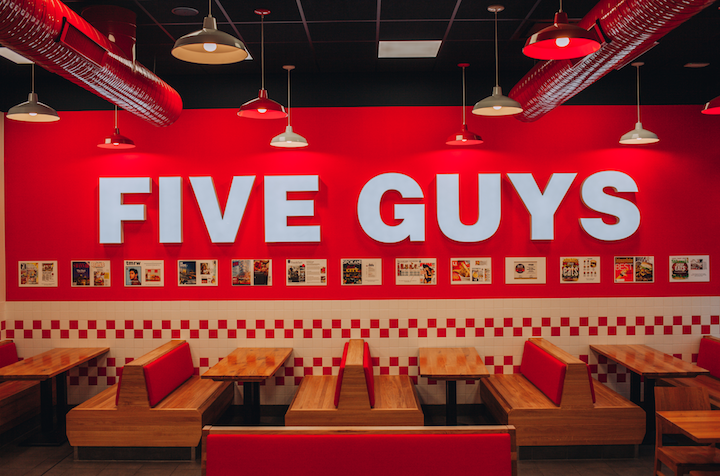 Five Guys thrives by being proactive and staying true to its culture of quality.
By Alan Dorich, Senior Editor at Knighthouse Publishing 
For Five Guys, there has been no greater form of advertising than the word-of-mouth generated by its satisfied customers. "We have proven that when you provide the best quality products and service, the customers will find us," Jason Lee says, adding that this unique approach sets it apart from other restaurants. "We don't do any advertising, promotions, limited-time offers or traditional marketing. We have total faith that the product markets itself."
Lee is the senior director of global logistics and international supply chain for the Lorton, Va.-based company, which has locations in 17 countries that serve burgers, fries, hot dogs, and milkshakes. Five Guys' history goes back to 1986 when the Murrell family opened a carry-out restaurant in Arlington, Va.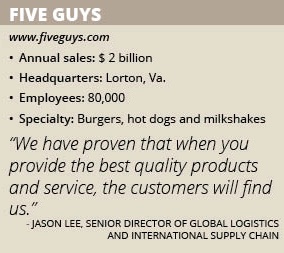 The location, which operated under the management of Jerry and Janie Murrell, specialized in hand-formed, grill-cooked burgers along with fresh-cut fries that were cooked in pure peanut oil. Today, Five Guys has 1,600 locations across the world that still follow its quality standards.
These include using only fresh ground beef for its burgers and using coolers instead of freezers. "Here at Five Guys, everything is done from scratch and if anything that's been prepared and is not used by the next day, we toss it," Lee says.
A New Focus
Lee joined Five Guys four years ago after working for Fortune 500 companies, such as Stanley Black & Decker Inc. "What drove me this position was that it was a newly formed role and I was given the opportunity to take ownership of designing and implementing the entire logistics program from end to end," he recalls.
Previously, Five Guys had not strongly focused on its logistics program. Instead, its suppliers found carriers and booked them themselves, often embedding the cost of logistics into the price of their products.
"We had no visibility of what the true product or freight cost was," Lee says, adding that this model is common in the industry. "Many foodservice companies are still under the same model of a blended delivered cost."
But others are following Five Guys' lead and are starting to focus on supply chain from both a cost and a service perspective. Lee's first action at the company was to work with its suppliers and uncover the true costs for products and transportation.
"We analyzed the margins and realized how high costs were when it came to transport," he recalls, adding that logistics can comprise 7 to 10 percent of a company's costs.
But the fact that Five Guys' suppliers were using their own transport companies meant "we didn't know who they were, and they differed by shipment. There were no standardized guidelines established," Lee explains. "The cost inefficiencies were repetitive and adding up – whenever there was a large gap in cost, we would go back to the suppliers, negotiate and change the carrier base."
Lee explains, often times the company's suppliers did not have a robust transportation department, so out of ease, they would reach out to common brokers who unfortunately charged higher costs.
"The objectives of the parties were not aligned, and unfortunately the resulting costs were being passed onto us," Lee says. "Transportation is all about efficiencies so partnering with carriers that fit your shipping lanes is key."
These efforts paid off for Five Guys. "We were able to see significant cost savings the first and second years, amounting to $6 million, and we had greater control and service because we knew which carriers we were using," he states.
"Unbundling the transportation cost allowed us to uncover the true cost of the product," Lee says. "This empowered my Procurement department to do proper benchmarking and negotiate more effectively."
Keeping a Close Eye
Under Lee's leadership, Five Guys has integrated state-of-the-art technology into its supply chain. This included the recent addition of Sensitech Inc.'s TempTale GEO, a real-time temperature monitor that has been implemented in all of its trucks.
"The visibility is critical to our supply chain since our value rests on maintaining a fresh concept," Lee says. "Therefore, inventory is kept low with just-in-time (JIT) processes for many key items."
Not only does TempTale GEO tell Five Guys where the vehicles are, but also if the temperatures of the cargo fall outside of safe levels. "Whenever the temperature is out of spec, my team gets a notification," Lee says, adding that the company's use of technology allows it to react to real-time data and creates a competitive advantage over others in the industry.
"A lot of competitors do not measure and adhere to the cold chain requirements as closely as we do," he states, noting that this helps Five Guys ensure that its quality is never compromised. "Maintaining visibility of our trucks at all times is key to ensuring we stay proactive if anything deviates from spec."
"Catching a temperature discrepancy en-route gives us the capability to have the carrier make adjustments live in the field and avoids shipments being rejected upon delivery," he adds. "This not only avoids potential claims and losses but also ensures inventory levels are not disrupted."
Five Guys also has implemented FoodLogiQ, a new platform that gives visibility to safety and quality issues in its worldwide operations. For example, if one of its locations receives the wrong goods or if a truck is late, the platform makes sure that issue is reported to the appropriate person.
"It's a proven tracking system for a wide breath of issues experienced at the store level," he says, noting that Five Guys also uses FoodLogiQ to house documents related to certifications, third-party audits and inspections. "We use it as a data repository."
New Additions 
As the number of competitors to Five Guys continues to rise, the company has enhanced the level of delivery services made available to their customers to maintain market share. Initially Five Guys was hesitant to begin offering new delivery services due to fears of compromising quality.
"Any time our product leaves our stores and is given to a delivery service, it sits in the hands of an unrelated party, and the quality is put at risk," Lee says. "We don't want our customer's first experience to be tainted, or a loyal customer's consistent expectation to be broken, because it was affected in transport by an unrelated third-party."
Accordingly, Five Guys has addressed this risk and adjusted to changing customer demands by investing in packaging changes that enhances freshness and using tampering proof systems to ensure food safety. These packages also help make Five Guys' operations more green. "We want to stay ahead of all the environmental sustainability initiatives," Lee says.
"As a company, we want to prioritize being environmentally conscious," he asserts. "This is an initiative addressable not just in the United States, but all throughout the world."
For example, various regions in which Five Guys maintains operations have passed restrictions limiting or banning the use of plastic. To adjust, the company has started moving away from plastic straws and single-use plastics in certain markets. "Additionally, we source materials made from recycled materials, such as our foil," he says.
Branching Out
According to Lee, there is a downturn in sales within the quick-service industry. "For most of our competitors out there, volume is down, sales dollars are down even with price increases," he says.
Despite this, Five Guys is staying persistent in its focus on its culture of quality, while also realizing it needs to be  strategic in the methods it uses to reach its customer base. "In the past, it was common for our stores to be in locations such as strip malls," he recalls.
Today, the company is concentrating on opening locations in higher-rent prime locations, as well as renovating its existing eateries. "We are encouraging franchisees and corporate stores to do a remodel, where we have more modern equipment and furniture to give it a more attractive appearance," he says.
"The more proactive we can be in staying ahead of consumer trends increases [our chances of] being successful," he says, adding that he sees a strong future ahead for Five Guys, which is focused on international growth, remodeling stores, and opening more flagship locations.
Lee also predicts that the Murrell family will continue to be involved in Five Guys, and maintaining the culture that has given him pride. "I've never seen any company like it," he says, noting that the firm has expanded its reach worldwide while maintaining the culture of a mom-and-pop concept with a simple menu.
"People love it," he says. "The family sticks to their guns and will not change to cut costs. Many companies are looking for ways to cut costs, and for us cost is important, but [we really value] service and relationships with our suppliers."
The Murrell family, Lee adds, also focuses strongly on making sure Five Guys takes care of its suppliers. "It's something you don't see too much today anymore," he says. "The private company feel is something I'm still proud of."
SIDEBAR – Consistent Quality
When Five Guys opens a new location, it makes sure to keep the experience consistent with what a customer would find in another of its locations. "The Murrells want the whole experience to be identical," Jason Lee says.
"Our view deviates from the strategy that many food chains have in trying to tweak things to match local tastes," he explains. "Five Guys wants to stick to their guns and deliver the same high-quality consistent taste regardless of which one of our stores you are in. They want their hometown customers' experience to be replicated worldwide."
This is not always easy for a company that has goals of opening locations in eight to 10 countries each year. The company can only accomplish this by keeping a close eye on its demand and inventory levels with longer lead-times across waters. "This is something you have to monitor on a daily basis," Lee says.
The company also regularly ships products from legacy suppliers in the United States overseas to the Middle East and Asia-Pacific. However, "We're able to source local items in Europe," he notes. "The capabilities are there."