UNARCO Material Handling Inc.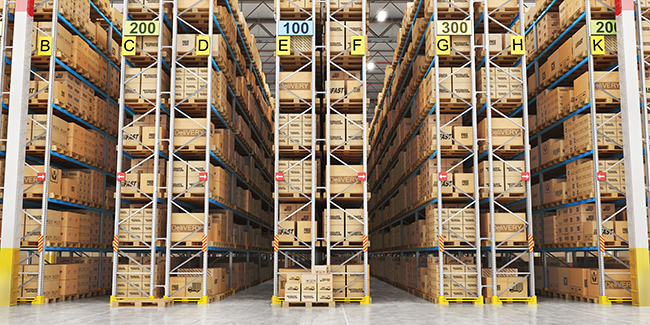 UNARCO leads the pallet rack industry with innovative solutions for its clients' most complicated warehouse and distribution systems.
By Knighthouse Editorial Staff
For more than 60 years, UNARCO Material Handling Inc. has specialized in the manufacturing of roll-formed and structural pallet racking and warehouse storage systems for distribution centers and retail stores. "Since the 1950s, when UNARCO started with Sturdi-Bilt rack, they have led the industry in warehouse storage innovation and engineering design," the company says. "Extra capacity and affordability are engineered into UNARCO designs."
The Springfield, Tenn.-based company's client list is "endless and reads as a 'Who's Who' in the business world, covering every imaginable industry." Along with its headquarters, UNARCO also operates plants in Lewisville, Texas, and Pandora, Ohio, serving customers in nearly every industry throughout the United States. Its warehouse storage projects have ranged from the simplest pallet rack layout to the most complex engineered systems of more than one million square feet of warehouse space.
UNARCO has more than six decades of experience handling the most complicated warehouse and distribution systems. Its products include drive-in, carton flow, pallet rack, pallet flow, push back, rack repair, automated storage and retrieval systems (AS/RS), pick modules, cantilever and mezzanines. "From project engineering and design to on-site project management to installation, UNARCO can take any distribution center or warehouse storage space and add a pallet rack solution that will increase efficiency," the company says.
Reliable Solutions
UNARCO manufactures roll-formed pallet rack and structural rack to fit any warehouse storage requirement. UNARCO pallet racking is available with Interchangeable, T-bolt and SuperBolt connections.
Carton Flow Rack systems are available for any size warehouse and every price range, are gravity-driven and ideal for clients with numerous SKUs. UNARCO manufactures many types of carton flow rack, including traditional snap-in roller track including UPICK knock-down design, KPICK welded shelves or RhinoTrac full-width lay in roller units and Concentric Storage Systems, CSS, FuraFlo and D2 carton flow lanes.
UNARCO pallet flow rack system is driven by gravity, flowing product back to a picking position and being easily accessible to the operator. The system is ideal for fast-moving product with first-in/first-out stock rotation.
Push back rack systems are available in structural or roll-formed frames and work by placing pallet loads on a series of nesting carts fed forward by gravity on rigid structural steel rails. This allows for easily accessible last-in-first-out inventory management.
UNARCO engineered pick modules use the integration of pallet flow and push back storage to move palletized loads, which feed into carton flow units that are often outfitted with special software for paperless picking. This flow rack concept allows distribution operations to be consolidated into one facility that handles all of the logistics and has a dramatic effect on lowering fulfillment costs, the company says.
Drive-in rack and drive-thru systems are a cost-effective solution to high-density storage. The drive-in pallet rack systems load and receive from the same side, creating last-in-first-out inventory retrieval organization. Drive-thru pallet rack systems load from one side and unload from the other to create first-in-first-out inventory retrieval.
Any product length can be stored on UNARCO cantilever rack by moving arms and columns or easily converting a single-sided cantilever rack to a double-sided cantilever racking system. This system is the ideal solution for long or heavy items such as pipe, tubing or lumber storage.
Automated storage and retrieval systems (AS/RS) are computer-controlled systems with extreme accuracy operating in very narrow aisles. "Because of the narrow aisles in an automated storage system, a typical 12-foot aisle can be reduced to a narrow 7-foot aisle," UNARCO explains. "This creates 40 percent more space for warehouse storage rather than aisles and one of two types of systems – Unit Load AS/RS and Mini Load AS/RS can be engineered depending on the size of warehouse product being stored."
In addition, UNARCO's steel mezzanines can bring much needed office space to the facility with a top-level view of operations, a meeting room or employee break room. It can also be the answer to storage dilemmas. The company offers a wide assortment of mezzanine floor and grating options for any upper deck requirement.
Engineering Expertise
UNARCO's engineers have some of the most creative minds in the pallet rack industry, the company boasts. "From simple selective pallet rack to complicated pick modules and engineered system projects, UNARCO can provide CAD approval drawings, permitting drawings and insure that your warehouse storage project will increase efficiency," the company says.
As a charter member of the Rack Manufacturers Institute (RMI), UNARCO engineers have sat on the boards of the institute and been instrumental in working with the Material Handling Industry of America to develop codes and standards that insure warehouse safety in distribution centers throughout the country. Its CAD designers in all three plants are familiar with warehouse layouts and design, and are able to source from within UNARCO's large manufacturing expanse to create projects with carton flow rack, pallet flow rack, push back rack and drive-in rack systems.
UNARCO manufactures steel mezzanine systems with specialized software and a modular design for faster turnarounds. The Rack Engine Quote program creates engineered drawings and bills of materials for mezzanines and industrial work platforms.
As the industry leader, UNARCO has manufactured and installed some of the tallest standing rack supported buildings and AS/RS systems throughout the country. "The ability to manufacture and paint uprights up to 40-foot continuous length and splice to double that height has led UNARCO engineering to the forefront of warehouse storage project success," the company says.
UNARCO manufactures pallet racking in its three plants, which are certified by many of the most stringent building and safety departments in the country, which includes the Los Angeles Department of Building and Safety and Clark County, Nevada, as well as all the current RMI standards. Its facilities use the latest technology in robotics and environmentally friendly, state-of-the-art powder coating painting systems. "UNARCO's manufacturing facilities produce some of the finest pallet rack in the country combined with years of trusted engineering and project management experience," the company says.