Choice Hotels International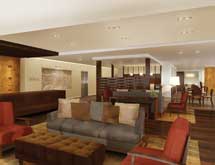 You might not expect a hotel company to provide marketing services for its vendors, but Choice Hotels International is not your average lodging company. Based in Silver Spring, Md., the company is the second-largest hotel franchisor in the world, according to Vice President of Procurement Services Rick Summa.
A group of Florida motor court owners formed Choice Hotels as a marketing cooperative in 1941, and today, it has more than 5,000 locations domestically. Summa notes that some of its most popular brands include Comfort Inn, Comfort Suites, Econo Lodge, Quality, Clarion and Sleep Inn.
He adds that Choice Hotels serves a customer base that largely consists of Middle America residents above the age of 40. "Your parents would stay in a Quality hotel, or Comfort Inn, because they recognize it and it's on the way [to their destination]," he says. "We've traditionally been an 'on-the-way' brand."
Last year, Choice Hotels saw its revenues surge to $691.5 million. Summa says Choice Hotels keeps successful by continuing to offer affordable lodging. "[We've] kept those core principles," he says, noting that it also provides guests with free Internet access, breakfast and parking.
Bearing Fruit
Choice Hotels' procurement services department operates with the goal of making things simple for its franchisees, Summa says. The department streamlines the purchasing process by ensuring that qualified vendors supply products and services that meet the licensee's requirements and needs.
Summa played an important part in this process some years back, by getting the company to reduce its number of distributors. Although his superior believed the idea was potentially risky, he was willing to take the chance.
"He said to me, 'You can do it, but if we hear a complaint, we're going back to the way it was,'" Summa recalls, adding that the insinuation was his job was on the line. "It proved to be the right thing do. It continues to bear fruit for all involved."
For instance, by reducing the number of Choice Hotels' distributors to four, "We're able to brand programs more effectively and efficiently," Summa reports, adding that communication also improved. "We are able to more easily disseminate information; it gets to licensees more clearly."
Program Partners
Choice Hotels' procurement services department also provides marketing services to its vendors.
"We run all kinds of marketing campaigns for the vendor community so our licensees can buy from [them]," Summa explains.
As part of its Qualified Vendor Program, the department's employees will complete tasks such as sending mass emails or fax blasts for the vendors. The department also runs/manages the tradeshow at Choice's annual convention. The group is always finding more ways to connect the licensee and the vendor. Summa says his department has performed these services for The Coca-Cola Co., Sysco Guest Supply, HD Supply, Persona Inc., General Mills Inc. and Thomasville Furniture.
But the market for these services can be competitive, Summa admits. "There are similar programs to ours run by other companies," he says. "They're fighting for the same marketing dollars from the vendor community that we are."
Additionally, many vendors are not spending as much on marketing. To cope, Choice Hotels has distinguished itself through its treatment of the vendors, Summa says.
"We're on the phone, or meeting with them on a regular basis," he says. "There's people that look to us for market guidance, and they look to engage us for ideas that makes licensees tick. They look to us for all kinds of information and dialogue."
Department Pride
A 12-year veteran of Choice Hotels, Summa says he is proud of the recognition, and reputation, the procurement services department has earned. "We continue to be recognized for the way we treat people," he says. "I love the fact that the vendor community tells us that they hear the truth from us."
Of his team members, he praises Maria Sheetz, who oversees account management and has been with the company for 13 years. Although Sheetz left the department in 2006, "She came back because she liked the way we treat people, the relationships we developed and the business model," Summa explains.
Looking ahead, Summa predicts a busy future for Choice Hotels. Although the industry recently experienced a slowdown in the construction of new hotels, it is now seeing a comeback. Additionally, "There is always a market for converting hotels and changing brands," he adds.
Choice Hotels also will expand its use of technology, as titans like Google, Microsoft and Yahoo! have developed inroads into the hospitality market, Summa says. "[We need to review] the question of how we work with them to maximize our own revenue opportunities," he says. ­­­