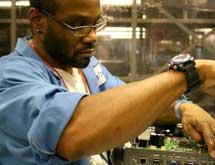 When you take your computer or laptop in for repairs, there is a good chance it ends up in the hands of DecisionOne Corp. But the company's work does not end with mere repairs because it tries to find the best value for its clients, says Claude Thornton, senior vice president of reverse logistics and supply chain.
"Anyone can fix a computer," he admits, but DecisionOne looks for other ways it can grow its clients' revenues. "We're going to get dollars back for our clients."
Devon, Pa.-based DecisionOne specializes in infrastructure management, hardware support services and reverse logistics services. The company's history goes back to 1958, when it started operations as Decision Data and resold and maintained keypunch machines.
Since then, Thornton says, the company has had many iterations and acquisitions, including the purchase of Xerox Technology Services and General Diagnostics in the late 1990s. Today, DecisionOne operates under the umbrella of Glodyne Technoserve Ltd., a technology company based in India.
With its staff of 1,567, DecisionOne serves a customer base that includes more than half of the current Fortune 1000 companies. "Eighty-eight percent of our business is maintaining equipment for our field customers," Thornton says.
For instance, DecisionOne maintains kiosks for United Airlines Inc. and point-of-sale and bar code scanners for Sears. "On site, we do returns management for them," he adds, noting that the reverse logistics represents 15 percent of DecisionOne's business.
Fully Dedicated
Thornton joined DecisionOne in 2011 after working in Supply Chain Consulting for Celerant Consulting. Previous to Celerant, he managed Palm's Americas Reverse Logistics in 2010, and Motorola's Americas Reverse Logistics business unit from 2004 to 2009.
During his tenure at Solectron from 1991 to 2004, he was a member of the original executive team chartered to develop Solectron's Service business unit.
"When I left, Solectron was  a $23 billion company, with Solectron Global Services representing $1.2 billion," he recalls.
 Today, at DecisionOne, Thornton manages the reverse logistics business, where he oversees its repair services. Additionally, he supervises DecisionOne's logistics unit, which consists of 133 remote stocking locations that support its nearly 1,000 field engineers.
"We're 100 percent dedicated to service," he declares, adding that DecisionOne personalizes its work for clients that include Hewlett-Packard Development Co. L.P. and Dell. "We're staffed with service people who have been in the service business for an average of 25 years."
This is helpful, since DecisionOne's reverse logistics department often works on equipment that is 20 to 40 years old, and under tight schedules. "You've got to get those units back quickly," Thornton says, explaining that downtime can represent lost revenues for DecisionOne's clients.
Beyond Repairs
The reverse logistics department's work also goes beyond mere repairs, Thornton says. For instance, when DecisionOne repairs a piece of equipment, it will collect on the warranties for parts that need to be replaced.
This can be difficult because some manufacturers will not accept the blame. "It kind of puts [the responsibility] on us to be [the owner's] advocate to get their money back," he says. "That's what they're looking for in a reverse logistics provider."
DecisionOne also identifies inherent flaws in products and gives that data to the manufacturers. "They can incorporate that [information] in the next generation of the product," he explains.
The company also manages product recalls for its customers and the sale of older equipment. For instance, if one client wants to give new notebook computers to its salespeople, DecisionOne distributes the new computers and collects the older models to be refurbished.
It can refurbish products for customers, which allows them a separate revenue stream through "B" channels. DecisionOne will work directly with its customers' preferred liquidators or resellers to identify highly marketable products, which are candidates for refurbishment.
One client that utilizes DecisionOne for these services is Microsoft. Previously, the company did basic returns, but with DecisionOne's help, it has enjoyed savings with warranties and earned extra revenue with the sales of refurbished equipment.
Although Microsoft originally paid all the costs, it now has multiple revenue streams to soften the blow. "That's what we're proud [of]," he says, adding that Microsoft has even added DecisionOne staff members to its stores. "We have put techs in [our clients'] stores that can answer [customer] questions." Decision One is promoting continuity in its offering – a single-source solution for its clients.
Moving Forward
Although the reverse logistics department's work in the PC and Mobility space is "second to none," Thornton says it will go into a higher-technology space with enterprise and telecom switches. "We're going to take that same value [to the] telecom space," he says.
DecisionOne will work directly with customers in this market. "We really have to start controlling our own destiny," he says, noting that this will allow the company to personalize its work better. ­­­