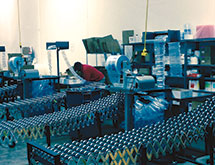 Devicor Medical Products built its supply chain operation from scratch after acquiring the Mammotome breast care business from Johnson & Johnson in 2010. Three years later, the company relocated its distribution headquarters to Cincinnati to be closer to its customers and manufacturers. 
Mammotome was the first vacuum-assisted breast biopsy system. After Devicor purchased Mammotome, it continued to improve, build and sell the product worldwide, Director of Global Supply Chain Rick Alley says. "Hospitals and breast care centers all over the world know they can receive the highest-quality vacuum-assisted breast biopsy system on the market from us," he adds. "Mammotome was by far the market leader. When patients went in for their [biopsy] procedure, they would say they 'went in to get a Mammotome.'"
More than 4 million women worldwide have had an image-guided, minimally invasive breast biopsy using the Mammotome biopsy system, the company states. Devicor is still considered a leader in the industry; however, since the 1990s, the competition has increased, giving hospitals and breast care centers additional product options. 
Alley says Mammotome continues to stay ahead of the competition because it is a high-quality product that has minimal to no failure rate. "We are best known because our equipment produces the best tissue sample," Alley adds. "That's really why breast care centers and hospitals love Mammotome – they get a great sample the first time." 
Improving Service
Devicor's Mammotome has two components: hardware and disposables. The disposables consist of the tissue markers and needles that are manufactured at the Devicor Medical plant in Tijuana, Mexico. Once assembly is finished, the product is then transported to Sterigenics in Corona, Calif. The product is sterilized before finally being delivered to Devicor's distribution headquarters. 
In August 2013, the company moved its distribution headquarters from Rialto, Calif., to Cincinnati. "We moved to provide better customer service," Alley explains. "We did an analysis of where we shipped product to and the vast majority was the eastern United States and Canada." The other benefit of moving to Cincinnati was the proximity to the company's product manufacturers in Illinois and Minnesota.
After the product arrives at its distribution headquarters, Devicor ships to its four other distribution centers located in the Netherlands, Shanghai, Seoul and Tokyo. "We make shipments to them via air freight every week and it's more cost-effective now because we have partnered with DHL who has their hub here at CVG [international airport]," he explains. "Now product can go from Cincinnati to all four points." 
From those centers, the product is transported to countries all over the world. The only country where Devicor does not have regulatory approval yet is Brazil, for which it is in the process of applying for approval. "We sell everywhere else in the world," Alley says. "Other than Antarctica, we go to every continent and almost every country, every week."
One challenge Devicor encountered when moving from its distribution center in Rialto, Calif., which was owned by a third-party logistics company, to the Devicor-owned facility in Cincinnati concerns the management of inventory. "We had to increase inventory because instead of being a half-day trip from the sterilizer in Corona, it's a three-day trip to get restocked," Alley says. "Our goal is zero stock-outs, or no unfulfilled orders." 
The company has a group of planners, who along with marketing and sales people, manage its inventory and plan what needs to be manufactured or purchased. "In order to accomplish zero stock-outs, we had to build a robust supply chain around the world," Alley adds. 
Product Advancements
Devicor recently launched Mammotome Revolve, which is a new dual-vacuum-assisted biopsy platform and the only device to offer advanced tissue management technology. The Revolve system is equipped with a sharper needle and a more precise cut. The system is faster and with one insertion, medical professionals can take 12 separate samples that are transferred touch-free into pathology-ready chambers. 
In early 2013, Devicor unveiled the Mammotome Elite, a single-insertion, tetherless device with TruVac vacuum technology. The tissue collection cup is attached to the device, which allows for more reliable transporting of the tissue from the biopsy. The cup is clear so medical professionals can see the tissue inside. "Our product is known for its quality of sample," Alley says. 
Products produced by Devicor all serve their own purpose and do not "cannibalize" one another, Alley explains. For example, the Mammotome Revolve offers different gauges and sizes than the original Mammotome. In the future, Devicor looks to continue adding to its product line and enhancing its offerings to the customer. "We have a pretty robust growth plan for the company," he adds. "Our goal is to gain marketshare in the vacuum-assisted breast biopsy field." ­­­