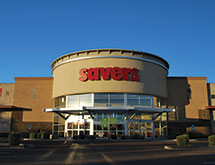 Imagine if a coffee house bought all its coffee from charitable organizations that had the coffee donated to them. Then imagine how much good that coffee house could do by helping to support those organizations. Now substitute clothing and other merchandise for the coffee, and you have the business model for Savers' chain of nearly 330 thrift stores in the United States, Canada and Australia.
Savers' business model is that people donate used clothing and other merchandise to charitable organizations that are able to sell it sight unseen to Savers. Savers then prepares the merchandise for resale or sees that it is recycled responsibly. With this business model, Savers estimates it saves approximately 600 million pounds of merchandise from landfills annually.
"We purchase nearly $200 million of merchandise from our nonprofit partners, which helps support their vital community programs and services," Director of Procurement Sandy Poling explains. "We are providing a steady income stream for 150-plus nonprofits. Every store has a charity or two or more that they're actually supporting."
Despite its mission, Savers itself is not a charity. "The difference between us and many other thrift retailers is that we pay for all of our goods, whether or not that merchandise ever sells on our retail floors," Poling explains. "So we have to be very lean to still make a profit."
Collecting the Products
Savers helps its nonprofit partners collect merchandise through various methods. "One method is for our nonprofit partners to reach out to residents, informing them that they will be in their neighborhood on a certain date and asking if they have any items to donate,'" Poling says. The merchandise is typically delivered to a local Savers store by the nonprofit, although residents can also drop off donations at community donation centers located at all of the company's stores.
"When we get this product, not all of it is salable and does not meet our quality standards," Poling emphasizes. "So we look very closely at the goods we receive. If a particular item is broken or if clothing has tears or stains, that's not going to meet our quality standard. However, we're proud to say that our company finds a home for nearly every item brought to our stores." Products that do not meet Savers' quality standard are either recycled or are shipped to developing nations throughout the world.
"We are one of the largest recyclers of used clothing in the world and one of the biggest exporters out of the United States," Poling asserts. "It's basically reusing and recycling at its best. It's a sustainable model. We're not throwing good products away, we're finding another way to reuse them. So it's a really good story. I really love this company. It's all about creating a better world through recycling and reuse. This company has been doing that as well as helping our community for 60 years."
Savers Inc. is a privately held company with two primary owners, Tom Ellison, the son of founder William Ellison, and two private equity firms, Leonard Green and Partners L.P. (LGP) and TPG. Savers operates stores in the United States, Canada and Australia under the brands of Savers, Value Village, Village des Valeurs and Unique Thrift Store. 
Bad Times are Good
Traditionally, people turn to thrift stores when times are hard. But as survivors of the Great Recession of 2008 to 2010 know, shopping at thrift stores became not only a necessity for some, but downright trendy for even well-off shoppers, because consumers were seeking not just a low price, but value, unique items and sustainable shopping choices.
"When times are good, people tend to donate more because they are cleaning out their closets, so we consistently receive great-quality products," Poling points out. "When times are not so good, the volume of donations our stores receive may decline as people aren't shopping as much, but we end up serving more customers. We have a very diverse portfolio of customers – people who need that value, and people who shop with us because they're excited by the treasure hunt. Some people have their own business in resale on eBay or any other channel, or have their own consignment or vintage-type stores. We have a wide market."
Savers benefits from a broad customer base – everyone from families on a budget to six-figure professionals. "We've always been a place where people from all backgrounds have loved to shop for great selection, one-of-a-kind finds and extraordinary value," the company says. "While our customers are diverse and often looking for something different, they all have one thing in common: their desire to get the best value for their money. A significant percentage of people who visit our stores are 'want to' shoppers versus 'need to' shoppers."
Savers has grown significantly in the last few years, in particular. "Our sales continue to grow," Poling says. "I've been here four years, and we had 200 stores then. Now we have nearly 330 already. Most has been organic growth." Savers also has acquired a number of thrift chains during the last few years, including Unique Thrift stores. "Thrift shopping is one of the fastest-growing retail segments because of lifestyle, economy and budget-conscious shoppers," Poling maintains.
Stores Handle Merchandise
Customers of Savers' stores can expect a rapidly changing variety of merchandise from which to choose. "We get a lot of customers because our product is always fresh," Poling maintains. "We're pulling stuff off the racks and putting new product out there. Customers come as many as five times or more a week looking for that fresh product. It's a high-turn business. We also put product out that is relevant for the season. When it's fall, you see more sweaters and long-sleeved shirts. So we try to stay relevant to our customers."
Each store reportedly stocks approximately 100,000 items on the sales floor in 135 merchandise categories. "We typically put out up to 5,000 new items every day per store," Poling declares. That amount of merchandise is handled primarily by the stores themselves. The nonprofit organizations pick up products from people's homes and bring them to their local Savers store, which unpacks the merchandise and processes it.
"We don't know what we're going to get," Poling emphasizes. "We collect stuff in bags and boxes and have to sort through it and make sure the higher quality merchandise gets sorted and priced, while the other items get recycled." Some products that are not selected by a store or were put out but not bought are shipped directly overseas, and other products are sent to one of 13 consolidation centers in the United States and Canada or two recycling centers in Fife, Wash., and Toronto. "It depends on what is most efficient," Poling explains.
The consolidation centers are warehouses that have room for storage. Unsold or unselected merchandise is aggregated and shipped overseas from the consolidation or recycling centers. That merchandise might include stuffed toys, dishes, pots and pans, books, clothing and shoes. Some products that qualify are sent to buyers who seek vintage merchandise. Products that can be recycled are sent from the consolidation centers to the recycling centers.
"The great thing is we sell nearly everything," Poling maintains. "Even our cardboard is sold. We really reduce our waste overall. Even things like the cord on the equipment that is not sold, like the toaster or anything that is electric. If they are sent back to the recycling center, those are recycled."
Coffee Background
Poling joined Savers four years ago. "I've been in supply chain for over 20 years," she says. "I spent 16 years at Starbucks Coffee in various roles in supply chain management, from manufacturing to opening up a fresh roasting plant/distribution center as well as finance and distribution planning. My last role was in procurement, managing the teams that sourced everything it took to build the store – all the equipment that plugs in, the espresso machines, refrigerators and other materials, including flooring, furniture and case work. That was my experience before coming to Savers." 
Poling joined Savers during a period of high growth. At the time, her department only placed purchase orders for the stores and included one full- and one part-time employee. She immediately set about converting the department from a tactical to a strategic sourcing team.
"My team worked on creating a competitive sourcing environment and vendor rationalization – how can we reduce the number of vendors, as appropriate, and everything that it takes to build or support a store?" she asks. "So supplies, fixtures, casework, flooring, lighting – everything it took to build the store – as we were growing, we wanted to make sure we could get the stores as cost-efficient as possible. That's how my group started standardizing. How can we evaluate specifications and add value-engineering to reduce costs? We picked our vendors and bid to the market so we were paying market value and had competition for our goods and services."
Price Tags
Poling challenged vendors to value-engineer their products. She wanted not just to buy from a company because it had been doing so for years but to evaluate each vendor and its products. One of the first projects Poling worked on was to value engineer price tags to reduce supply cost.
The price tags had consisted of a paper tag with a separate sticker on it that included the price. Poling challenged a vendor to reduce the cost of the tags, resulting in the development of a system that enabled Savers to print the price directly on the tag and eliminate the sticker. This not only saved the labor to apply tags on millions of products, but prevented customers from removing the price stickers and putting less expensive prices on more expensive products.
The new price tag necessitated a change in backroom operational procedures in every store. Poling obtained sponsorship within the company for the project and quickly formed a team with key vendors, operational experts, store managers and the IT department. Feasibility testing and a pilot program were completed satisfactorily and implementation of the program followed. 
"We ended up rolling out new tags and processes to 250 stores in 90 days," Poling recalls. "We got great feedback from the production personnel. That's how we do business nowadays." The tags are printed on thermal paper that is color coded weekly to indicate when the merchandise was placed on the floor. This enables sales associates to remove older merchandise that has been on the sales floor for more than a week and replace it with products obtained more recently.
"There's data on that tag that we use to monitor our sales," Poling points out. "We're a very data-driven company. Are we selling long-sleeved shirts? What are we selling? So we are able to measure what we put out and what is selling at what price."
Equity Investor Firms
Saver's procurement department now has nine employees and is still hiring. "We kept expanding the team so we could address more spend in more non-traditional areas, such as marketing, logistics and IT to reduce cost," she says. "Typically, everybody thinks they can buy to get the best price and value. It takes a lot of effort and energy, and it takes people with the right skillset."
In 2012, Savers selected two equity investor firms, LGP – Leonard Green Partners and TPG – Texas Pacific Group. Savers leveraged the LGP consortium of procurement professionals across multiple companies to go to market collectively for areas of common spend.
Savers also has employed third-party resources to accelerate savings while hiring new procurement professionals and adding technology, tools and systems to improve productivity and drive compliance. The company is using e-sourcing from Iasta and software tools that analyze its spending. Additionally, procurement is partnering with legal to launch a new contract management system.
"We report in to the CIO, which gives more empowerment," Poling emphasizes. "That's how we got ourselves a seat at the table. We're in the strategic plan. That's the biggest success – that we are not so much a service organization as we are a true business partner."
A Good Vendor
Poling expects a high level of commitment from her vendors. "We're looking for someone who is going to be a strategic partner and supporter of our business for the long run," Poling stresses. "We've grown quickly from a small little company to one with more than 300 stores. When we're looking for vendors, we are looking for people who have the strategic capability and reach to grow with us."
Poling remarks that her gender has sometimes been lonely in her area of expertise. "Typically, your logistics and manufacturing operations are dominated by men," she maintains. "In my entire career, women are usually not the majority in supply chain. We have more women in procurement. It's unusual to have female leaders in a supply chain operation."
Poling's experience in manufacturing, logistics, procurement and finance has enabled her to have a rounded understanding of the effect of her efforts on the whole company.
"I worked in manufacturing, so I believe I understand how things are made," she says. "I can ask them good questions about quality control and operational efficiency. I worked on logistics planning, so for that reason I understand logistics optimization, transportation costs, efficiency in transporting goods and the impact on service levels.
"With the cost of fuel, it's not just the price but what it takes to get to where you're going," Poling points out. "It's all about the total cost of ownership. When you're buying products or services, having an understanding of how it impacts the company and return on investment is very important."
 For the future, Poling sees continued team and vendor development. "We're at the beginning of our journey," she says. "The fact is that we've just established ourselves to handle the controllable spend throughout the organization.
"The future is how we continue to strategically source our products and services," she continues. "We have focused on developing our people in strategic sourcing and have invested in providing them with the necessary tools, systems, process and organizational support to do this.
"It is also our priority to develop our suppliers, because I believe supplier management is really important," Poling emphasizes. "So if you go through all the effort to find the right vendor, the best thing you can be is a true partner with your vendors. Have regular business reviews so they can prepare themselves and adapt as well for the future." ­­­