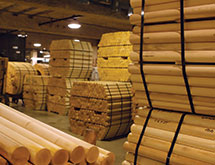 One of the biggest challenges for sporting goods manufacturer Hillerich & Bradsby is to create a supply chain centered on a traditional single season. This requires it to be focused with a strong planning strategy to meet its main big, three-month annual launch period in the fall, supported with two smaller launches positioned on the front and back-end of the main launch. 
The company is best known for its iconic Louisville Slugger wood baseball bats. It also makes other sport products including baseball gloves, batting gloves, athletic bags and catcher's gear and sub-brand Bionic glove and fitness gloves. 
Hillerich & Bradsby's supply chain "is based on a robust seasonal front-end forecasting process fully aligned to a rolling monthly demand planning broken out by category and supplier," says Charlie Brown, vice president of global supply chain and sourcing. "The demand and purchasing plan is then fully reviewed with our warehousing partner Legacy Supply Chain Services, to allow them to plan all in and outbound shipments via a planned schedule that is designed to maximize resources, manpower and machinery as required."
Brown joined the company in March 2012, after spending three decades in the product creation, supply chain and overseas manufacturing of athletic footwear for Nike and Under Armor. 
Hillerich & Bradsby utilizes contract manufacturers to produce the vast majority of its seasonal product line with aluminum bats produced in two factories in China and Taiwan; composite bats in China; baseball gloves in the Philippines, Vietnam and Indonesia; batting gloves in Indonesia and Vietnam; and catcher's equipment in China. It also continues to produce all of its wood bats, including all MLB bats in its factory Louisville. 
New Warehouse
In the summer of 2013, the company moved its 95,000 square foot warehouse from an old aluminum bat manufacturing location in California to its new 117,180 square foot warehouse in Olive Branch, Miss., just south of Memphis. Hillerich & Bradsby had been in the Ontario, Calif., facility for more than 15 years. Brown worked with Legacy Supply Chain Services to conduct a complete network analysis of the company's customer base, warehouse locations, shipping costs and volume per customer to determine the optimum location.
He found 67 percent of the company's business is located east of the Mississippi River, so the facility should be in this region. Based on facility availability, he narrowed the search to sites in the Memphis area, Nashville and southern Indiana. 
Then, "based on cost and service as well as warehousing capabilities, we chose the Olive Branch location just south of Memphis," Brown explains.
Following several months of planning and the construction of the new facility the warehouse move dates were locked in and finalized. 
The move itself was challenging from a logistics standpoint, but through proper planning was executed without any delays or transfer issues, Brown says. It was conducted during the company's off-season when it had the least amount of inventory on hand and just prior to receiving new product for the next season.
Not only were Hillerich and Bradsby moving to a new facility with a new management team, but it was also installing a brand new warehouse management system with new operating protocols that would need fully aligned with its existing SAP ERP system. "This was by far the biggest challenge and created several alignment issues through the first few months, but after working through a complete process mapping most bugs were worked out and we are now hitting the required revenue shipping targets on a monthly basis," Brown says. "It's a beautiful facility and the warehouse management system is quite robust." 
The company is utilizing the Manhattan SCALE warehouse management system.
The new warehouse site offers other improvements, as well. Products are better positioned within the facility allowing for quicker turns and inventory cycle counts. "It's a better laid out facility with more efficient ease of movement," Brown says. 
All this change has helped improve internal communication and better align product creation with the sales team and supply chain. This in turn improves working relationships with third-party providers. "We look at any manufacturing or service related third party as though they are part of the business family," Brown says. "The company is going through lot of change across all facets of our operations," he notes "It was primarily a wood bat supplier for a number of years but now we are driving and growing other diamond categories so we are building a supply chain to ensure we can successfully deliver across all product categories."