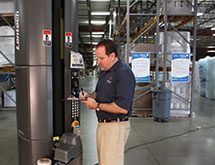 As a diversified service provider and one of the largest Hispanic-owned businesses in the United States, Group O is the Swiss army knife of business process outsourcing suppliers. It provides business-to-business marketing, packaging and business analytics services, as well as supply chain management.
Headquartered in the Quad Cities region of Illinois and Iowa, Group O is one of a handful of Corporate Plus members of the National Minority Supplier Development Council (NMSDC). That distinction means that the company has been certified to have the capacity and expertise to handle enterprise-scale programs for large corporate clients.
Group O's results bear that out: In the past decade, the company has earned top-supplier awards from a number of leading organizations, including a 2012 Supplier of the Year honor from Miller-
Coors. Group O has also been recognized as a top-5 Latino-owned business by the United States Hispanic Chamber of Commerce and as NMSDC's National Minority Supplier of the Year in 2011.
Group O's clients include some of the world's best-known brands, including AT&T, Best Buy, Caterpillar, General Mills, Johnson Controls, John Deere, Michelin, Microsoft, Nokia, Pella, PepsiCo, Procter & Gamble, Samsung, Staples, State Farm, Roche, Square D and more.
"We find the best way to grow has been to understand our clients' needs and then provide solutions that are non-core to their business," says CEO Gregg Ontiveros. "As our clients face rapidly changing business conditions, our goal is to adapt quickly to anticipate, meet and exceed their expectations."
40 Years of Success
Ontiveros' father, Robert Ontiveros, founded the company as Bi-State Packaging in 1974, selling packaging materials and equipment to local manufacturers. In the following years, the business prospered and added operations across the United States.
In 1979, the company began offering supply chain solutions, specializing in process management. Additional services – including the company's marketing solutions and business analytics divisions – were added in the following years. Each offers distinct services, ranging from rebate and reward program fulfillment to call centers and big data analytics.  Today, the company ranks as the third-largest company headquartered in the Quad Cities and as Illinois' largest Hispanic-owned business.
Within its supply chain business, Group O annually purchases and manages more than $2.5 billion in client inventory and has established relationships with more than 7,000 suppliers across 30 countries.  Group O also operates from more than 20 warehouses, with rapid ability to scale and add space, based on client need.
SWAT Team Approach
Group O attributes a big part of its success to following a disciplined approach to onboarding and operating new programs.  When the company begins a relationship with a new client, it pulls together a SWAT team from multiple disciplines, including supply chain operations, IT, finance, real estate and others to create a recommendation.
"Our solution delivery methodology helps to ensure predictable, reliable results across a variety of service types" Gregg Ontiveros says.  "Whether we're sourcing and distributing parts for client equipment or managing complex retail kitting and distribution needs, it's important to have a disciplined approach to defining and documenting our work."
For one large telecommunications provider, for example, Group O recently supported a 40,000-store campaign that involved organizing the logistics of merchandising, goods and fixtures, along with product transfers. Needless to say, it was no simple operation. "It was a very sequenced integration," Ontiveros recalls. "We had to hit 40,000 doors within the same week so all stores looked the same – and our solution approach provided the blueprint to make it happen.  Our client called it the most successful launch that they had ever achieved."
Group O also brings significant expertise in strategic sourcing and supplier management. The company has found that many of its clients are so focused on managing the top 20 percent of their supplier relationships, that they need help managing the remaining 80 percent. Group O sourcing managers step in to manage these suppliers while adding efficiencies in purchasing, technology and logistics.  "We are making things happen for companies that want to focus on their own core competency," Ontiveros says.
The CEO is "very bullish" about current economic conditions. Group O now manages an expanding list of clients as it opens new operations in Mendota Heights, Minn., and Carrollton, Texas. It is also eyeing further growth this year.
"We touch a lot of different industries," Ontiveros says. "The key for us is being very diversified. We serve a variety of industries such as consumer products, telecommunications, heavy industrial agriculture, off-road trucking and even pharmaceuticals. So if one is down, that is not the case for the entire economy. We can find an upside." 
Group O also has the advantage of being a Hispanic-owned company. As large corporations seek to expand their supplier diversity profile, Group O's status as one of the country's leading MBEs helps it. "Our diversity status helps us connect with companies looking to do business with minority-owned suppliers," says Ontiveros.  "But at the end of the day, we still have to deliver to earn their business and develop long-term relationships."
Going forward, Group O looks to build on its success with existing and new clients. As Ontiveros explains, "If you don't know what to do, call a consultant. But if you know what to do and want to get it done, call Group O."