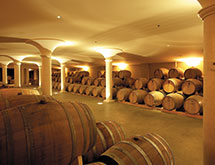 Many supply chain specialists only have to get the right amount of product to the right place at the right time. Although that is not as easy as it sounds, it is even harder when only a fixed amount of the product is available. Having to forecast that product amount five years and longer in advance complicates the supply chain even further.
Although this situation might sound like a nightmare for some supply chain specialists, it is the situation Director of Supply Chain Management Tom Sauder faces every day for Andrew Peller Limited's wines produced from Canadian grapes. Fortunately, the company also blends wines from various regions for some of its products.
This situation required a new approach. The company had been using a homemade database and spreadsheet system that it was running its planning and operations off that was not integrated. "They weren't easy to support, so one decision we made five years ago was to get an integrated system," Sauder recalls.
Andrew Peller Limited also decided to implement a sales and operation planning (S&OP) process and integrate it with the new business management software. "We took a two-pronged approach at the same time, which wasn't easy – changing the process and system at the same time – but it made sense," Sauder says.
The company made a significant investment in working with integrated business planning consulting firm Oliver Wight (OW) International, New London, N.H., and Oracle software integrator Inspirage, Bellevue, Wash., to develop a process and software to create a more effective supply chain management and business planning model.
In the past, Andrew Peller Limited would simply absorb the risk associated with any shortages or surpluses of grapes, Sauder says. "Now, we are being much more proactive in our planning," he says. "We fine-tuned the monthly process to focus on essential decisions that need to be made and on the true constraints that impact our business. We develop monthly operating plans and model scenarios based on supply variables."
Instrumental to the successful implementation was OW, which was hired in 2012 to consult on the implementation of its integrated business planning (IBP) process, or advanced S&OP.
"OW guided us in the design of the monthly meeting cycle including meetings for business, product, demand, supply and financial management review," Sauder explains. "They also helped us restructure our organization so that all activities in the monthly cycle are done by the right people. OW helped us define data requirements for the monthly meetings, which then fed into the simultaneous development of an integrated information system.
"OW also had a lead consultant for each functional area," Sauder continues. "Our supply chain benefited from the experience and skill of global supply chain expert James Correll of OW, who provided tremendous value in process education, process re-engineering and decision-making. Based on his advice, decisions are made as late as possible to allow for the most recent data to drive them. OW also audited the first few full cycles and offered improvement suggestions."
Lessons Learned
One of the challenges Sauder encountered during the software changeover was cultural inertia. "It has been the first three years of a long journey, and we learned some significant lessons," Sauder notes. "When it comes to people actually doing their daily job, asking them to change things they have done for years and years is a little harder than we thought. Any implementation of an S&OP process involves people, work processes and software tools. One should not underestimate the inertia of culture and the reluctance to change it by those not directly involved in leading this initiative. To overcome this requires continuous education and selling of the vision and its actual and future benefits."
The solution is to educate all employees in the system so they buy into the transition rather than just involving managers and expecting their commitment to trickle down to everyone, Sauder recommends. "If people don't change their habits but their information is required and it doesn't get in the system, it creates data issues, and you don't get the information out that you want," he warns. The other recommendation Sauder has for such a transition is to have a plan in case of budget overruns or missed deadlines.
Additionally, the interdependence of work processes and software needs to be understood and managed. "Work processes have developed over time, and people are comfortable with them, understand them and have developed personal work habits around them," Sauder declares. "Software is developed based on generic business processes because software companies have clients with all sorts of unique business situations. The expectation that a software package will work out of the box is just as unrealistic as the expectation that work processes won't change. Significant effort is required to find the optimal point of process change and software customization. Within this, it is important to understand software setup options to exploit their built-in flexibility before embarking on costly customizations." 
How It Works
Sauder uses the supply chain from grapes to finished product as an example of how the new system works. "Every month, we create a new supply/demand balance based on changing long-term forecasts and changing grape supply estimates, which are based on environmental events," he says. "Before the harvest (August to November), we only act on excesses and constrain demand for shortages that are significant and cannot be resolved. For all other imbalances, we develop options that can be acted upon once the final data are in."
The next critical time is after the harvest, when the quantity and quality of grapes delivered is known. "In conjunction with our marketing and demand partners, we set priorities for which products get limited supply and which products could benefit from excess supply," Sauder continues. 
Wineries are V-plants in which a few raw materials, such as 20 grape varieties, are processed and combined into hundreds of finished-product SKUs. "Once the winemakers have used up all the raw materials in their product planning to meet demand, we know the exact excess and shortage by finished product," Sauder says. 
This new approach required much tighter and more transparent collaboration among supply chain, marketing, sales and finance than ever before. "We developed standard operating procedures as reference for all stakeholders so that they remember the rules and what they needed to do when," Sauder says. "The results are a more valid demand plan, because more expected and actual supply information has been incorporated. It has pointed out where forecast accuracy improvements will deliver the most benefits. It also has reduced the excess inventory in the entire internal supply chain by 75 percent from February 2013 to July 2015."
Oracle is the value-chain planning tool Andrew Peller Limited uses and Demantra RTSOP has become the key information tool. "Joseph Goncu, systems integration consultant, supported by Kevin Creel, president of Inspirage, were instrumental in setting up the system and providing customizations where necessary," Sauder says.
Looking Ahead 
Andrew Peller Limited is planning further out in terms of rough-cut capacity planning. "The last issue remains the detailed capacity planning for our grape-processing and tank distribution needs over the next 24 months," Sauder says. "We are discussing various models of how to program the processes that currently live in people's heads or are based on tradition. 
"We believe that once we have a dynamic capacity plan, we will be able to challenge past behaviors and make better decisions, saving both working capital and capital expenses."
Sauder returns to the importance of involving all employees in the change.
"A very committed, diligent, knowledgeable project team with support from top management is essential," he insists. "The team needs to be composed of internal staff augmented by implementation consultants and software experts. The entire project will likely take longer and cost more than originally anticipated, and that is likely unavoidable due to the unknowns when established processes meet new software. 
"Allowing for hefty contingencies in the project plan and patience – as well as perseverance to hold true to the original vision – are important. Generating momentum through early successes and building on them makes culture change easier."