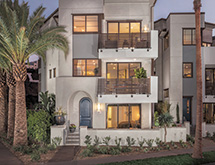 TRI Pointe Group builds homes and relationships, Vice President of Purchasing and National Accounts Kevin Wilson says. "We need to have strong relationships that we can rely on to negotiate stronger programs that benefit the manufacturer and the subcontractor, and give us the ability to satisfy and delight our homebuyers," he says.
TRI Pointe Group manages a family of premium homebuilders that operates across the nation. CEO Doug Bauer, President and COO Tom Mitchell, and CFO and Treasurer Mike Grubbs started the company in 2009. The three had worked together in the industry for over a decade and decided to start the company after developing a vision for a homebuilding firm that was driven by home design.
Although the economic downturn impacted many of TRI Pointe Group's peers, Bauer, Mitchell and Grubbs used their expertise to start and grow this new company. TRI Pointe also merged with Weyerhaeuser Real Estate Co. (WRECO) in 2014, which had operated with five separate homebuilders in seven states.
Today, TRI Pointe Group consists of six brands across eight states, which includes Maracay Homes in Arizona; Pardee Homes in California and Nevada; Quadrant Homes in Washington; Trendmaker Homes in Texas; TRI Pointe Homes in California and Colorado; and Winchester Homes in Maryland and Virginia.  Altogether, "[We] expect to increase new home deliveries by 25 percent in 2015 over 2014 combined deliveries," Wilson predicts.
A Flexible Firm
Wilson joined WRECO 13 years ago. "I ran the national account programs for the different operating companies," he recalls, noting that he joined TRI Pointe Group during the merger.
What keeps the company successful, Wilson says, is its ability to be a large corporation while maintaining the agility of a smaller, local firm. "We allow the divisions to operate locally and autonomously in a lot of regards," he says. 
If a TRI Pointe Group division encounters a market that is more accustomed to having a turnkey subcontractor base, "We can operate that way," Wilson says. "Instead of having a corporate plan library, we develop products to individual markets. What's specific to buyers in southern California might not work back east."
Staying Current
TRI Pointe Group keeps current with trends. Although the Pardee Homes brand has a 90-year history, it stays  "responsive to the buyers of today," Wilson asserts.
Recent trends include homebuyers wanting to extend their living spaces from indoors to outdoors. "[They have] the desire to incorporate that as really one single living space," he says. This has resulted in the inclusion of gliding doors and extended patios. 
TRI Pointe Group also is responding to the needs of millennial homebuyers and how they want to live, Wilson says. "We know that the new millennial is walking around with those handheld devices and they need to be connected 100 percent of the time," he says.
"We're focused on that buyer's needs for technology in the home and their ability to connect with the outside world with streaming media and strong router capabilities," Wilson says, noting that TRI Pointe Group has partnered with Luxall and Savant Systems to meet those needs. "We're learning some lessons that we'll be able to put in our production homes in the future."
This focus will be reflected in one of TRI Pointe Group's latest projects, which includes a partnership with Hanley Wood. "We're building two homes with them that will be featured during the 2016 International Builders' Show [in Las Vegas]," he says.
The concept homes will be featured in Inspirada, a large, master-planned community in Henderson, Nev. The project, called the "Responsive Home," features smart technology and a contemporary farmhouse and transitional design concept, and embodies how millennial buyers "want to live," Wilson says.
Ready to Go
TRI Pointe Group is coping with the challenge of finding labor in its market to manage its job sites, Wilson says. "Thankfully, we haven't had any significant issues," he admits.
But the company continues to take steps to ensure its sites can be closed faster. This includes making sure its job sites are "clean and ready for labor," Wilson says. "If our trade partners show up on Monday, [they're ready to start work] on moment one."
TRI Pointe Group also focuses on "being a builder that's easy to deal with in the office," he continues. "We pay regularly and [employ] superintendents who are the best out there so our subcontractors can be as productive as possible."
TRI Pointe Group regularly invests in itself. "Part of acting like a big company is investing in systems that run across all of our homebuilding operations," Wilson says, noting the company is transitioning to Oracle's JD Edwards Enterprise One software to improve efficiency.
The company also purchased new land, which allowed it to expand its Trendmaker Homes brand from Houston into Austin. "We will continue to acquire land ahead of our building operations, which will enable us to meet our goals and projections for 2016, 2017 and beyond," he says.
Reliable Suppliers
TRI Pointe Group ensures the quality of its supply chain by working only with key manufacturers that meet its needs. In the past, "There were some challenges in manufacturing supply issues, where there were port issues in Long Beach, (Calif.)," Wilson says. "Many of our national accounts had to bring products through other ports." Today, "We partner with brands that understand supply chain and our national footprint very well." 
When hiring, the company looks for "those that understand the market and our needs as a homebuilder," he continues. "We center around sourcing products that are tested and reliable."
Wilson is proud of TRI Pointe Group and the leadership of Bauer, Mitchell and Grubbs. "While our leadership brings a big builder mentality to some things, we still really respect the local leadership, local philosophies and strategies that have been in place," he says.
He sees more success ahead for TRI Pointe Group. "We're focused on growing smartly, and growing profits as well," Wilson states. "I'm excited about our strategy."
The company enjoyed a strong year in 2015 and expects that to continue. "We look forward to a good year ahead of us," he says.