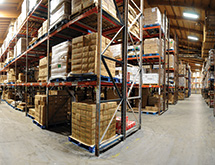 When food and beverage manufacturers and retailers need temperature-controlled warehousing and logistics services, they turn to Americold. "We've been around since 1903 and have grown to a network of more than 180 facilities across six countries to offer a temperature-controlled storage and distribution network that's second to none," Director of Strategic Sourcing Gijo George declares.
Based in Atlanta, the company owns and operates warehouses in the United States, Australia, New Zealand, China, Argentina and Canada, giving it a cold storage network capacity of 1 billion cubic feet.
Americold's history can be traced back to 1903 when Ernest Woodruff merged three cold storage warehouses to form the Atlantic Ice & Coal Co.
Woodruff later left the firm to buy The Coca-Cola Co., but Atlantic continued to grow through mergers and acquisitions as well as organic growth into numerous businesses, including cold storage, convenience store development, cold transportation and even fast-food restaurants and a brewery.
In 1997, the company took the Americold name. The company made possibly its most significant acquisition in 2010 with the purchase of Versacold, the then-second largest temperature-controlled storage provider, gaining 40 locations outside of the United States, and establishing a strong presence in Australia and New Zealand.
Creative Solutions
Americold serves a market largely focused on end-user consumption, Gijo says. "It's a 'serve-to-need'-type of model that can put a tremendous amount of pressure on the supply chain," he describes.
This has necessitated food and beverage retailers to rethink point-of-sale strategies. The results are higher frequency orders and a much more rapid turning of inventory. "It also brings a lot more variation of SKUs to the mix," Gijo comments. "And each of these SKUs might have different requirements."
For example, ice cream products require a much colder storage environment than even frozen turkey, which is different again to chilled product requirements. Americold has the network flexibility to accommodate the unique requirements of these and all other cold products. "Our U.S. network has 145 facilities and the majority of our sites have multiple rooms where temperatures can be set at different levels so that we can offer storage solutions across a wide range of temperatures.
"We have a dedicated supply chain solutions team with experienced engineers able to look at a customer's specific needs, consider the options that the Americold network can provide, and develop a cost-effective solution to support the growth of the customer," Gijo says. "An example would be our consolidation program.
"We have mapped the most effective delivery routes based out of our five national consolidation centers," he says. "From these five centers we can deliver to every major food wholesaler and retailer forward DC. So if a food manufacturer is currently purchasing full truck loads just to deliver less-than truck load volumes to their customers, then we really want to talk with them so that we can fit into their schedule, reduce the congestion at their customer's dock, and ultimately save them money.
"It [brings] cost benefits to our clients where they're not having to dedicate different trucking lines or increase shipping costs to send out less-than-truckload orders," he says. This makes the customer more efficient too, he adds, since they can have all of their volumes delivered to Americold's consolidation centers in full-truck loads.
Finding Talent
Like many in its industry, Americold has coped with the challenge of recruiting new, qualified workers. And the company has seen some success in recent years, Gijo reports.
"We've brought in leadership to build the right values and the right principles," he describes. "We're complementing our traditional recruiting methodologies with more contingent workforce."
The company has recently launched its "This is How Americold Sounds" movie snippets where associates were filmed discussing key employee topics such as available benefits, workplace safety, corporate social responsibility and career opportunities etc. Readers can view them on Americold's YouTube channel: https://www.youtube.com/channel/UCQClKJNx7torho3xZe55t6A
Some of Americold's other recent initiatives include changes to its procurement processes, Gijo says. Previously, "Traditional procurement tasks were handled on a local level," he recalls.
But in 2014, Americold's leadership recognized the need to have a companywide procurement philosophy. "Since then, we've had 30-plus programs that have been able to drive significant cost benefits and assist with enhanced customer service," Gijo says.
This includes the way Americold acquires material-handling equipment. "Today, we have a centrally focused approach," he says. "We look across our portfolio to match the need of our organization and right-size our fleet to decrease maintenance and repair costs."
Essential Tools
Americold strives to keep its supply chain employees' skills sharp. "There are internal tools and training offered through our Americold University," Gijo says, noting that this provides training on policies and practices for vendor onboarding and management, too.
"In addition to that, Americold also invests in the employees by educating them in terms of the applications' specifics," he continues. "We send our sourcing professionals … to get specifics on refrigeration technologies and the different aspects that would affect a refrigeration system, so they are better equipped to source in a professional manner."
Americold recently expanded its reach with the opening of two facilities last year in Indianapolis and Phoenix. "We're continuously looking at additional opportunities," Gijo says.
"We've recently been awarded brand-new build opportunity in Portland, Maine, which is expanding our footprint there, modernizing our capabilities in the market, and supporting the growth goals of the local port authority," he continues. "Because we are global, we are looking at opportunities across the oceans as well."
The company also continues to make purchases that have included its January purchase of its previously leased Tradewater facility in Atlanta. The facility, which was constructed in 2005 as a build-to-suit site for a food producer before Americold took over the lease, covers more than 455,000 square feet. It increases Americold's owned temperature-controlled storage capacity in Atlanta to more than 53 million cubic feet.
"It's always been our goal to fully integrate the Tradewater site into our portfolio, and everything aligned to include the purchase early in the year," President and CEO Fred Boehler said in a statement. "As owners of the property, we will continue to invest in the site to further enhance the services offered to our clients. These are exciting times for Americold and our customers."
Next Generation
Americold launched the next generation of i-3PL, its temperature-controlled supply chain control system, in 2015. The application gives customers the ability to track inventory, manage orders and create tolerance alerts, receive performance metrics and much more across Americold's U.S. and Australian networks from any web-enabled smart device. Gijo notes that clients really like the tool. "It gives them additional visibility and control over their product so they don't lose sight when it comes into our network. It puts information in the palm of their hand and empowers decision making," he says.
According to Executive Vice President and CIO Thomas Musgrave, Americold's investments in technology ensure its position as a premier supply chain and logistics company. "We've made strides each year to improve our technology platform, and … we continue this progress with the external launch of the latest evolution of our i-3PL supply chain visibility and reporting tool," he said.
"i-3PL provides our customers with the ability to manage all inventory across their entire enterprise," Executive Vice President and Chief Commercial Officer Keith Goldsmith adds. "It streamlines their supply chain management process and enhances the levels of service provided for our customers' customers.
"The latest release of i-3PL shows our continued investment in our market-leading technology platform, and we will continue to advance i-3PL with additional functionality that allows our customers to manage their business with even greater efficiency," he added.
A Refreshing Environment
Gijo joined Americold in April 2014. "I'm basically new to this industry," he says, but notes that he has worked in the supply chain procurement background. "I've been in different roles as a consultant too.
"The culture of Americold is quite phenomenal," he raves. "It's a very open and collaborative environment, which is unlike the companies I've experienced in the past. It [encourages] everyone to try to do the best they can through multiple groups."
He explains that Americold encourages its associates to find opportunities for improvement and to voice their opinions. Recently, in the procurement operations, the company's employees looked at its payment metrics and recognized an opportunity "to further improve performance," Gijo recalls.
"We brought up the idea, and it was wholeheartedly embraced by our finance and treasury executives," he explains. "The departments are really looking for ways to improve upon themselves and who better to find those improvements than the associates working those processes on a daily basis."
Working in a temperature-controlled environment, such as in Americold's warehouse network, is not for everyone, but the company nevertheless enjoys longevity in its staff. "Last month, we celebrated employees retiring after 40-plus years of service," Gijo says, noting that many others have spent more than a decade with the company.
A Lot to Offer
The future for Americold is very bright, Gijo says. "We are in an environment where Americold has a lot to offer," he says. "We have the network capabilities to service global as well as local clients.
"We have the resources internally to establish leading practices as well as come up with customized solutions," Gijo continues. "It's a very cohesive environment. That really does set us apart from other companies in the industry.
"With our current leadership we have in place, we're seeing all those different factors come to life," he states. "Our biggest clients are asking us for more of a footprint and for deeper engagement."