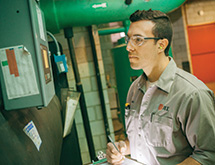 As one of the only truly global, full-service real estate companies in the world, Jones Lang LaSalle (JLL) is investing in the standardization of its supply chain programs and processes globally. "I think we are fairly unique being truly global with a full spectrum of real estate services," Chief Procurement Officer for the Americas Denver Clark says. "What we are looking at in sourcing and supply chain overall is seeking to deliver a consistent product that creates real and sustainable value for our clients." 
With its global headquarters today in Chicago, the company has specialized in commercial real estate services and investment management for more than 200 years. JLL focuses on creating value for companies and institutions that invest in and use real estate. The company has 58,000 employees and more than 230 corporate offices worldwide to serve the local, regional and global real estate needs of corporations and investors in more than 75 countries. 
Offering a plethora of services, JLL's focus on its clients' needs has remained unchanged over the years and it prides itself on organic growth. "We are the only significant player in the industry who got to the size we are today principally through organic growth," Clark explains. "Significant growth through a series of accretive acquisitions can be great for a company's stakeholders focused on top line revenue growth, but not always so good for their clients. Consistency in culture and delivery over the long-term is what really benefits clients in our industry"
The company attributes its organic growth to its strong client focus, Clark says. "When you look at how deep we go with that – whether that's engagement with executive leadership, local stakeholders or investments in our platform that benefit our clients – it's the way we collaborate with them," he adds. "Once we win a new client, we keep them with us at the table. We strive to understand their culture, needs, and experiences, and shape our delivery around those things." 
Supply Chain Consistency 
Although there are customizations and nuances the company comes across in every region – in Japan, for example, contracts must be written in Japanese to be legally binding – JLL is investing to deliver a consistent product throughout the world. "One way we have started that is simple organization," Clark notes. "When I came here in January, it was a brand-new position and now I have an exact peer for Europe/Middle East/Africa, and Asia Pacific. We also have a new global chief procurement officer who is dedicated to driving this transformation. The four of us have 100 percent goal and strategy alignment, and collaborate on any and many odd-hour calls so that we can stay truly connected" 
JLL has redefined category management to ensure all employees understand its meaning and have a plan to deliver consistently. That includes having people at the regional and local levels driving consistency with supplier relationship management focused on performance management and supplier segmentation. "In terms of supplier performance management, we determine what that means to us and what it takes to achieve those goals and do that in a similar fashion across the regions," Clark says. 
The company is also focused on managing and mitigating its supply chain risk and driving high levels of compliance by establishing standard protocols and platform to do so. "The simple fact is that we spend $26 billion globally on behalf of our clients and hire a lot of companies which come into our clients' facilities to perform work," Clark adds. "We recognize that those suppliers represent a risk exposure to our clients on many levels and they look to us to mitigate that risk."
In 2015, the JLL SCM leadership team established a global team that focuses exclusively on risk and compliance. "Most recently, we have launched a global vendor portal with a third-party partner for supplier screening and insurance certificate management," Clark says. "This provides a huge level of consistency and compliance in a globally scalable solution." 
Standardizing SCM Roles 
Over the past year, JLL has spent time looking at the titles of the people within its SCM organization and standardizing those roles, defining what they mean and developing career progressions. The company created a global work stream team made up of representatives from each region and senior leadership that will be focused on title and job description alignment, and building new training and development programs for its team. 
The last mile is to redefine the organizational structure to reflect a significant increase in centralization of both process and activities, Clark says. "It's not to take away the ability of stakeholders and clients, but to drive consistency in that," he adds.
Clark oversees the Americas team for JLL and has a number of regional directors and platform leaders that report directly to him. "The size of my team has doubled since I joined in January 2015," he says. "We've made significant investments in the highest talent we can bring into the company and aligning that with outstanding legacy talent to support new and broadened roles within the organization." 
After the organizational structure is standardized around the world, JLL will focus on continuing to develop its peoples' skills. To do so, the company will send its employees to industry events where they can socialize with their peers and learn about best-in-class practices. "We want to give people a career progression, a path and a plan," Clark says. "That has to involve that famous question: 'What's my next assignment and role within JLL and how does that help me grow?' That doesn't just mean lateral moves. We have a diverse client base that creates a richness in the workplace for people to learn about different industries and career progression."
Regional Sourcing Director Sewell Avant says because of the company's rapid growth over the past year, JLL needed to formalize career progressions at the lower and middle management levels. "I was a part of a core team working with human resources to develop the criteria of each specific role from analysts up to directors and vice presidents," he says. "We point individuals to the skills they need to master before they can go to the next level. It has resonated well and people can know where they stand." 
Relationship Building
"When I joined the company, my team got together and discussed where we wanted to be with supplier relationships and what does success look like? It can be the nice, glittery things like innovation and collaboration, but to boil it down into its simplest form – we want to be the customer of choice for all of our suppliers," Clark says.
Clark wants suppliers to want to work for JLL and hopes to accomplish that by truly being a great partner: treating them fairly, doing what they say they will do and doing it consistently. For example, prompt payment is important to suppliers and JLL is financially solid and sound, meaning there is no risk that suppliers won't get paid. 
"Suppliers invest in customers who are investing in them," Clark explains. "The goal is to grow their business with us and in the industry in general. When suppliers get to work with JLL they want to learn from us, be on the cutting-edge of innovation, know whether their technology is used or not and manage their performance in an open and consistent way." 
The leadership teams at JLL and its suppliers stay in constant communication and can openly discuss any issues. It is the nature of facilities and property management business to have service failures from time to time, Clark says. For example, because our suppliers are employing thousands of janitors who work off hours, there will from time to time be one that doesn't show up or get the job done and the companies need to resolve that quickly. "It's all about the dialogue and relationships," he adds.
"Our suppliers see a huge opportunity for growth within our business," Avant says. "Whether a small or global vendor, we give them the opportunity for growth by leveraging spend across clients and regions."
Value Streams
JLL is consistently looking at whether it is creating the most value it can in terms of efficiency, lowering cost and being influential in the market. "It's a continuous journey," Clark says. "We transformed the SCM team from more back office to more strategy and process oriented and that is something we feel really helps JLL differentiate itself." 
The company is achieving that through its team of professionals who will deliver on the goals its clients have set for the company. To measure its success, JLL sets financial goals or metrics to meet through new revenue streams, hard dollar savings for its clients or internal stakeholders. "If we spend $10 million one year and the next year we spent $8 million for the same or better services, that's $2 million we created in real value," Clark explains. 
Alternative Models
The traditional sourcing model in the industry is to build a team for the client and hire or assign people to the client which directly reimburses the value of the full compensation for those people. "What we have developed are alternate models with centralized teams that have very high expertise and can roll people in and out of accounts based on need and specialty," Clark says.
For example, if three full-time equivalent staff man-hours are needed on an annual basis to support a client, that need could be filled by six or seven different people to create a higher level of expertise and more nimble support team. "The results can often be realized faster with more sophisticated and concurrent sourcing initiatives," Clark adds. 
JLL recently launched a new products supply chain solution that it will use moving forward to increase productivity and leverage spend. Ninety percent of JLL's third spend is in services, but the other 10 percent is products. "Take an office building; we have to purchase all the things that make the building work – MRO consumables and repair parts, paper products, cleaning supplies, light bulbs, tools, etc.," Clark explains. "It's less than 10 percent of our total spend, but when you get into these individual categories we have a very significant spend for those suppliers, and we have the opportunity to 'make the market;' it's huge." 
The company had been working with retail distributors for these products, but didn't feel it was getting the most leverage or the most  efficient supply chain, so  JLL went "up channel" to the manufacturers of the products and negotiated its own supply agreements. "We then partnered, under full cost transparency, with a handful of best-in-class distribution partners to get the products to the field. Finally, we selected a technology partner to develop a proprietary, branded and unique e-commerce platform for called JLL Marketplace," Clark says. 
"It's similar to an Amazon shopping experience, but tailored to our business and clients."
Users of JLL Marketplace make purchases by logging in and buying the products they need without having to shop around. They no longer have to worry about who to go to for the order or if they are getting the best price. "It's a single tool to buy everything they need with powerful pricing leverage, and consolidated electronic invoices," Clark says. "We cut tens of thousands of invoices out and leveraged spend to a single channel."
When asked about what comes next, and how JLL SCM leadership is preparing, Clark offered this: "As a leading global provider in an industry that has experienced significant change and consolidation over the last few years, we are committed to continuing to innovate and evolve to provide our clients with service, results and thoughtful leadership they have come to expect from JLL. For the SCM team, that starts in our own backyard.  Our global team is highly engaged and motivated to lock down our position as the best in class in corporate real estate services, and on par with our world-class clients."