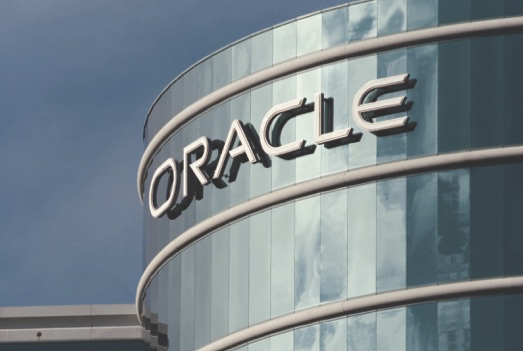 Oracle leads the way in cloud computing as companies recognize the value-added business intelligence and cost-savings of implementing the platform. By Janice Hoppe
As one of the world's greatest providers of software solutions to integrate and enable global supply chains, Oracle uses its information technology expertise in partnership with GE Digital's new operation technology platform to offer customers even greater insight into their products and services. "We have been in this market for decades, starting initially with building ERP systems for global manufacturing companies, and in the last couple of decades building best-in-class supply chain management applications," Global Senior Vice President Rod Johnson says. "Over the last four to five years there has been a shift in the industry overall to the cloud."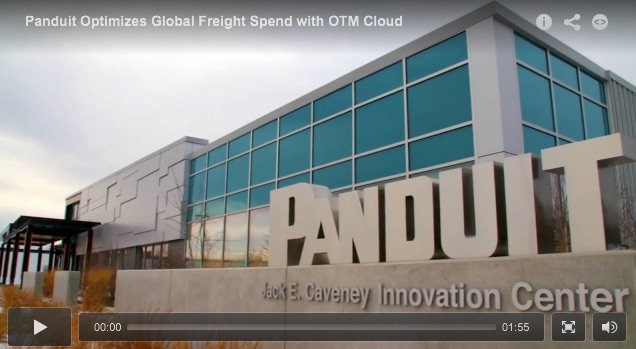 The Redwood Shores, Calif.-based company offers a comprehensive and fully integrated stack of cloud applications, platform services and engineered systems to more than 420,000 customers – including 100 of the Fortune 100 – in more than 145 countries. "From data center operations to cloud applications, Oracle not only eliminates the complexity that stifles business innovation, but also engineers in speed, reliability, security and manageability," the company says.
Oracle leads the industry in cloud-based and on-premises solutions, which provide customers with complete deployment flexibility and unmatched benefits, including application integration, advanced security, high availability, scalability, energy efficiency, powerful performance and low total cost of ownership. "Over the last few years, Oracle has come out with a generation of new software for the supply chain delivered in the cloud," Johnson says. "It has a number of new advantages and makes it easier to use."
The Cloud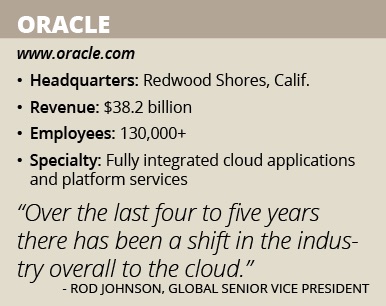 Oracle Cloud is the industry's broadest and most integrated public cloud. It offers best-in-class services across software as a service (SaaS), platform as a service (PaaS), and infrastructure as a service (Iaas). Cloud computing is a style of computing based on shared, elastic resources delivered to users in a self-service, metered manner using web technologies. "The key is to build a cloud strategy that helps every group define not only what cloud computing means to them, but also how to best use it," the company says.
The cloud trend began in the late 1990s on the consumer side with applications like Gmail. In the early 2000s, cloud computing began to offer business applications in terms of sales and customer management software. Financial applications were the third wave of implementation used by chief financial officers and their teams.
The fourth wave of adoption has been in the supply chain. "Supply chain organizations have been late to the party in terms of taking advantage of these more modern applications delivered via the cloud," Johnson notes. "Basically every company or user is now beginning to shift to the cloud. They are subscribing to what they need, and running it out of the cloud."
At the most basic level, supply chain organizations have two options when choosing how to manage their data. Companies can find a point solution or application that does one thing very well such as a demand planning application, sales and operating planning, warehouse management or a transportation application, and run them separately.
The second option is to invest in a suite of applications for a fully integrated supply chain to support a broad range of needs. "Oracle is unique in that we provide the full suite," Johnson says. "We think the biggest value you can offer anyone running a supply chain is full integration and visibility. Supply chains' biggest challenge is integrating information and having visibility into information across the entire enterprise. We are helping customers connect via extended supply chain and have a portfolio of applications that solve specific challenges, but on an integrated platform."
Overcoming Skepticism
Oracle Cloud helps organizations drive innovation and business transformation by increasing business agility, lowering costs and reducing IT complexity. As recently as 2014, however, businesses were still skeptical about putting their information on the cloud and trusting a third-party to operate mission-critical tools. "What we've really seen over the last two years, but mostly over the past 12 months, is that the attitude [towards the cloud] has changed," Johnson says.
Perception is one of the biggest challenges Oracle faces when it comes to companies adopting the cloud. "We help companies overcome that by education," Johnson explains. "We educate them on the level of investment and thought that's going into how we build the cloud to protect the applications and data."
Through that education, companies have discovered that the cloud offers a much greater chance that their information will be secure, especially when partnering with a company like Oracle that can afford to invest $500 million or $1 billion per year on security and infrastructure. Oracle is a cloud specialist and dedicates $5 billion a year on research and development, Johnson says.
The pace of innovation is far exceeding traditional tools in supply chain. "The pace of innovation that's happening in the cloud is more advanced than their existing tools, which are falling behind," Johnson says. "I've seen an attitudinal shift towards the cloud. Instead of asking why and if they should come to the cloud, supply chain leaders are asking how they get started and what changes to make to take advantage of the new innovations coming to market."
As the cloud continues to evolve, Oracle says analytics are the biggest advancement it has had in terms of information technology. Analytics improve the quality of business intelligence through the system. "For example, we have typically thought of reporting as what we would see in Excel: rows, columns and data I need to sift through," Johnson explains. "Now, there is so much more power in the visual tools. A picture is worth a thousand rows and columns in Excel. It's presented in very visual terms and that's a game-changer for a lot of companies."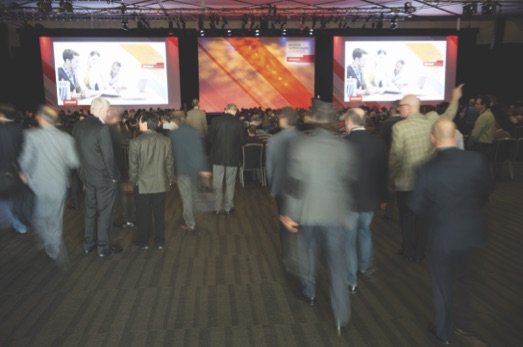 Supply Chain Benefits
Supply chains are complex with thousands of products and distribution routes, and hundreds of sources of supply. Oracle Cloud provides companies with the ability to see the interconnections and make faster decisions. "The fact that applications are available in the cloud is convenient, faster and more cost-effective," Johnson says. "The game-changers are increased business intelligence, insights and the ability to make better decisions to satisfy the customer's need or take cost out of the supply chain."
Companies are able to implement cloud applications much faster than traditional ones that are often an 18- to 36-month-long project. "The benefit of the cloud is that it's more bite-size and the whole transition is 90 to 180 days because we are delivering you the tools," Johnson explains. "It's dramatically faster to the consumer and faster means less time and cost."
In addition to faster implementation, the cloud also offers supply chains a 30 to 50 percent cost savings in terms of total operation costs as opposed to choosing point solution applications. "The economy of scale of the cloud is much more effective because Oracle is doing it on behalf of a thousand other companies," Johnson explains. "It is cheaper to deliver and operate the applications."
Although having lower upfront operating costs is a benefit, the ultimate reward comes in reducing supply chain costs through the cloud. For example, transportation optimization is just one piece of the supply chain suite, but a typical Oracle customer can lower their transportation costs by two to 10 percent. "If you are a couple-billion-dollar company and have $100 million dollars of freight, we can save four to five percent by optimizing the load and route management," Johnson says. "That's where the real savings comes in."
Improved Usability
Change is inevitable for businesses implementing a new tool, and it's no different when it comes to the cloud. "That's the biggest challenge, changing how we work and how we operate the business to take advantage of the automation and decision-making power of the tool," Johnson says. "That's as true in the cloud as it is in the traditional way of deploying software."
As supply chain organizations have begun adopting the cloud, users have seen improved usability. "We have learned so much from the consumer world, from Apple, Amazon and Google, and how you build applications that are intuitive to use," Johnson notes. "That's the counter-balance in trying to build applications that are intuitive and much easier to use and take advantage of."
Improved usability is important as the cloud continues to evolve. Oracle updates its platform every four to five months. A new version of the software is released with a number of new features, reporting capabilities and usability improvements, Johnson says. "Since we are operating all the applications, we are constantly improving them," he adds. "That comes in two ways: working to make sure the applications are up-to-date on the latest security protections and fine-tuning the infrastructure to make sure it is performing well. This innovation cycle is just much more rapid."
The software is updated automatically for its customers but scheduled based on appropriate windows for the customer to be offline. "Since we work with big companies like GE and other large customers, there are certain times when there are no-goes because the system does have to come down for a certain amount of time," Johnson adds.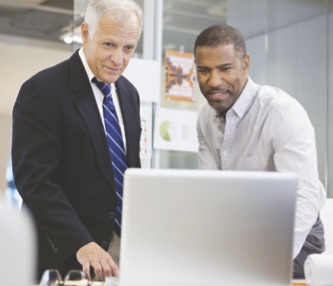 Big Data
The cloud offers purpose-built applications to run supply chains, while also supporting advanced technologies. Oracle enables the cloud to support the Internet of Things (IoT) and big data and mobile integrations. "Oracle's supply chain applications enable technology to complete and extend the solution," Johnson says.
In the supply chain there are very practical applications of big data. For example, using social media to announce new product design and development. Customers can listen to the comments, feedback, criticisms and compliments of their brand and product, and then organize that data decide on and create product development cycles.
"Another example is consumer goods manufacturers are now getting smart on pulling in weather data," Johnson adds. "I know certain weather patterns bring demand for certain products, so I'll pull in weather pattern data and am able to make sure I have the right products available if a big storm is coming or heat wave. Consumption patterns differ based on weather patterns. Using big data, companies can take advantage of the wealth of external data and make sense of it so they can make effective decisions around distribution."
General Manager of Business Transformation at GE Power John Shorter says it developed an IoT platform with Oracle in 2014 that allows it to connect millions of sensors from its product in the field back to its headquarters for analysis. "Leveraging this software allows us to create new products and services to support our customers," he says. "We needed Oracle to help us with execution within the company. Their IT systems bring that data in and they are a great partner for us. Oracle is leading the way in cloud and that's a great benefit to us."
Gaining data from sensors in the equipment allows GE Power to understand the operability and capability of its products in the field to better serve its customers. GE Power supports the utility industry around the world as the largest provider of equipment and services. "This system will provide us much better visibility and the ability to come up with new products and services so our customers have much better control of their product to drive profitability and growth for the utility industry," Shorter says.
Digital Collaboration GE is a long-standing strategic partner of Oracle, having worked together on a number of joint developments. "We consider them when we build software and want their stamp of approval," Johnson says. "They are one of the toughest customers out there, operating diverse and complex supply chains throughout the world."
GE Digital is a new division of Fairfield, Conn.-based GE that has developed a new operating system and platform called Predix, building applications that connect to industrial assets, collect and analyze data and deliver real-time insights for optimizing industrial infrastructure and operations. "It really focuses on helping to extend the value of their products through digital," Johnson says.
"GE makes power plants, turbines, jet engines, locomotives and healthcare equipment, and all of these are information rich," he continues. "They have lots of sensors and ways of collecting information. What we call the fourth industrial revolution is about turning all this information into useful analytics for early warning and prevention. We are partnering with GE to help bring those new digital services to market."
Predix offers cutting-edge technology and decades of GE's industry experience into a PaaS targeted to securely ingest machine-grade data at scale and analyze it to deliver faster outcomes. The Oracle Cloud can use the information from industrial internet devices to help automate and optimize business processes, and enable better asset visibility, more efficient supply chains, intelligent manufacturing, predictive maintenance and service, and improve logistics and transportation efficiency.
"GE's operational technology and Oracle's enterprise solutions are intended to integrate into one optimized view for customers, allowing for end-to-end insight from customer assets in the field and on the factory floor, to the front and back office to the boardroom," GE said. "With these integrated solutions, customers can connect any machine or sensor to any other machine or business application to also create disruptive and innovative products and services."
For example, GE can use Predix to collect information from sensors in a jet engine and learn if a part is wearing out instead of waiting for the part to actually wear out. "They can use real data to proactively go and change that part by orchestrating with the supply chain to have it ready and changed quickly so there's no time wasted," Johnson says. "It's all about the Internet of Things and collecting all this information out of a jet engine, and then using that information to make predictive insights. Then, determine how we use these insights to drive a change in how we execute."
GE Digital and Oracle will come together to train, certify and implement solutions powered by Predix with Oracle's Cloud offerings, technology software and business applications. "We are building an ecosystem with world-class partners who share our belief that customers benefit at the intersection of information technology and operations technology," GE Digital CEO Bill Ruh said. "Oracle has become a market leader in cloud-based enterprise software and we are co-developing solutions on Predix that will leverage this intersection to provide our customers with new insights that were not possible before."
Looking Forward
Moving forward, Johnson expects to see an emergence of the utilization of real-time data and probability versus historic outcomes in the next three to four years. "I think the technology is there today," he says, "but the challenges are that it requires a whole new skill-set in supply chain."
Supply chain leaders will need to target new hires who are skilled in data science and technology, and the cost of skilled employees and the technology is still expensive. "It costs a lot to operate and build, so the barrier to entry is high," Johnson explains. "It will take three to four years before it becomes mainstream and the skillsets are available and the economics are viable."
Historically, supply chain has largely operated by looking backwards – what happened in the past might give clues to what should be happening today. "Right now, supply chains are recognizing that looking to the past is not helping them look to the future," Johnson says. "They need to know what's happening at this moment and need to take advantage of data science and technology, using outcomes and the probability of outcomes to drive decision-making. That's a very different approach."