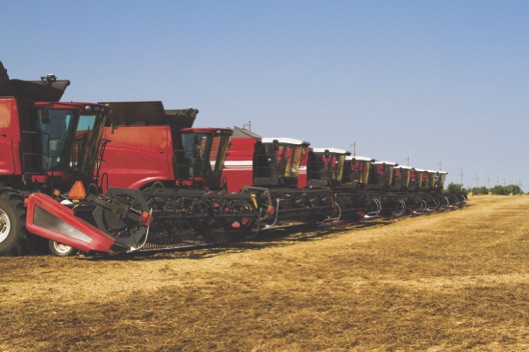 Rocky Mountain Equipment changed its culture and structure to consolidate into Canada's largest agriculture equipment dealer.
Rocky Mountain Equipment prides itself on selling the machines that agriculture customers need to make a living. The farmers and agriculture workers who purchase from Rocky Mountain Equipment need more than just the latest technology and reliable equipment; they want to buy from a company that will truly partner with them to make it easier to do business. "It's the only business I know that's solely based on relationships," says Jim Wood, vice president of agriculture at Rocky Mountain Equipment.
Part of Rocky Mountain Equipment's success can be attributed to its ability to recruit employees who are passionate about building those partnerships with customers. "We're a big company but we're made up of small stores where the employees actually give a [darn] about the customers," Wood says. "You can't force that as a company."
Calgary, Alberta-based Rocky Mountain Equipment is one of the largest dealers of agriculture and construction equipment in Canada. Major brands sold at Rocky Mountain Equipment stores include Case IH, Case Construction and New Holland, along with a range of smaller manufacturers. "We've got the relationships with our customers and the brands we represent," Wood says. "We're well respected in the agriculture industry."
The company began with 11 stores in 2007 and now operates 38 locations in Alberta, Manitoba and Saskatchewan. Roughly 95 percent of sales are tied to the agriculture industry with the remaining 5 percent consisting of construction clients.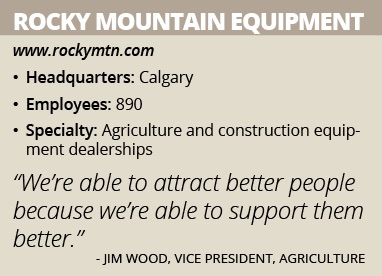 One Company, One Brand
The Rocky Mountain Equipment of today is the result of nearly a decade of consolidation within the Canadian agriculture equipment market. In 2007, Rocky Mountain Dealerships became a public company and soon acquired the brands of Hi-Way Service, Hammer Equipment and Miller Equipment. Although those brands shared a parent company, they continued to operate on their own under their original names. That changed in 2012 when the brands were brought together and became Rocky Mountain Equipment. "I believe it's brought the employees together," Wood says of the rebranding. "It shows the strength of one large company across Canada."
Rebranding as one company came with organizational changes that allowed for more consistency between dealerships and the sharing of information, technology and equipment. "The whole idea around consolidation is you provide best practices to the stores that your acquire," Wood says. "If they have good ideas and best practices you can incorporate those into the whole company."
For those best practices to take hold among once-separate stores, Rocky Mountain Equipment also had to instill a new culture into its employees, one where everyone would buy into being a united part of a larger company. "You really got to prove yourself," Wood explains. "You've got to prove yourself to your customers and your employees.
"It's not easy to drive change without the employees accepting what you're trying to do," he adds. The farther a location was from Rocky Mountain Equipment's headquarters in Calgary, the more separated those stores were from the policies and procedures the company wanted to implement.
To improve that communication, the company created a new reporting structure in 2014. Instead of having to relay information and respond to the directives of a far-off headquarters, the stores were accountable to a regional manager who could provide better individualized support. "It's a heck of a lot easier to get six or seven regional managers to manage a group of five to six stores and drive change rather than getting 36 branches to drive change up to the executive branch," Wood explains.
Rocky Mountain Equipment is a more unified, professional and efficient company following the rebranding, Wood says. The company is better able to spend on things like IT and training and leverage its size to spread practices and technology across its dealerships. "Because of our scale we can make decisions smaller companies can't as far as investment," Wood says. That extends to the resources it provides employees. "We're able to attract better people because we're able to support them better."
Advancing Technology
Rocky Mountain Equipment's capabilities as a leading seller allow it do make investments and push the agriculture market in ways that competitors cannot match. The agriculture industry is readily adopting new technologies such as telematics that can help farmers improve crop yields and operate more efficiently and sustainably.
Rocky Mountain Equipment is making efforts to ensure it can supply the technology its customers need. In 2015, the company acquired RME Geomatics (formerly NGF Geomatics), a company that uses drones to create surveys, maps and imagery. Farmers can combine that information with data collected by combines and other equipment to develop a complete picture of their crops. The data can improve yields by informing farmers of where to utilize variable-rate seeding and where fertilizer will be the most effective.
The RME Geomatics purchase is the most significant acquisition Rocky Mountain Equipment has made in recent years, Wood says. Prior to the buyout, the company had a staff of about five people. Rocky Mountain Equipment's capital investment enabled RME Geomatics to grow and the company now has 15 employees and has the resources to improve its capabilities. "Because we can offer IT support to them they became way more efficient," Wood adds.
The supply chain is also benefiting from Rocky Mountain Equipment's investments. The company uses barcodes to optimize logistics and track equipment. The consolidation into one brand also made Rocky Mountain Equipment's analytics more accurate and allows the company to move stock between stores depending on demand. Further, the company is implementing a sales forecasting tool and is working with manufacturers to develop a system for buying parts online.
Following its period of consolidation, Rocky Mountain Equipment is looking at other ways to expand its offerings. The company is staying away from the agronomy business, which covers agriculture consulting, but last year struck a deal with Decisive Farming to provide many of those services to customers. Decisive Farming is a provider of precision agronomy, variable rate technology, crop marketing and data management services.
The partnership allows Rocky Mountain Equipment to connect its customers with Decisive Farming's data management and workflow automation platform, My Farm manager. Wood says the cloud-based system can help farms understand soil sample and yield data, collect telematics from equipment and utilize normalized difference vegetation index (NDVI) maps.
With the western Canadian market conquered, Rocky Mountain Equipment is focusing on further acquisitions and how to organically grow its existing stores. One area where it sees opportunity is south of the border. Wood says the western United States and Midwest share similarities with the Canadian market. Rocky Mountain Equipment already sells to some U.S. customers through its Canadian stores, promoting the benefits of the favorable exchange rate with the Canadian dollar. There are no plans in place, but Wood says the company would consider opening a U.S. location if manufacturers were to support the expansion.