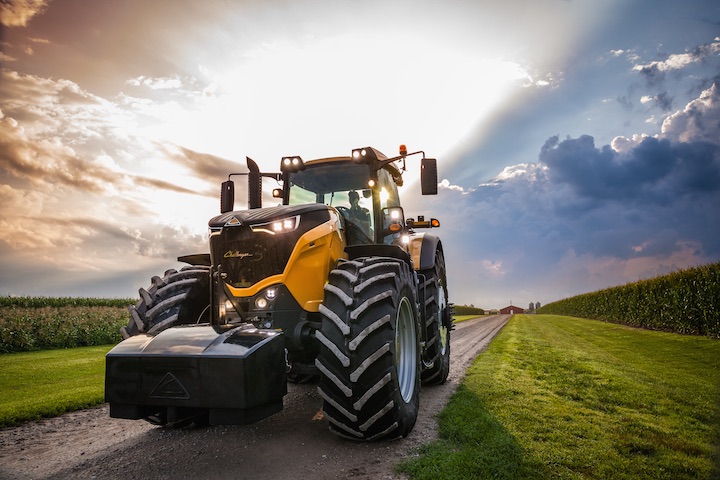 AGCO's Smart Logistics initiative has transformed its inbound supply chain.
By Chris Kelsch
Being a global leader in the design, manufacture and distribution of large agricultural products means there is a lot to keep track of. AGCO products are sold through the five core brands of Challenger, Fendt, GSI, Massey Ferguson and Valtra, across the globe. Its products are distributed globally through a combination of more than 3,000 independent dealers and distributors in more than 150 countries.
Greg Toornman, Director of Global Materials, Logistics and Freight Management, has been with AGCO since 2004. He is leading the global implementation of the "AGCO Smart Logistics" initiative that dramatically improved the performance of AGCO's inbound supply chain in Europe. "We started back in November of 2013," Toornman recalls, "and defined, 'In five years, this is where we want to be.'" The vision was defined and is being implemented by a core group of AGCO Supply Chain leadership.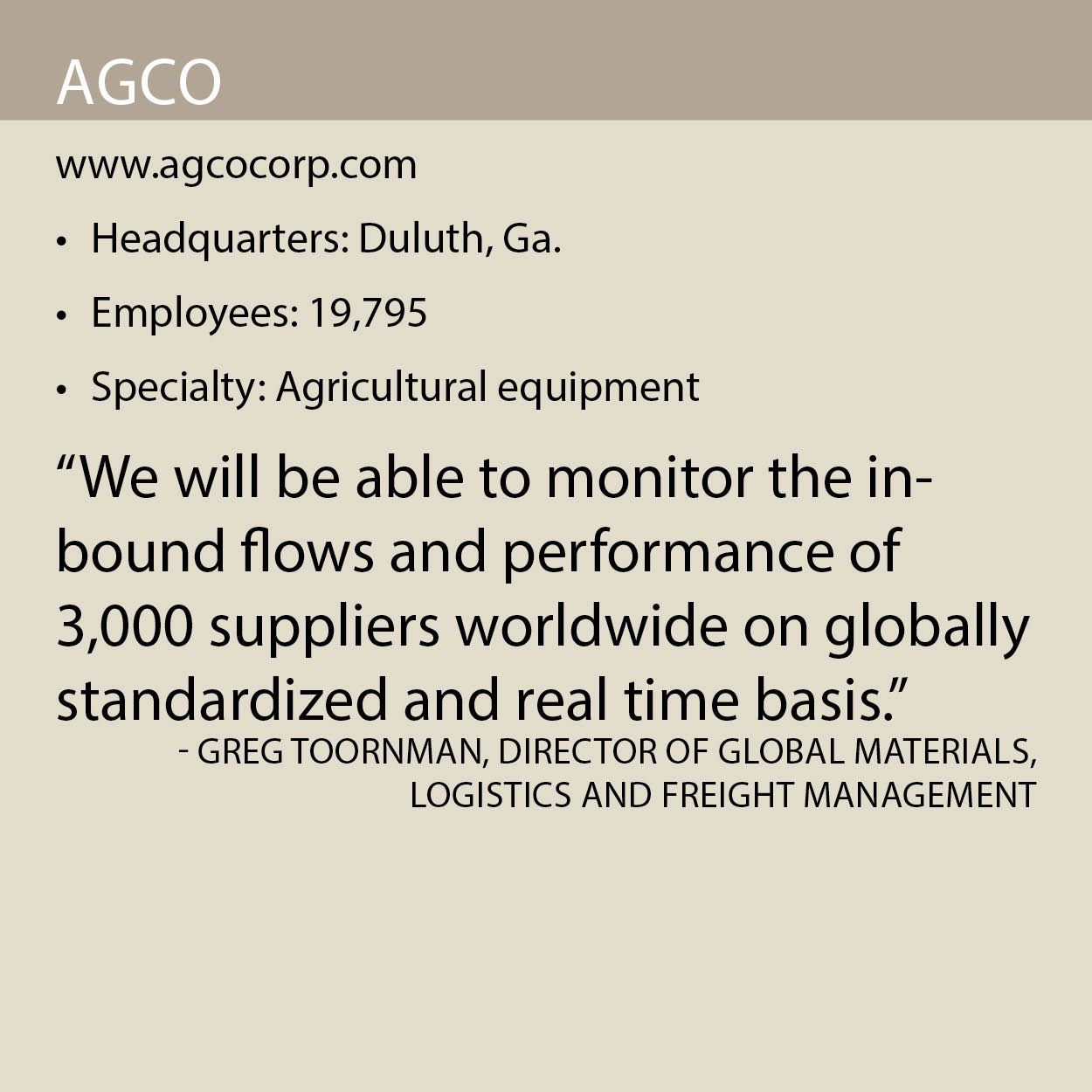 Where AGCO wanted to be was atop the leaderboard when it comes to managing worldwide logistics, particularly the inbound supply chain. Though AGCO is spread across six continents, Toornman's team began in Europe with the AGCO Smart Logistics Initiative, which at the time represented 55 percent of AGCO's worldwide revenue.
What Toornman's team managed to do was astounding, considering how they did it. Whereas most supply chain teams in recent years have made moves toward simplicity by cutting down on the number of carriers, AGCO did the opposite. Utilizing a new innovative transportation management system (TMS), the number of carriers actually increased from three large 3PL's to 70+ carriers in Europe.
"What we did was really the opposite of what many supply chain teams are doing," Toornman notes. "Nonetheless, with the help of the new TMS, we were able to really reduce cost and improve overall performance."
Cost Reductions
Toornman and his team built an integrated supply chain management IT solution by combining an intelligent TMS, a standardized supplier development system, a supplier network collaboration solution, and a risk management system into a central cloud-based AGCO Smart Logistics solution. The AGCO Smart Logistics initiative uses algorithms that take into account capacities, supplier shipping requirements and lead times, as well as monitoring a range of factors, including weather and other conditions, such as port congestion. The TMS dynamically optimizes the inbound flows on a daily basis, based on what the suppliers define as their shipments to AGCO the following day.
The end-results have been noticeable, to say the least, especially considering that the program integrated 1,550 European direct material suppliers delivering to more than 20 worldwide manufacturing and aftermarket sites worldwide. Over an 18-month reporting period, the solution enabled AGCO to reduce significantly the cost of the inbound supply chain in Europe. Furthermore, on-time carrier delivery performance, supplier process conformance, and carbon footprint reductions, have been enhanced with great success.
Anytime a company can cut costs, increase performance and reduce its carbon footprint (thanks to better utilization of capacity space on trucks), the industry will take notice. In late 2016, AGCO's Smart Logistics initiative won the renowned German Supply Chain Management award by the German BVL organization, and this past June, the initiative won the European Gold Medal from the European Logistics Association in Brussels.
Given the results in Europe, Toornman and his team are looking forward to implementing the initiative across all regions where AGCO operates. Implementation is expected to be completed in China by Q3 2017, North America by Q1 2018 and in South America by the end of 2018.
All six regions will be on the same platform by the end of 2018. "It will truly be a state-of-the-art platform," Toornman says. "We will be able to monitor the performance and product flows of roughly 3,000 suppliers worldwide on globally standardized and real time basis."
Forward Looking
Despite their achievements so far, Toornman and his team are not resting on their laurels. In fact, at the same time the AGCO Smart Logistics Initiative was being implemented, AGCO was also working with another key partner, SAP, using its Supply Network Collaboration (SNC) software. AGCO is implementing SNC across its global footprint in order to utilize one globally standardized and integrated supplier collaboration process. AGCO is able to utilize standardized formats for supplier forecasting, supplier releases, supplier order confirmations, supplier ASN's (Advanced Shipping Notices) and supplier invoicing transactions, as well as a number of other key transactions across the globe. By the end of 2018 all regions will have the SNC functionality in place. AGCO will converge its TMS and SNC functionalities to develop forward-looking streams of data to optimize future transportation flows, costs, and carrier capacity planning. The digitalization of AGCO's global supply network continues to yield solid levels of sustained improvements, as well as simplifying the supplier interaction driven by the global process standardization.
"In the very near future, our carriers will be able to log into our TMS and look out as far as 10-12 months ahead and say, 'This is what we will be moving,'" Toornman notes. "This allows them to better position their equipment, team members, delivery performance and further reduce cost." This is a true win-win approach for all parties involved.
By being able to look a year into the future, carriers can drive down their cost with better planning while also enhancing their ability to perform. "If a carrier has that forward-looking profile of what has to be moved from where to where, then optimization can be realized," Toornman explains. "One supplier can ship to up to 54 AGCO locations worldwide; knowing not only which parts and quantities will be shipped, but the dimension and weight of all those parts in a standardized and digitized format yields optimization in cost and performance. With the wide range of AGCO product offerings, the freight profile does have a wide degree of variability day to day that we now adapt our inbound flows to support on a real time basis."
AGCO is also working with SAP on another ambitious platform to develop a globally integrated and standardized demand and supply planning platform. AGCO is considering roll out plans for SAP's Integrated Business Planning suite. AGCO is evaluating SAP's Integrated Business Planning (IBP) module at this time. This platform would enable AGCO to become more efficient in responding to customer requests, production planning, proactive (internal and external) capacity management, and inventory optimization. Currently, a typical product that AGCO manufactures could have anywhere from 8,000 to 16,000 components. This level of complexity can be more effectively managed through the increased level of digitalization and deliver an increased level of customer satisfaction and market competitiveness.
If a customer wants to change from one product to another version of that product, it could take days to provide an updated available to promise (ATP) date. With the SAP IBP platform, that could be reduced to mere minutes.
SAP's integrated business planning module (IBP), will have the capability to integrate AGCO's market intelligence, sales forecasts, supplier capabilities, and internal factory capabilities for each product. "We will have all the master data integrated on one platform, and this will enable AGCO to do 'what if' scenarios much more efficiently than we do today," Toornman explains. "So, for us, it's a huge step forward." Though Toornman does not have specific dates yet, the roll out and integration of IBP is currently being evaluated to support the future supply chain planning needs of the AGCO Smart Logistics initiative.
Developing and retaining talent to utilize innovative tools is another key area of focus for AGCO. "We work with the best university supply chain programs around the globe to develop talent." In North America, Mike Clem, Vice President of Purchasing for the Americas and Toornman collaborate with Western Michigan University's Integrated Supply Management (ISM) program. The WMU ISM program is ranked in the top 10 in the world in a number of rankings. The program develops students that are ready day one to contribute. "We start working with the ISM students when they are Sophomores and Juniors on internships," Toornman explains. Clem and Toornman, together with a number of other industry leaders, support the WMU ISM programs future development roadmap and activities.
Because Toornman has demonstrated consistent levels of success over the years in a number of Supply Chain Transformation projects, he has been able to garner much support across all divisions within AGCO. "That comes with time and earning trust from our sites and business units. Having assignments based in Brasil, Switzerland, China and USA has provided a great understanding of our customer needs on a global basis," Toornman says. "Our globally led organization supports our network with innovative tools and processes that enable more efficient use of data that leads to improved performance in a large number of key areas. The digitization of our global supply network will continue to enable a competitive advantage in the global market place for AGCO products and service levels to our customers. AGCO is investing in its supply chain in order to better manage higher levels of complexity, drive global standardization, enable real time adaptability, drive down costs, and deliver increased service levels to its customers on a worldwide basis. The challenge to drive continuous improvements never ends, nor does our vision to be the best at what we do. We strive to be number one in overall customer perceived satisfaction", Toornman explains.