After 30 years in its industry, ViewSonic prides itself on providing customers with consistently high-quality and affordable products.
By Bianca Herron
Founded in Brea, Calif., in 1987, ViewSonic's mission was to develop advanced visual display products at an affordable price. Thirty years later, the company has evolved from a CRT manufacturer to a leading global provider of visual display products, which include monitors, projectors and interactive commercial displays – such as digital kiosks, signage and billboards – as well as virtual desktops.
"Not many companies last this long in the industry," Vice President of Marketing Al Giazzon says. "ViewSonic has always kept its channel partners happy, and has been very methodical in its thinking and yearly planning so as not to expand too quickly as a company. We'll take risks every so often; however, we know what our core business is – visual display products – and we haven't strayed from that."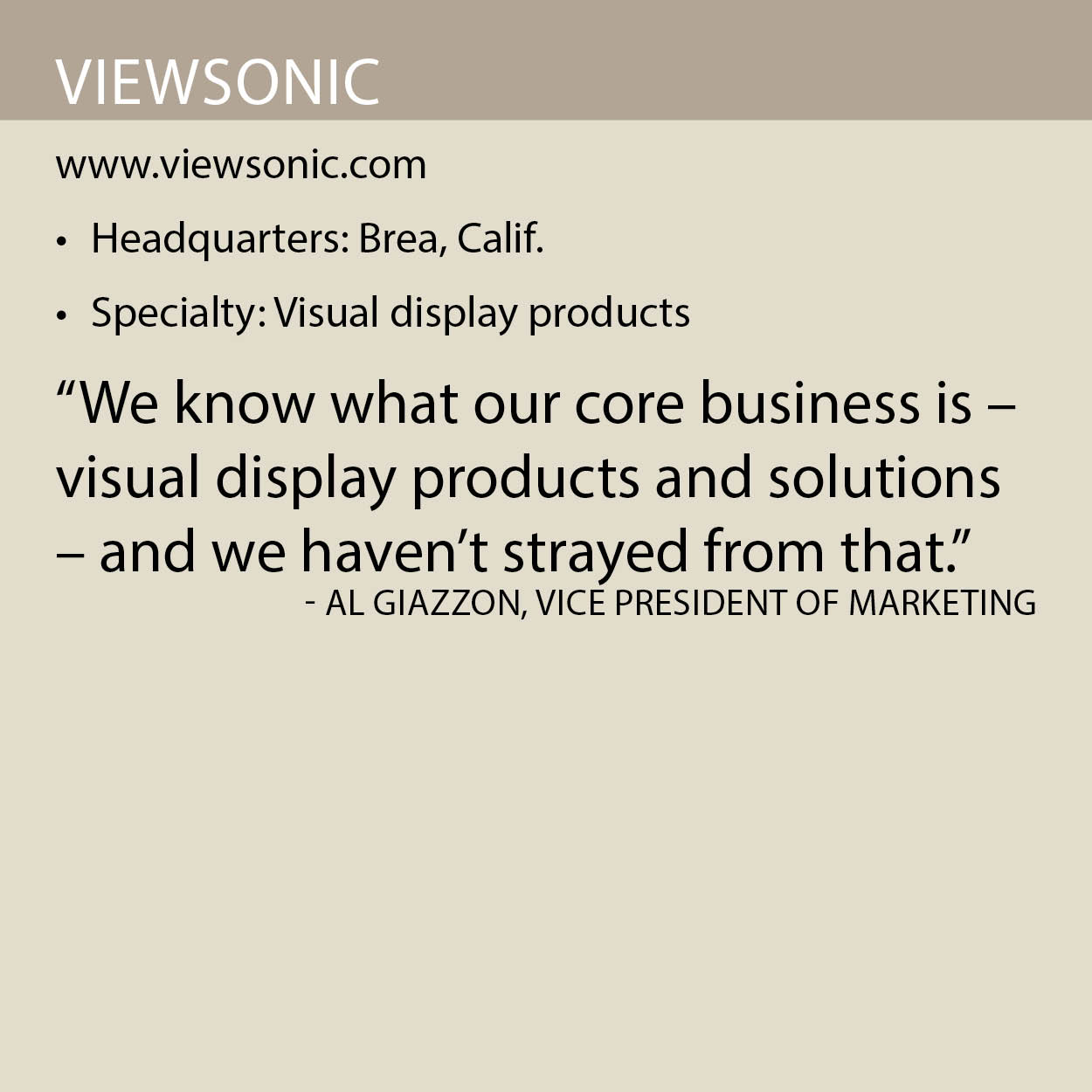 Because ViewSonic has remained true to its roots, Giazzon notes that its customer base has remained loyal and happy. "ViewSonic made the decision to stay in the business-to-business market because we know we can serve our customers better that way," he explains.
Rachel Wang, director of logistics and support, agrees. "We care about our customers," she says. "We make sure they get their products on time, as we emphasize customer service and attribute it to the success of our business. When there's a situation with a customer, whether they have a complaint or otherwise, we will take care of it immediately. The key to handling it is not only fixing the problem, but also taking the extra steps to prevent a repeat of the issue.
"So from a logistics and operational standpoint, customer satisfaction is always our main focus and how we support ourselves as a company," she continues. "We meet our customers' expectations with superior products, customer service and industry knowledge."
In Alignment
ViewSonic has won many industry awards over the course of its 30-year history, and not only in its industry. So far this year, the company has already won Business Solutions' "Best Channel Vendor."
"We've won a lot awards from our channel partners pretty consistently," Giazzon says proudly. "Just last year, System Contractor News – a trade publication for the professional audio-video industry – chose us as "Best Warranty Program." We not only win awards and receive great reviews for our products, but also for our back-end support as well."
According to Wang, ViewSonic's supply chain plays a critical role in the company's success. "To me, the keys to a successful supply chain management are accurate forecasting, focus and detailed planning," she says. "By that I mean that we must devise accurate market demographics and forecasts that meet customers' needs, plan production with vendors in a timely and meticulous manner and move the products in a cost-efficient way without compromising our ability to deliver our products on time."
Wang notes that the company has an effective product management team that not only looks into the market and products, but also keeps track of inventory, manages product forecast and the planning process. "We look at what the market trends are, the demands in the market, and how much our channel partners are spending," she explains. "Based on all this, we come up with a very detailed and strategic forecast.
"My role is to oversee the movement of products, and bring the products in on time," she continues. "Once the products get into our warehouse, we try to turn it around within 48 hours and get them on the road to the customer. From the very beginning, planning and forecasting is important for our entire supply chain."
ViewSonic works very closely with its vendors. "We depend on teamwork to multiply our successes by sharing information, operational support and accomplishments among the business units and regions," Wang says, noting that it all circles back to the company's culture, which emphasizes honesty and fairness.
"We want to have fair business practices," she says. "It's a mutual benefit for our vendor and us. Our partners work closely with our product management team in terms of innovation and managing the production schedule. We make sure that we both are successful at the end of the day."
That same belief extends to its transportation-based vendors, which include ocean freightliners and domestic mail carriers. "Most of our carriers have been with us for a long time, and have been providing competitive services that we've then been able to pass along to our customers," Wang says.
ViewSonic also looks towards optimizing its costs, and its "Direct Container" program is one example of this. "We've been working on this program with one of our major customers, where we import container shipments from overseas directly to customers' warehouses," Wang explains. "This eliminates a lot of patch handling, reduces freight costs and improves the overall efficiency of both parties' resources."
In addition, ViewSonic has also been looking for technology tools that will help its supply chain become more efficient and effective. "We are open-minded and are looking into various technologies to best leverage our data and improve efficiency," Wang says. "We're still looking for the ideal tools, but for now, we continue to use our own reporting tools and methods of communication."
Dedicated Employees
ViewSonic is not only celebrating its 30-year anniversary, but Wang also marks 25 years with the company this year. "As the company has evolved, the value in our company, which makes it so good, has been the people," she says. "I'm just one of many employees here that have a tenure of 10 and 20-plus years. People stay here for a long time, and it's a testament to how great of a company ViewSonic is."
Wang notes that it's because of ViewSonic's culture that employees remain dedicated. "We are caring and honest," she says. "We take care of each other and employees are given the opportunity to establish their careers with a lot of training. Our employees take ownership of their job because the company takes good care of its employees, and provides us with opportunities and training to get to the next level.
"We're celebrating 30 years of business, and our employees are one of the reasons why," she adds.
ViewSonic has an entrepreneurial spirit that extends to every employee, Wang concludes. "After 25 years, I have seen people come and go in business, but only those who have that spirit stay with the company," she says. "Those people aren't afraid of changes, making recommendations or saying no to things that don't look good or work well. They are very loyal to the company. There are so many good people that work here, some who have left only to come back home. Again, that is a testament to ViewSonic and its phenomenal company culture."