Forrest General Hospital: Meet the Supply Chain team strengthening the future of healthcare access in Mississippi
Forrest General Hospital (Forrest General), located in Hattiesburg, Mississippi, has been a leader in medical excellence since its inception in 1952. It has grown from a 90-bed facility into a 547-bed, Level II Regional Trauma Center and hospital system. The hospital expanded to Forrest Health in 2012, encompassing a total of seven hospitals, of which Forrest General is the flagship. The system has increased access to high quality healthcare and enhanced the stability of local community hospitals throughout Mississippi.
According to Doris Vaughn, Director of Supply Chain at Forrest Health, with countless specialties, various treatment methods, and doctors in distinguished areas of care, Forrest Health serves local communities in 19 counties across south Mississippi. "Thanks to these offerings, patients aren't required to travel out of state to receive treatment," she says. Its myriad facilities enable Forrest Health to offer specific services, including behavioral and addiction support, cancer treatment, emergency and trauma services, orthopedics, and surgical amenities.
The supply chain plays a significant role in the overall operation of Forest Health. "Since purchasing and supply chain are centralized, we purchase everything but food and pharmaceuticals, and manage the inventory for our entire system. We work closely with all departments on a day-to-day basis, especially in high-volume areas, such as Labor and Delivery, Surgical Services, and Radiology. Communication with these departments and vendors is key, particularly when working through substitutions and other general supply issues. As a medical facility serving the public, we cannot thrive financially without competitive pricing, so coordination with the finance team is critical in managing the system's costs.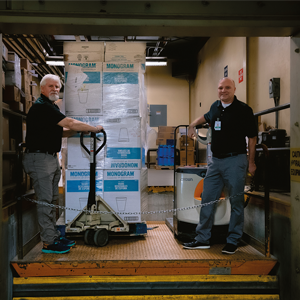 "The people at Forrest General are critical to everything we do, as our success relies on building trust among employees and customers," Doris continues. "We act as a resource to all areas and find effective solutions and substitutions, even when the task seems impossible or never-ending. The hospital's staff depends on us to do our job to the best of our ability. These employees have become valued friends, too, and know we will do everything in our power to get the items they need to care for Forrest General's patients around the clock."
Similarly, Doris sheds light on the importance of technology solutions in streamlining supply chain operations at Forrest Health. She states: "We use Infor for our Maintenance Management Information System (MMIS), as well as its par management system, Mobile Supply Chain Management. We have numerous recurring jobs for recommended reordering for inventory, pick tickets, automated approvals, and Electronic Data Interchange (EDI) processes, which enhances the efficiency of our internal communications. Staying up to date with technological advancements and solutions is vital for continued efficiency across the system."
Forrest Health is currently working on a potential initiative for surface reprocessing, which would reduce both expenses and environmental impact. "Reprocessing of single-use medical devices is the process of inspecting, function testing, sterilizing, and restoring products so they can be safely used again in a clinical setting," Doris explains. "We currently use an independent vendor to reprocess several of our surgical and catheterization laboratory items, which results in huge savings over the original manufactured item."
On a more personal note, Doris reflects, "The highlights of my career have been many product conversions and on-boarding of facilities we have acquired or built, which were achieved through hard work and collaboration with clinical staff and our Supply Chain team."
As to be expected, there have also been many challenges during her career. "Working during the strike and aftermath of Hurricane Katrina, which hit the Mississippi Gulf Coast in August 2005, was particularly tough," Doris recalls. "We had no power or water for days and had difficulty establishing a phone connection or electronic orders to vendors.
"However, I would have to say the toughest times have been during the last two years of the COVID-19 pandemic. The supply chain experienced a huge backlog of orders, issues with allocated products, and delivery problems, which have unfortunately continued to permeate our system."
Looking towards her retirement, Doris is excited to be moving into a new phase of her life. "I'm lucky to be in good health so I can stay fit, enjoy gardening, and spend time with my loved ones. The advice I would give my younger self is, 'it's the trip, not the destination,' so enjoy the processes while you're working through them. I'd certainly share the knowledge I've gained through the years and reassure myself of the efficiency our department currently experiences in comparison to when I started here." Beyond her retirement, Doris hopes, "Forrest Health will continue to grow, acquire new facilities, and offer more services to its communities in order to sustain access to quality care throughout Mississippi."