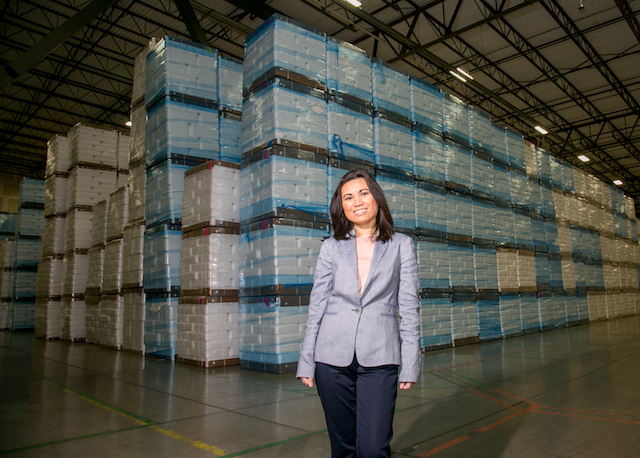 Nutrisystem adds warehouses to decrease delivery time to the customer while adding new weight-loss products to prepare for the future.
By Janice Hoppe-Spiers
Nutrisystem's mission is to help transform its customers' lives inside and out with a personal weight management experience that is simple to follow, effective and uniquely theirs. To remain a leader in the weight-loss industry, the company runs a fully integrated supply chain that will continue to evolve as customers' needs change to help people live healthier lives.
The Fort Washington, Pa.-based company has helped millions of people lose weight for more than 45 years. Nutrisystem offers safe, effective and scientifically backed weight-loss plans. All plans include comprehensive support and counseling options from trained weight-loss coaches, registered dietitians and certified diabetes educators available seven days a week.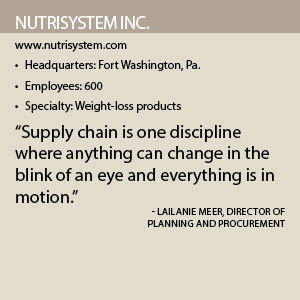 Nutrisystem's "Basic" plan allows customers to choose shelf-stable products for breakfast, lunch, dinner and a snack. "It's a preselected, ready-to-go food kit," Director of Planning and Procurement Lailanie Meer says. "All first time orders get the special designed first week program where what you eat in the first week will allow you to lose a certain amount of weight."
The "Core" plan allows customers to customize their assortment of food, choosing from more than 100 different options. The "Uniquely Yours" plan is the most popular with 70 percent of customers choosing this option. "This plan offers a combination of shelf-stable and frozen food options," Meer notes. "Each plan offers one month's worth of product with a meal plan to follow, which helps with the weight-loss journey."
In December 2015, Nutrisystem acquired the South Beach Diet brand from SBD Holdings Group Corp. South Beach Diet founder Dr. Arthur Agatston, a cardiologist from southern Florida who had the goal of developing a safe diet for his overweight patients, joined Nutrisystem's Science Advisory Board at the time of the acquisition.
New for 2018, the Nutrisystem Turbo13™ plan delivers weight-loss of up to 13 pound and seven inches from a person's waistline in the first month. The plan includes Turbo TakeOff, a one-week jumpstart with specially designed foods, all new NutriCurb bars, TurboShakes and new TurboBoosters.
"Between Nutrisystem and South Beach Diet we have a strong standing in the industry as a leader in weight-loss and weight management," Meer adds. "It's the mission of the company to help people live healthier lives that I'm really proud of. When I come to work with that on my mind, I'm really proud of what we are doing."
Supplying the Demand
"Like any other company, our supply chain is an integral part of the business," Meer says. "We are the one that is touching the customers because we handle the product. As such, we ensure it's fully integrated with the other parts of the business. Our supply chain approach has evolved to include all areas and recognize how each area in the supply chain effects the business internally and externally."
Nutrisystem wants to expand that integration to the other parts of the supply chain. "For example, I'm a big part of engaging our partners and suppliers and having them access our information," Meer notes. "At this point, there should be trust there so there's no reason not to send them our data so they can plan their resources to ramp up and service our demands."
About 80 percent of Nutrisystem's products are from established relationships with its suppliers. The company does bring new suppliers on-board when expanding its portfolio and brand. "We try to leverage our existing relationships and make sure we have long-standing partnerships with those vendors," Meer says. "We don't bring in new suppliers all the time if our supply base can meet our demand requirement. We have the supply chain infrastructure in place to support current and the future demands of our brands."
To continue improving its network, Nutrisystem worked with its small-parcel carrier, FedEx, to track where its volume was growing and identify strategic locations to place its warehouses. With the help of third-party logistics (3PL) providers, Nutrisystem added temperature-controlled warehouses in Georgia and Illinois.
Today, Nutrisystem operates four frozen and three shelf-stable warehouses throughout the United States. The company added a 40,000-square-foot warehouse in southwestern Illinois in 2016 to boost efficiency and decrease shipping times. Additional warehouse space was needed because of the popularity of its Uniquely Yours plan and the space also set the stage to re-launch the South Beach Diet brand.
"With the addition of warehouses, we're able to operate more quickly and improve the overall customer experience," Meer says. "This allows us to meet our goal to provide cost-effective supply chain solutions that at the same time deliver high levels of customer service and satisfaction."
Expedited Delivery
Nutrisystem's warehouses are designed to ship directly to the consumer, enabling a fast turnaround from order to fulfillment. "We engage our 3PL providers and leverage their competency in freight, labor, technology and equipment, which adds value to our business because we can focus more on products and customers as opposed to self-performing these competencies we know we can get from them," Meer explains. "We can stay more focused on what is important to us and our product."
Nutrisystem cut the delivery time to two days by expanding its warehouse locations and relying on its partners. "When you are dieting there is an emotional aspect to it," Meer says. "When our customers make decisions to use Nutrisystem – maybe it's the new year and they are going on a diet – they want their food right away. We focus on turnaround time."
The company continuously focuses on keeping up with the volume and increasing turnaround time to ensure customers receive the product as quickly as possible. Nutrisystem can deliver to more than 99 percent of the country with two-day ground delivery for all of its frozen products. The company's peak season is January through April when consumers are still trying to keep their New Year's resolutions.
"Inventory management is one of our key performance indicators, which tells us how well we are doing managing inventory and over the years it has been a lot better," Meer says. "People think about inventory as a cost, and that's true. But here at Nutrisystem, I choose to look at it as a value, but only if it's managed properly."
Nutrisystem uses replenishment planning to ensure it has an adequate level of safety stock and will achieve targeted lead times. "We are always monitoring our performance because things can always change," Meer notes. "Supply chain is one discipline where anything can change in the blink of an eye and everything is in motion."
Overcoming Challenges
In the short-term, Nutrisystem plans to invest in technology to elevate its level of supply chain solutions. "With the growth of our brand, there is a need to have something technology-wise to enable our business processes," Meer says. "We have business process in place today, but there is more out there that will help make everything easier in terms of being able to pull in information a lot quicker. I think there are a lot of things influencing supply chain right now and technology is only there to help us."
Nutrisystem's long-term focus is on mitigating supply chain challenges. "Cost control is becoming a challenge, for example," Meer says. "We hear in the news about rising energy and freight costs and regulations. We launched electronic log devices for truck drivers, which can change the way we move freight. These are actual challenges that put pressure and cost on our supply chain."
As an attendee of the APICS Conference in October, Meer says risk management had moved into the spotlight and become a much bigger topic because of increased threats to supply chains. "We are outsourced – our fulfillment, inbound, outbound and suppliers – and with outsourcing you have greater risk because nothing is ever in your hands or it's not in your control," she adds. "We need to focus on making sure we are not only monitoring risk, but make sure the risk management plans we have in place continue to evolve in response to changing market conditions and regulations."
To Nutrisystem, the customer experience is also a challenge it will continue to overcome. "The customer that we have today is probably going to be different than the ones in the future," Meer says. "They will probably be more demanding. If you look at turnaround times, what's acceptable today will be inferior in the future and we need to make sure we are ready for those changes. Can we respond and act upon it?
"We are looking at the future and everyone needs to be asking what can be done," she continues. "We have taken the first step in improving customer service by opening those two warehouses, which improved our reach and are getting packages to customers sooner."
Because the supply chain is a complex discipline, Meer says asking the right questions and solving the right problems are key. "Everything is becoming complex in this work – customer expectation is becoming complex," she adds. "Often there is competing and conflicting interest in supply chain, so you need to know if you're asking yourself the right questions and solving the right problems. I truly believe there should be no shortcuts in the supply chain and that you have to go through the process. It might be painful, but shortcuts are going to get you into a bad spot and no shortcut is worth not getting product to the customer."