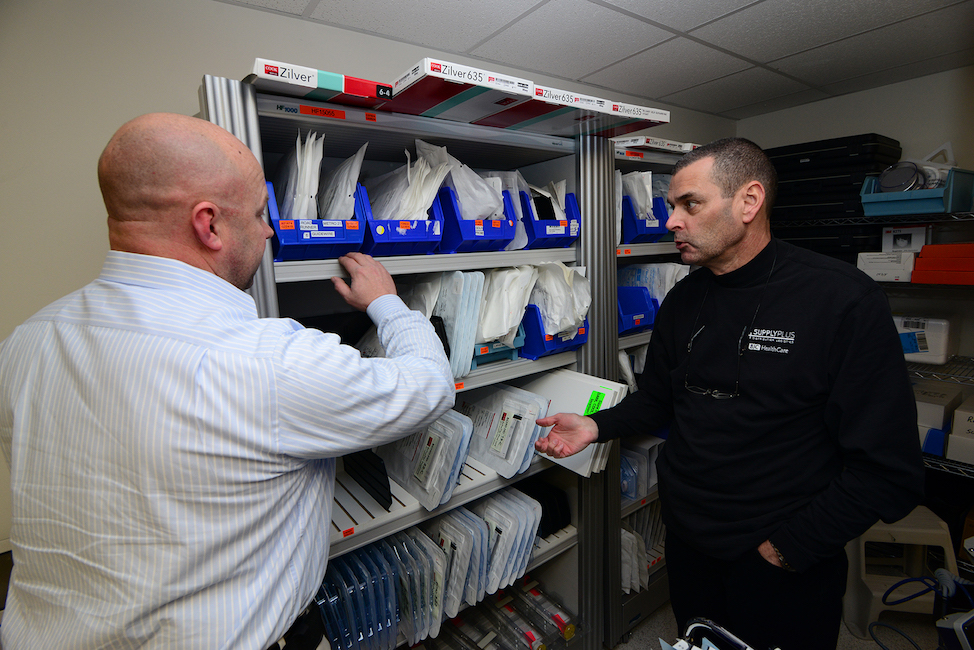 BJC HealthCare is among the first to implement a new supply chain technology.
By Kat Zeman, Senior Editor at Knighthouse Media
When it comes to embracing new technology, BJC HealthCare is at the forefront of innovation. The healthcare service provider, which operates 15 hospitals in Missouri and Illinois, is in the process of revamping its supply chain by implementing a new radio frequency identification (RFID) system for inventory management.
"Other industries have used this technology for decades, but healthcare has not," says Steve Kiewiet, the vice president of supply chain management who has served as interim co-chief supply chain officer for the past year. "We are on the forefront of end-to-end supply visibility."
RFID is an internet-of-things technology that can provide many benefits to the healthcare industry's supply chain. It uses electromagnetic fields to automatically identify and track tags attached to objects, such as healthcare supplies.
"It gives you real-time supply chain visibility," Kiewiet says. "It's changing the relationship with the way suppliers, distributers and healthcare providers work together to drive down the cost of healthcare in a way that is much more integrated and transparent than it has been in the past."
Time And Money
RFID has the potential to save organizations time and money by providing real-time traceability, identification, communication and location data for people and resources. The benefits are designed to translate into better patient and asset tracking, which will increase efficiency in patient care and satisfaction with the provider.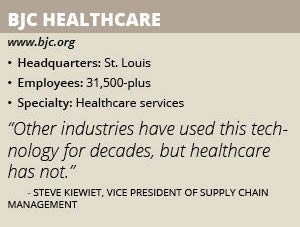 "It's a new process, new technology and a new way of doing things," Kiewiet says. Once the technology is fully implemented in 2019, BJC HealthCare predicts it will see an ongoing "hard and soft" savings of roughly $5 million per year, Kiewiet says.
The healthcare provider started implementing the technology in 2015 when it hired Cardinal Health, a Fortune 15 healthcare services company based in Dublin, Ohio. Cardinal Health specializes in healthcare solutions that include logistics, products, business and patient solutions. "They are truly committed to service and committed to driving innovation," Kiewiet says. "Cardinal Health has made our visions into reality."
Future Of Healthcare
Although it offers many benefits, the adoption of RFID technology in healthcare supply chain is still new. Kiewiet says that some healthcare providers started using it partially, such as in cardiac catheterization labs, but not applying it across the entire supply chain.
BJC HealthCare, one of the largest nonprofit health care organizations in the United States, has already implemented RFID technology in its cardiac catheterization, interventional radiology and gastrointestinal endoscopy labs in 13 of its hospitals. It will soon start implementing it in operating rooms. "We're not the first to use it in a catheterization lab," Kiewiet says. "But implementing this technology is not common in the operating room."
Kiewiet says that he believes that RFID is the future for the healthcare supply chain and that it is gaining momentum in the industry. With all the potential benefits, why haven't more healthcare providers embraced the technology?
"It's a very complex system to implement," Kiewiet says. "The footprint in every hospital is different. A department in one hospital may not have the same process as a department in another hospital. These systems require process standardization and the elimination of non-value added variation."
BJC HealthCare's services include inpatient and outpatient care, primary care, community health and wellness, workplace health, home health, community mental health, rehabilitation, long-term care and hospice. Its nationally recognized academic hospitals, Barnes-Jewish and St. Louis Children's hospitals, are affiliated with Washington University School of Medicine.