Northside Hospital focuses on mass customization of its supply chain.
By Knighthouse Media Staff
Operating three acute-care hospitals with 1,051 licensed beds and more than 150 outpatient locations, Northside Hospital in Atlanta handles roughly 3 million patient encounters annually.
The health system serves the Atlanta metropolitan area, whose population is expected to grow by more than 30 percent to more than 8 million people, by 2040, according to the Atlanta Regional Commission.
With more than 15,000 employees with a network of nearly 2,900 physicians, Northside specializes in healthcare services that include cancer care, radiology, surgery and maternity and other women's services.
"In today's healthcare environment, it is imperative that a hospital system's portfolio of supplies and capital be aligned with patient-centered care which can vary dramatically across service lines," says Carl Waller, vice president of supply chain management. "A lack of supply chain alignment with ever-changing customer requirements will ultimately result in unnecessary waste, process inefficiencies, clinical dissatisfaction and an increased risk of suboptimal patient outcomes."
Balance Is Key
One of the challenges facing major supply chains for large healthcare systems, like Northside, is the ability to strike the appropriate balance between managing cost through standardization of supplies while achieving the necessary level of customization to satisfy the distinct clinical and patient needs of a broad and diverse service line portfolio.
The ultimate objective is to simultaneously optimize cost and stakeholder satisfaction while achieving positive patient outcomes, he adds. Traditional thinking within the healthcare industry indicates that there is a bright line between how commodity products are sourced versus custom preference items.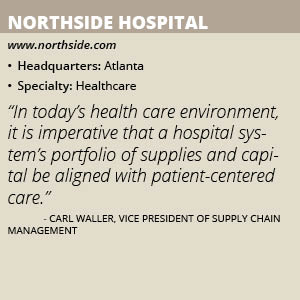 "The belief is that it is much easier to achieve cost reduction through standardization of commodities than for discrete custom products," Waller says. "Thus, the focus historically has been on reducing the cost of commodity items while less attention has been paid to the management of clinical and physician preference items like surgical implants."
Custom preference items typically comprise the most expensive categories and can have a substantial impact on operational performance. "There is a trend within the industry today toward collaboration with clinical staff and physicians to reduce the cost of preference items through item consolidation and price capitation," he says. "This approach has resulted in some success."
However, there's still a large opportunity to further optimize cost without significantly compromising the preferences of key stakeholders; physicians, clinicians and patients. Waller says that this can be accomplished through the application of certain elements of mass customization whereby the supply chain rapidly delivers unique products that meet an individual customer's preferences.
"For example, Amazon has successfully deployed mass customization through delivery of personalized product recommendations to its customers as well as print on demand," he says. "The hospitality industry has also effectively utilized mass customization by tracking individual guest preferences to improve service and foster loyalty. As patients become more involved in their care plans and population health management matures, mass customization will become increasingly relevant in health care."
Mass Customization
Northside officials say that that there is a critical need to move toward mass customization of supplies within each of the hospital's service lines. That blurs the distinction between preference and commodity supplies items.
"The application of mass customization would not be possible without supply chain resources with deep clinical experience enabled by a robust technology platform to support the management of a customized product portfolio for each service line," Waller says.
Northside's technology platform streamlines and integrates sourcing, contracting, procurement, and distribution of supplies and capital throughout the entire service delivery network.
In order to implement the mass customization approach, Northside's clinical supply chain management team worked with clinicians and suppliers to develop electronic requisition templates tailored to support the needs of each service line. Northside's distribution partners must also be agile enough to rapidly adjust to changes in demand, and customer preferences.
While service line preferences are incorporated, having standard templates prevents maverick spend and ensures contract compliance. These templates are updated dynamically depending on changes in preferences or suppliers.
A mass customization approach also dictates a different sourcing and procurement model with key suppliers. Instead of negotiating the purchase of goods only at the line item or SKU level, Northside's procurement organization works with vendors to develop enterprise-pricing overlays at the product portfolio level.
"This provides the best opportunity to set optimal pricing by evaluating category volumes which allows for more price flexibility at the line item level," Waller says.
Supplies within the same category but with different attributes can be priced consistently, allowing for both customization and optimization of costs. This has become easier to achieve as suppliers continue to consolidate within the healthcare industry. Suppliers with broader portfolios are in a better position to support mass customization.