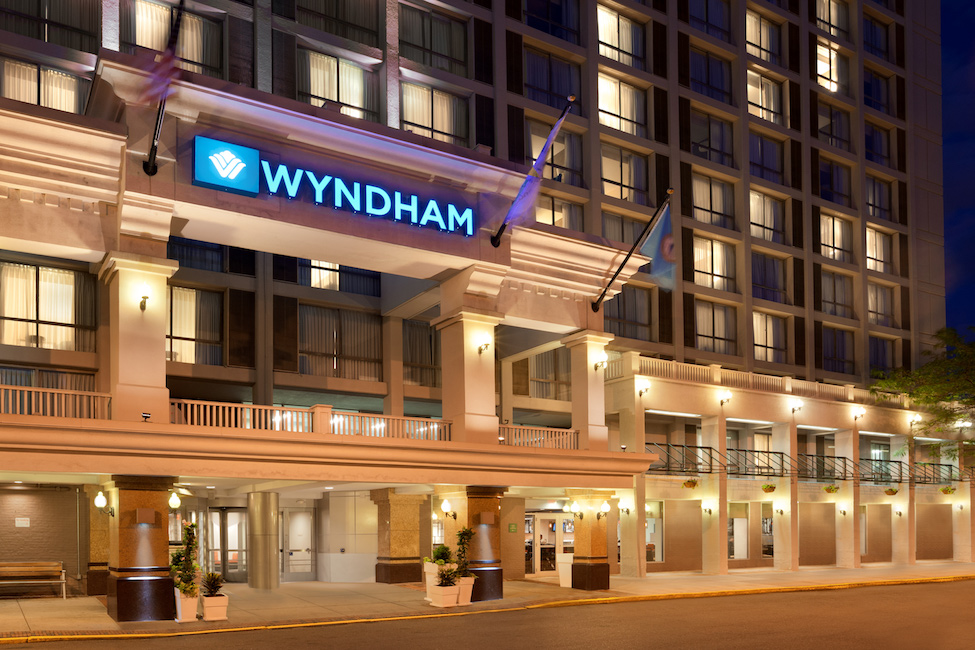 Wyndham Hotels & Resorts begins a new chapter while maintaining the high quality of its procurement, design and construction processes.
By Jim Harris, Senior Editor at Knighthouse Publishing
Tad Wampfler's first three months as senior vice president of global design, sourcing and construction for Wyndham Hotels & Resorts were extremely eventful. Since Wampfler joined Wyndham Worldwide in March, the company spun off its hotel business, creating Wyndham Hotels & Resorts, the world's largest hotel franchise company, and Wyndham Destinations, the world's largest vacation ownership and exchange company.
"As part of Wyndham Worldwide, our business encompassed multiple segments of the hospitality industry, including timeshare and vacation rentals," says Wampfler. "As Wyndham Hotels & Resorts, we are embracing this new opportunity to approach our mission as a pure-play hotel franchise company."
As if the company's spin weren't enough, Wyndham Hotels & Resorts also recently completed the $1.95 billion acquisition of La Quinta Holdings Inc. The transaction, which closed in May, added the 900-hotel La Quinta Inn franchise to Wyndham's already large profile of 20 franchised brands.
"It's been a unique opportunity to say the least," Wampfler says. "To be a part of an organization that was already firing on all cylinders to spin from its parent company, set itself up as a new company, and acquire a flagship brand like La Quinta all in the same year is remarkable, and I am proud to say our team is doing it all without missing a beat."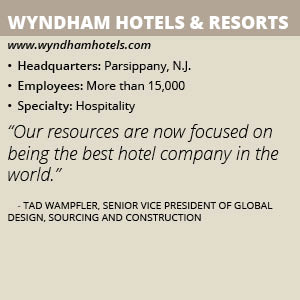 Previously, Wampfler worked as global supply officer for Starwood Hotels & Resorts prior to its acquisition by Marriott International.
Travel for Everyone
Wyndham Hotels & Resorts' other brands include Baymont Inn & Suites by Wyndham, Days Inn by Wyndham, Howard Johnson by Wyndham, Wyndham Garden, Wyndham Grand, Dolce Hotels and Resorts by Wyndham, Esplendor Boutique Hotels by Wyndham, Dazzler by Wyndham, Tryp by Wyndham, Trademark Collection by Wyndham, Hawthorn Suites by Wyndham, Ramada by Wyndham, Microtel by Wyndham, Super 8 by Wyndham and Travelodge by Wyndham.
The hotel's award-winning Wyndham Rewards loyalty program is consistently rated among the best in the industry. The program has more than 57 million members.
"We're on a mission to democratize the travel industry for travelers and the people who serve them," says Wampfler.
"Our portfolio of iconic hotel brands is strategically designed to offer a wide range of compelling experiences and price points for guests; unprecedented support and tools for franchisees; and proven, yet creative opportunities for developers and partners."
Adding Value
As the company continues its transformation, including its sourcing organization, the company's purchasing decisions remain focused on two customer groups in mind – the developers and franchisees of Wyndham's brands, and the guests who stay in its branded hotels. "For our franchisees, we offer efficiency and ease of doing business," Wampfler says.
Franchisees can leverage the purchasing organization's buying power, especially of larger items such as furniture. "As the world's largest hotel franchise company, we can give developers great cost savings because of our sheer size," he adds.
Much of the company's current work involves further improving its sourcing processes and internal efficiencies, as well as determining the next generation of its brand design. "We are laser focused on smart growth and elevating the guest experience through design by reimagining hotels that generations grew up with," Wampfler notes. " We are proud of what we have accomplished over the past several months and excited about the opportunities that lie ahead."
By The Numbers:
Approximately 9,000: The number of hotels operated by the company.
Nearly 790,000: The number of rooms available in Wyndham hotels.
20: The Number of brands overseen by the company.
More than 9,000: The number of team members employed by Wyndham.
82: The number of countries Wyndham operates in.
Commitment to Social Responsibility
Wyndham Hotels and Resorts is proud of its history of corporate responsibility. The company, formerly part of Wyndham Worldwide, has been noted for its leadership in corporate ethics, diversity, sustainability, and workplace practices.
Wyndham Hotels & Resorts is committed to operating in a way that provides the best experiences for those they serve through places to stay that are socially, ethically and economically responsible.
"We are very proud of being a good global citizen, and that is one of the things that drew me here," says Tad Wampfler, senior vice president of global design, sourcing and construction. "We remain guided by our values and committed to building on this strong foundation."