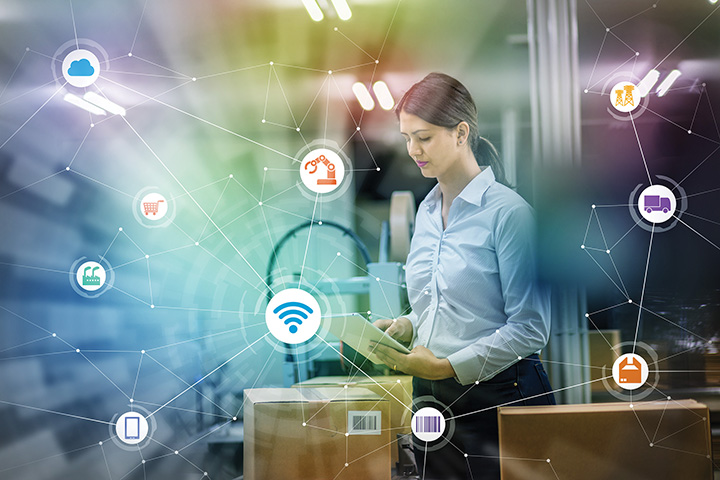 The Internet of Things will increase the volume and quality of digital data.
By Claudio Diotallevi
Shipping goods via multi-modal transport is an arduous, complicated process that requires steps and controls, handovers between multiple parties and plenty of document exchanges.
Each participant in the supply chain either possesses or creates data that increases the predictability and visibility of the shipment, but unfortunately, those participants are often unable to share that data digitally, or they need to incur additional operational costs to maintain ad-hoc electronic interfaces. Despite efforts to optimize and automate the delivery process at specific stages, such as cross-docking, substantial benefits are achieved only when digitalization addresses the entire process, from the origin to the final delivery destination.
Participants in the supply chain are connected – just not to each other or at the right time. Data in itself is not necessarily helpful. However, when relevant data is shared with the right partner in a timely manner, it becomes actionable and therefore, useful information. Being able to acquire information from other parties and automatically detect the position and status of parcels or containers increases the situational control, predictability of delivery, and quality of service as perceived by end-customers.
A lack of information sharing creates a murky outlook and leads to a fragmented, low-margin market. The Internet of Things will help improve this and increase the volume and quality of digital data.
The Manual Supply Chain
Many assets in the logistics sector are not digitized nor described in terms that are usable for other stakeholders in the chain. Document handling alone is a cumbersome process. We've seen a single air shipment require 21 documents to be sent 40 times across 20 different steps. In addition to complexity, this manual process creates a considerable amount of paper and introduces a greater room for error with the same information needing to be re-entered over and over during handovers.
Digitizing these assets would result in a profound increase of efficiency at each step, including handovers, tracking and just creating greater visibility. This holds particularly critical in international trade, because of the multiple modes of transport and interchange terminals involved in the service.
Digital Transformation of the Supply Chain
As the Internet of Things continues to expand, it will connect goods, packaging, vehicles and transportation hubs. Greater information sharing will allow stakeholders to collect actionable data, create better control of critical assets remotely, monitor the physical well-being of goods when transport conditions need to be guaranteed (e.g. cold chain compliance or shocks), predict risks, anticipate bottlenecks and resolve errors in package handling. They'll have deeper end-to-end transparency so they may take advantage of real-time data and adjust their business. Cooperation will create new, multi-modal mobility services on a regional, national and international level.
In the near future, we can expect to see an environment of informational siloes using legacy technologies migrate to a comprehensive and active ecosystem. This cooperation will improve processes across transport modes, industry sectors and borders, enhancing the customer experience and innovating business models.
The Rise of the Internet of Logistics
The emerging "Logistics 4.0" or "Internet of Logistics" (IoL), will provide the industry a flexible, secure, infrastructure for interoperable data exchange that will have a long-lasting impact. IoL will facilitate the exchange of load units/container data, container identification and location, multimedia files and documents across the entire multi-modal transport network. Adopting standards for data exchange, like the Semantic Web framework, offer a new realm of possibilities for the digitalization of multi-modal freight services.
Semantic Web exchange protocol and data formats, such as the Resource Description Framework (RDF), allow for creation of a digital infrastructure where information about shipments can be shared with the entire multi-modal chain, while enabling each participant to retain control over the data it published. Freight logistics' multi-party nature demands data exchange technology that maximizes the sharing of information but without the pains of traditional and legacy systems.
The freight and logistics sector now uses automatic detection and telemetry technologies giving shippers, carriers and freight forwarders full visibility into cargo conditions, positions and ETAs. These solutions also greatly reduce the complexity and effort required for handover operations as well as document and cargo validation.
To achieve this digital panacea will require buy-in from many different entities, each having an important role in the evolving Internet of Logistics. Transport providers will need to embrace and adopt emerging technology to remain competitive. Regulative bodies must understand how these technologies will benefit their industry, and implement a global standard to ensure all parties are communicating in a common digital language. Telecom operators must scale their networks to support the exploding amount of data. The result: all stakeholders in the supply chain will experience more efficient processes, increased accuracy through real-time data and, most importantly, stronger bottom lines through better business models.
Claudio Diotallevi is partner manager transport and logistics at Ericsson, working within Business Area Technology and Emerging Business. He has previously held various CIO and ICT executive positions, among those chief information officer at Italian HighSpeed Rail Operator ItaloTreno, where he led the procurement and implementation of IT and network infrastructures.