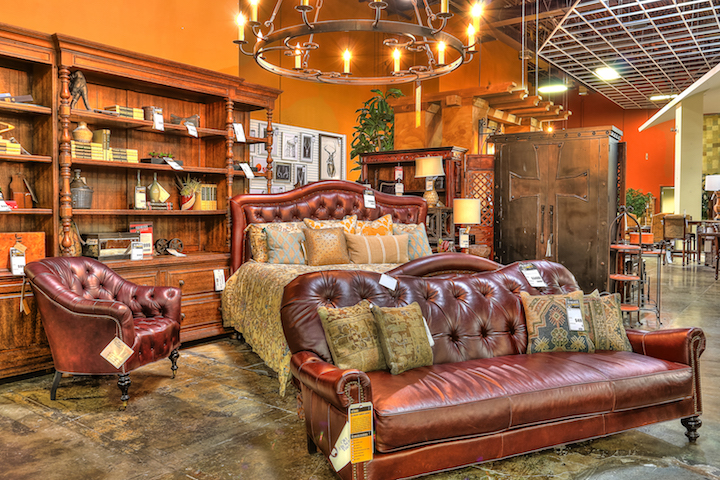 Haynes and The Dump Furniture have their sights set on expanding their reach with more stores.
By Alan Dorich, Senior Editor at Knighthouse Publishing
For Haynes Furniture, success has not only been based on its ability to provide high-quality products, but also its strong management. Vice President of Logistics and Quality Control Ron Roistacher credits this to the strong leadership of the Strelitz family. "When you have a family business, you're closer to it," he explains. "You pay attention to the details."
Based in Virginia Beach, Va., the company offers furniture, mattresses, rugs and flooring through its stores in six states. Haynes Furniture started operations in 1930, when Ellis Strelitz bought a small furniture store in Norfolk, Va., from L.D. Haynes.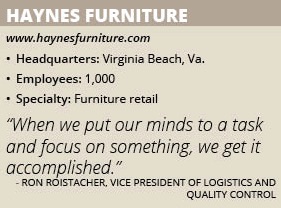 Joined by his sons, Strelitz later expanded his business into the Richmond, Va., area with a location on Grace Street and the goal of building the biggest furniture store in the state. In the 1960s, the family established the firm as Virginia's leader in value pricing when it opened its warehouse location in Virginia Beach.
Spanning more than 300,000 square feet, the facility had the state's largest selection of quality home furnishings and held as much product as 10 normal sized stores. Today, the location is the corporate headquarters for Haynes and The Dump Furniture, which has 14 locations and two store concepts, Roistacher says.
Through its namesake stores, the company offers furniture products at strong prices. "We're open seven days a week and deal with middle to high-end furniture," he says.
Haynes Furniture also has The Dump concept, which is open on Fridays, Saturdays and Sundays and sells design samples, prototypes, closeouts and overstocks from luxury furniture brands. "We're constantly changing the floor out and moving product in and out," Roistacher says.
This means customers may come in one week and see a product, but not find it when they return the following week. "That's why we have the three-day option," he says. "It creates some urgency for the customer to make a purchase."
Up to the Challenge
Now is a good time for Haynes Furniture to be in business, Roistacher says. With the current economy, customers appreciate the value it offers with furniture at better prices.
But making the customers aware of the value that Haynes Furniture offers is still a challenge. "We have to make sure the customer is well informed on the quality of the product versus the competition," he says.
The company also is encountering challenges when it comes to the supply chain side. In some markets, Roistacher explains, "The challenge we encounter exists when overseas shipments arrive with inventory projected for 2-3 stores in various states. We can have a shipment arrive in Texas that has inventory destined for Arizona. This is where crossdocking and coordination is pertinent, while simultaneously minimizing the expense to transfer and handle the product."
Focused and Flexible
A longtime veteran of Haynes Furniture, Roistacher joined the company in 1986 after working for Merrill Lynch. "I've done it all with the company," he says.
Over the years, he has held roles that have ranged starting as a warehouse employee to numerous managerial roles inclusive of; Warehouse Manager, Chief Credit Officer, Vice President of Operations to Vice President of Logistics and Quality Control. He takes pride in how Haynes Furniture has the ability to accomplish complex tasks in a flexible and efficient manner.
"When we put our minds to a task and focus on something, we get it accomplished," he says. One example of this is how it recently opened a Dump location in Deerfield, Ill., within a short time window.
Another would be the renovation of its store in Richmond, which has been open for two decades. "It's time to reinvent it and get it redone."
He sees more expansion ahead for The Dump Furniture, as it plans to open additional locations in its current markets, as well as some new ones. "We're focused on really expanding The Dump concept more than the Haynes concept," he says. "The low price, high-quality, fast-paced environment has been a successful formula for us."