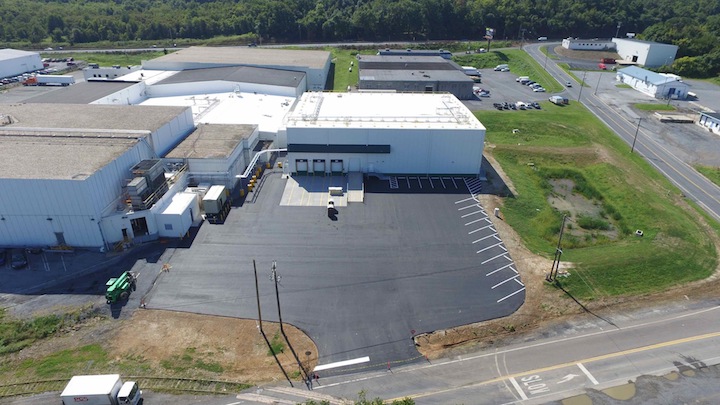 Feesers upgrades its facilities to accommodate a growing demand for fresh produce and meats.
By Kat Zeman, Senior Editor at Knighthouse Publishing
As Americans become increasingly dissatisfied with processed foods, the farm-to-table movement is growing in popularity.
As a result, restaurants are now looking to food distributors that source from local farms so that the food is picked at peak freshness and is bursting with flavors and vitamins.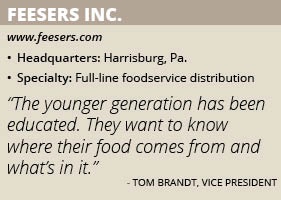 Feesers, a family-owned and operated full-line foodservice distributor, knows this. The Harrisburg, Pa.-based company – which services restaurants, healthcare facilities, educational facilities and other institutions throughout Pennsylvania and the Mid-Atlantic Region – is responding to the growth of the farm-to-table movement.
"It's amazing how many people are asking for farm-to-table fresh products," Vice President Tom Brandt says. "We're seeing a huge growth in this market. The younger generation has been educated. They want to know where their food comes from and what's in it. And as food distributors, we have to have that information and provide them with the products they want."
To accommodate the growing demand for fresh produce and meats, Feesers added 20,000 square feet of refrigeration space to its existing 275,000-square-foot of warehouse space this year. Its facilities also have freezer and dry storage capabilities.
"Our new refrigeration facility has multiple temperature zones to accommodate fresh meats, produce and other refrigerated products," COO Todd Kaufman says.
Feesers offers its customers daily purchases and receiving of fresh fruits and vegetables, as well as a large variety of precut fruits and vegetables to help reduce labor costs and save time. When it comes to seafood, the company stocks a full line of fresh seafood and a large variety of branded frozen seafood items.
Feesers also supplies fresh meats that include a full line of steaks, fresh pork, chicken, burgers, veal, lamb and wild game. All products are cut to order with a minimal lead time.
Buying Power
Aside from fresh meats and produce, Feesers also supplies dairy products, beverages, canned goods, frozen items, dry groceries, janitorial items and Kosher products.
"We're very diverse," Brandt says. "We handle anything that you'd find in a restaurant. Our stock inventory is probably close to 10,000 items and we handle about 16,000 items."
When it comes to buying power, Feesers is a member of UniPro Foodservice, the largest foodservice cooperative in the United States. Membership gives it the ability to take advantage of better purchasing opportunities and provide better pricing and products to its customers. "It also allows us to sell to national chains," Brandt adds.
Over the years, Feesers has developed a reputation for being a service-orientated company. "It's what helps us stand apart from some of our national competitors," Kaufman adds. "And we are your one-stop shop and offer 24-7 service to some of our customers, which is unheard of in this industry."
On the supply chain side, Feesers has three factions. Depending on the situation, it may rely on the manufacturer to supply the freight, hire a third party or haul its own freight and take advantage of freight savings.
To attract and retain employees, the company has adjusted its salary and wage structure and automated some processes in picking, loading and started analyzing routes to make travel more efficient.
Feesers also has developed its own inhouse transportation program that plots all of its pickup points for vendors.
"It allows us to be more efficient and turns out inventory quicker and we realize freight savings on it," Brandt says. "We started that about seven or eight years ago. It's our own inhouse program."
Green Initiatives
Founded in 1901 as a fruit and produce wholesaler, Feesers prides itself on being a pioneer in green initiatives and actively reducing its carbon footprint. The company started its green efforts in the 1970s, when it began switching its transportation vehicles from gas to diesel powered.
Its green initiatives have included changing its freezer and refrigeration system from Freon-based to ammonia-based, switching to paperless processes and recycling oil filters, coolant filters, batteries, tires, office paper, computer green-bar paper, plastic wrap, pallets, cardboard and electric bulbs.
In more recent years, Feesers has continued to evolve its business practices in order to operate more efficiently and with a smaller carbon footprint. Its practices include heat recovery, evaporative cooling and using renewable energy sources and high-efficiency lighting.
On the transportation side, the company aligns its trucks and trailers every 60,000 miles which saves fuel and increases tire life. It also utilizes a tire inflation system which notifies the drivers when the tire has a leak, thus saving on wear and tear and fuel mileage.
In addition, Feesers has installed an auto-lube system that injects the proper amount of grease into each component saving time and grease and all trucks have a five-minute idle shut down system to save fuel and lessen air pollution. All soaps used in the operation are biodegradable, including those used to wash the fleet.