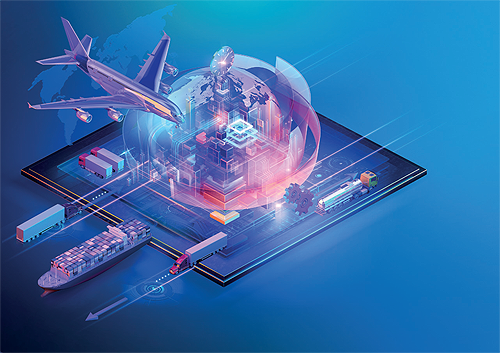 A different balance
2021 will be the year of the supply chain and redefining risks, and IBM is ideally positioned to help its clients navigate the post-pandemic market
As the world still reels from the impact of the global coronavirus pandemic, more and more companies are finding they need an expert, knowledgeable and reliable supply-chain technology partner to help guide them through the transformed conditions in which they are now operating.
Increasing numbers are turning to one of the most well-known and respected names in the technology space – IBM. With a pedigree extending back to the origins of computing, IBM is ideally positioned to assist its clients as they seek to make their supply chains more effective and efficient. As Tom Cassell, a Supply Chain and Procurement Leader with IBM Global Business Services explained, the kernel of IBM's approach is to create strong, mutually beneficial relationships with clients. "We achieve this by focusing on them; their business, their strategy and objectives as an enterprise, their internal and external stakeholders, and their definition of success. And through this focus we articulate and demonstrate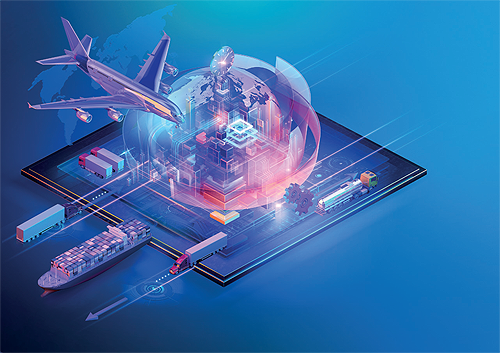 the value that IBM can bring in support of their supply chain transformations," he stated.
But what brings them to IBM initially, given the plethora of supply chain partners out there? Tom stressed the importance of IBM's ability to help clients improve supply chain performance through the fusion of process transformation, enterprise solutions and innovative technologies. "Our clients look to us to help them understand the leading ways to operate a supply chain from a process point of view; the best platforms to use in support of those processes, like SAP; and how to best apply innovations like Artificial Intelligence (AI) to complement that platform and deliver more value and better outcomes for their customers. That's what IBM does better than anybody right now," he emphasized.
The clients that IBM is assisting are looking to reconfigure their supply chains, as the pandemic has revealed exposures and weak links that need to be strengthened. In fact, Tom pointed out that generally the supply chain is the area of its clients' business models that has been most impacted by Covid-19. "Across all industries, and across all elements of a supply chain, there has been and continues to be disruption," he said. "So, our clients are looking for way to rebalance their supply chains between two important factors – efficiency and resiliency. For decades, we in supply chain focused on the efficiency side of that balance – extracting as much cost out of supply chains as possible and running them as efficiently as possible to drive financial value. But what Covid-19 revealed was just how vulnerable this approach left most global supply chains. Enterprises now realize that they need to strike a different balance that more appropriately considers supply chain resiliency. And one key way that we're helping them achieve this new balance is through the use of what we call Intelligent Workflows."
Intelligent Workflows enhance traditional business processes through the inclusion of innovations like AI, process automation and data analytics. They also complement established supporting platforms like SAP by providing additional capabilities that are now needed to help identify and prevent supply chain disruptions. "So, for example, in the spring of 2020, some of our clients in the consumer products industry shared that, as the pandemic continued to spread, their short-term demand patterns had become wildly volatile and therefore challenging to forecast," Tom revealed. "This made sense – they were basing their forecasts on historical data that didn't account for a disruption like the pandemic, while at the same time seeing huge volatility in consumer buying behavior. So, we developed a demand sensing capability that combined proprietary IBM datasets, like our Covid-19 Risk Index, with IBM machine learning algorithms focused on short-term forecasting. This approach allowed us to account for the correlations and impacts from the pandemic and produce a short-term forecast that more aptly addressed the volatility they were currently experiencing and expected to continue going forward. We then integrated this with their statistical forecasts in SAP to produce a comprehensive demand plan that was both accurate and reflective of what was truly happening in their markets. This is a great example of the value that Intelligent Workflows can bring to a supply chain area like Demand Planning."
Through its work, IBM can help its clients to reach the optimal point in the efficiency/resiliency balance, but to achieve this requires a supply chain to have certain capabilities, as Tom noted. "First of all, you need real-time visibility across the extended supply network. This includes not just your own network and your tier 1 suppliers (those suppliers I buy directly from), but your tier 2/3/4 etc. (the suppliers my Tier 1's buy from). For most companies, that's currently a black hole, and actually one of the key causes of the major disruptions caused by Covid-19. Greater supply chain visibility, like that provided by some Control Tower solutions (IBM has a great one) provides organizations insights into what's going on in their supply chains, where the disruptive risks are most likely to occur, and how to best to mitigate those potential risks."
Tom then highlighted the second essential requirement that clients need to establish and that is an agile and flexible network. "Covid-19 showed us how damaging it can be to a supply chain to be overly dependent on certain aspects of your supply chain – for example, a small group of suppliers for a critical component, or production from a specific region. To avoid disruptions and become more resilient, supply chains must employ a flexible structure of partners (suppliers, contract manufacturers, 3PLs, etc.) that can, when a disruption occurs, be quickly used to identify and leverage alternate sources of materials, logistics, production, whatever the case may be."
Finally, as noted previously, IBM recommends that AI should be embedded into core supply chain processes: "From forecasting to procurement, and logistics to manufacturing, the most resilient supply chains going forward will be ones that have an AI capability used within all key supply chain processes," he asserted. "This will allow supply chain professionals to find usable insights from the ocean of data that most organizations now have, and apply those insights into finding vulnerabilities within their supply chains and taking the appropriate measures to avoid those risks. And it's not just risk-avoidance that AI will help with, but also maximizing opportunities even when disruptions cannot be avoided."
Having referred to both Control Tower and AI technology, Tom confirmed that he considers both these and some other solutions as essential for success in today's complex supply chain environment, particularly in light of what we saw happen with the pandemic. "You definitely need a proven platform like SAP that can provide that critical 'blocking and tackling' for managing a supply chain; you also need a Control Tower that provides visibility to everything that's going on in that supply chain and can alert you to potential disruptions; and finally, you need innovative capabilities in the areas of AI, RPA, Blockchain and deep analytics to provide additional process and perhaps industry-specific functionality," he declared. "But the real trick here is that you really need to fuse these three technologies together into a single holistic approach that's aligned with an organization's supply chain strategy and broader business objectives. That's what's going to lead to supply chains that can proactively identify and mitigate disruptive events like Covid-19."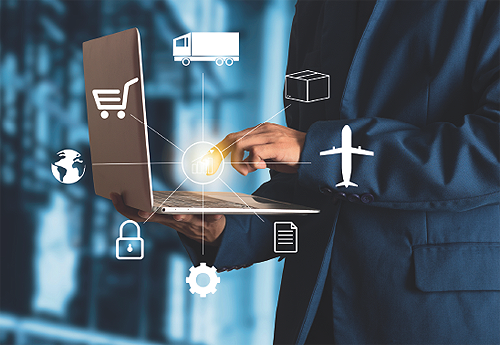 As Tom discussed the various stages and hurdles that need to be overcome to find the optimal 'efficiency vs resiliency' balance within the supply chain, it became clear that in fact, this is a considerable trial for businesses to overcome. "We've learned from the disruptions of 2020 that for most organizations it's no longer sustainable nor practical to operate a supply chain too far to either side, but finding the sweet spot in this balance can be a real challenge," he agreed. "In some cases, ensuring adequate resiliency might result in additional costs in the form of incremental inventory in more risk-prone locations or more expensive suppliers located outside of typical sourcing regions like China; think of costs like these as a sort of insurance policy against disruption. Furthermore, there is still the pandemic to deal with, and all of the ramifications that it continues to bring. Some industries are permanently changed from this experience, and as a result many companies must figure out how to properly re-imagine their supply chains in their 'new normal.'"
The market is also changing fast and organizations have to keep up with a new and evolving set of customer expectations. "Whether it's fast and free shipping and returns or multiple selling channels with unique experiential elements to each, companies will have to keep a keen focus on their customers' expectations and in some cases, reconfigure their supply chains in order to successfully do so," added Tom.
From Tom's analysis, it is apparent that this is a demanding time for organizations that are trying to reorganize their supply chains. But as ever, with challenges come opportunities and Tom went onto highlight three areas that could be considered as vital starting points or prospects that cannot be ignored. He began by reiterating the importance of Control Towers and the application of AI and data. "Control Towers are a great capability to start with, because they enable one of the key functions necessary to become more resilient to disruption – real-time, end-to-end visibility across the supply chain," he recommended. "Then to find that optimal equilibrium in the IBM'efficiency vs resiliency' balance, companies will have to leverage AI and a greater collection of data sources in nearly every element of their supply chain. Not doing so and they risk getting left behind.
"Now is also the time to look at organizational alignment and adjust your supply chain teams so that they're able to operate in a more agile fashion in the face of potential disruptions. Companies should consider instituting more decentralized organizational models in their supply chain departments to drive empowerment and speed when it comes to decision making and problem solving.
"Finally, it's a great time to align on a refreshed supply chain vision and implement a targeted set of key capabilities to help identify and safeguard against supply chain vulnerabilities. Companies need to create a vision for what their supply chain should look like given the vulnerabilities uncovered in 2020. What are its objectives, how it should operate, where is it vulnerable, and what key capabilities are needed to make its customers happy or to reduce risk in the network?"
Tom and his team at IBM have been working incredibly hard with their partners to help them to overcome their supply chain challenges. But we mustn't overlook the fact that IBM itself has also had to deal with the pandemic and make changes in order to maintain its exemplary level of service. Tom described the changes that have been made and even pointed out that some of these have been so successful they will likely become standard practice. "At its onset, the pandemic presented a number of challenges for our services business. We and our clients were accustomed to working together in the same location, and of course as the virus escalated globally and restrictions began to rightly be implemented it became impossible to continue that approach. So, instead we very quickly developed a fully remote delivery methodology leveraging innovative capabilities in remote collaboration that enabled us to continue our inflight projects and even start new ones, all without missing a beat. In fact, this new approach has worked so well that even when we get back to whatever the 'new normal' looks like, we'll likely continue to use elements of this model with our clients."
The ability to respond quickly to outside stimuli and be flexible enough to adapt to new requirements is what IBM's clients are striving for. As the vaccine rolls out and research continues, we hope the coronavirus pandemic will soon be in the past. Looking forward, Tom trusts that IBM will remain a trusted partner for all its clients looking for assistance with their supply chain management in the years to come. "I believe that IBM will continue to help our clients get the most out of their investments in enterprise platforms like SAP, and guide them to leverage the very latest in supply chain innovations to complement those platforms with advanced capabilities that drive successful outcomes for them and their customers. Innovations will only continue to evolve, and IBM is committed to helping our clients understand where these technologies are headed and how they can be used to get to that optimal balance between efficiency and resiliency in the supply chain," he concluded.
IBM
www.ibm.com
Specialty: American multinational technology company