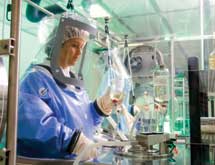 For most companies, acquiring a new business is a lengthy process that typically takes between three to four months.  Patheon completed the close of Banner Pharmacaps within an impressive six-week timeframe and is now nearing completion of fully integrating the new operations into its global business model.
Patheon, a leading global provider of contract pharmaceutical product development and manufacturing, completed the acquisition of Banner Pharmacaps in December 2012. This gives Patheon the ability to add proprietary softgel products and technologies to its business, says Rebecca Holland New, chief human resources officer and senior vice president, human resources and corporate communications.
"Along with new products and technologies, the acquisition adds four manufacturing facilities and several research labs to Patheon's holdings," she says. "Patheon serves roughly 300 of the world's largest pharmaceutical and biotechnology companies from the company's integrated network of 13 commercial contract manufacturing facilities and 12 development centers in North America and Europe, giving it the ability to produce and launch products anywhere in the world."
Patheon's product development services include pre-formulation, formulation, analytical development, clinical manufacturing and commercialization of mainly prescription drugs. The manufacturing division produces and packages products for global and regional markets for its customers.
Pressing the Advantage
Holland New credits Patheon's executive team – which includes Senior Vice President of North American Commercial Operations, Franco Negron, and Harry Gill, senior vice president of quality and continuous improvement – with the company's successful integration of the proprietary products and technology from Banner Pharmacaps.
"I'm proud of the transformation of the company overall, and both [Harry Gill and Franco Negron] have been key leaders in driving that transformation," she explains. "Creating an environment and culture that allows our employees to have an impact on the customer and be a part of the process sets them apart and sets our company apart."
All Patheon sites follow the same business and operational methodology. The company in recent years adopted its own approach to operational excellence, dubbed Patheon Advantage II, which builds on existing Lean and Six Sigma tools while addressing the specific needs of the pharmaceutical industry, Gill says.
Patheon Advantage II has three components. The first involves traditional Lean and Six Sigma elements such as a kanban system, waste walks and the elimination of non-value-added activities.
The second driver of the program is the use of visual management tools to monitor key performance indicators such as quality, timeliness and efficiency.
"We've driven these measurements down to the operator level, meaning we give them the information they need to know when they're doing well or need improvement," Gill says. "We make this visual by having performance boards in our manufacturing that allow supervisors to interact with every shift and talk about what went well and what can be improved."
The third component of Patheon Advantage II is focused on employee engagement and empowerment. "When you have people who are engaged, they perform better and care more about their work, and that creates a 'secret sauce' for improvement," he adds.
'A Relentless Commitment'
The Patheon Advantage II philosophy is helping the company improve its overall quality and customer compliance levels. "Our relentless commitment to excellence is second to none," Negron says.
 Patheon's customers are the ultimate beneficiaries of its commitment to quality. Each new product and manufacturing contract is preceded by an extensive sales and operations plan that includes market research. "Doing our own market intelligence provides us with a way to differentiate ourselves," Gill says. "We go to our prospective customers with a portfolio of where they have their business and who is making it for them, and provide them an outline for how we can improve their supply chain."
Once products are in production, customers can interact directly with the operator manufacturing team.
"We place emphasis on our peoples' 'ownership' of the product's quality," Negron says. "That leads to intimate knowledge of the product and it is a powerful connection with the customers. It is an important concept that reflects on our high performing organization."­­