Tennessee Valley Authority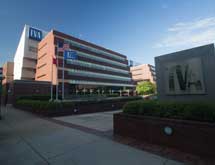 President Franklin D. Roosevelt famously described the Tennessee Valley Authority as "a corporation clothed with the power of government but possessed of the flexibility and initiative of a private enterprise."
Today, as TVA celebrates its 80th anniversary, the agency's Supply Chain management and its Human Resources and Operations sectors are collaborating to successfully implement best practices from the private sector to help the nation's largest public utility realize increased efficiencies, greater cost savings, and a more competitive bottom line.
Russ Steward, vice president of Supply Chain for TVA, oversees all of TVA's operational needs for a diverse generating (nuclear, fossil, hydro and gas) and transmission fleet in all facets of supply chain management. This includes strategic sourcing, inventory management, investment recovery, and fleet and transportation management.
Before coming to TVA in 2010, Steward was director of procurement at American Electric Power (AEP), responsible for managing more than $3 billion in purchases for 11 AEP operating companies. He managed procurement for generation, transmission, distribution and enterprise requirements, including material, equipment and related services.
Steward's 30 years of experience includes chairing the Utility Purchasing Management Group, an 86-year-old industry organization affiliated with Institute of Supply Management that shares emerging practices to improve supply chain management.
He began introducing some of those trending industry tactics at TVA in 2011 by assigning contract administrators to several of TVA's big-ticket contracts, piloting the effort within the utility's Nuclear Generation group.
"Contract administrators work with project teams to ensure that all details of a project contract are strictly adhered to throughout the course of work rather than learning later that there were costly discrepancies," Steward said.  "This compliance review extends to areas of risk and performance as well as to the monetary terms of the contract."
For example, contract administrators ensure all suppliers have the appropriate insurance requirements; all invoices match the pricing terms of the contract; and TVA receives the necessary health and safety plan for the project.
Steward said contract administrators are reducing and eliminating contract leakage and saved TVA's nuclear power group $1 million in cost recovery from suppliers and another $2 million in avoided costs.
TVA has expanded the initiative to other projects outside of Nuclear, such as its Gallatin Clean Air Project and Right of Way Clearing Program, he said.
"Improving contract administration supports effective project/program execution by providing real-time monitoring of contract performance – and better execution supports financial and operational excellence," Steward said.  "Supply Chain continues to work with organizations across TVA to deliver the best value from our contracts and suppliers."
Internal collaboration between Supply Chain and Human Resources also has driven cost savings in Contractor Workforce Management.
TVA employs more than 3,000 staff augmentation contractors. Management of that workforce recently was made more effective thanks to a new vendor management system, IQNavigator (IQN).
IQN acts as a single, universal platform for managing all temporary labor services, including Staff Augmentation, Craft and Non-Craft, and Managed Task/Statement of Work based projects. Through simple, standardized processes and advanced reporting tools, IQN will provide greater efficiency and transparency for users.
Steward said TVA also has launched new initiatives to optimize maintenance spares inventories across its operations.
"To further enhance our ability to produce reliable and affordable electricity, we're taking steps to optimize our investments in the inventories that support our maintenance activities," Steward explained. "Given the volume and diversity of these inventories, we believe this will allow us to continually improve inventory decision making, which will help us not only improve cost management, but also provide greater support for plant reliability through improved material availability."
TVA buys about $3.5 billion a year in goods and services that range from turbines and generators to janitorial services and office supplies. New initiatives and an increased collaborative approach in Supply Chain are expected to reduce costs over three years by a total of $250 million to $300 million.
"TVA reduced overall costs by almost $900 million last year, and Supply Chain had a hand in avoiding those costs through these kinds of programs," Steward explained. "The savings realized from these actions are a critical component in TVA's ability to keep power prices competitive and affordable."
The Tennessee Valley Authority is a corporate agency of the United States that provides electricity for business customers and local power distributors serving 9 million people in parts of seven southeastern states. TVA receives no taxpayer funding, deriving virtually all of its revenues from sales of electricity. In addition to operating and investing its revenues in its electric system, TVA provides flood control, navigation and land management for the Tennessee River system and assists local power companies and state and local governments with economic development and job creation. ­­­