SBA Global Logistic Services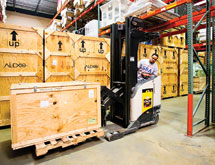 SBA Global Logistics Services (SBA) specializes in helping its clients go a long way, and the company has come quite a long way itself. Founded in 1972 primarily as a domestic air freight company with one office based at New York's JFK Airport, the company eventually grew to span multiple locations. Executive Vice President and COO Hann Livingston says the company now has more than 40 locations distributed throughout the United States and Canada. The company serves an even mix of domestic and international customers. 
Over the years, the company has built up an extensive infrastructure of global freight management and logistics services that support its customers' domestic and international shipping needs. Its solutions include ground transportation, air freight, ocean freight, warehousing and distribution, final-mile (white glove delivery) and customs brokerage services. SBA stresses that its reliability, cost-effective services and ability to customize solutions have been key to its success. 
Livingston says the company's reputation has earned it a strong customer base that ranges "from Fortune 100 companies to small and mid-sized companies." The one common element all of SBA's customers share is a desire for comprehensive logistics services that answer all of their needs. Livingston says many of its customers use SBA to ship high-tech products. "The things that need a little bit of extra care, is the best way that I could describe it," he says. 
Made to Fit
SBA's customers are looking for service that goes above and beyond the norm, and that's exactly what the company provides, Livingston says. He describes SBA's model as one that provides a higher level of service with customized solutions and IT support. 
The high level of service the company provides stems from the extremely localized nature of each of its offices. SBA's offices operate on an agency model, in which the majority of its locations are run by an owner/administrator and their team. The SBA corporate office provides support to each agency in the form of services such as accounting and IT, but for the most part the offices independently manage sales and operations, which gives them the ability to respond to customers' needs specifically and quickly. 
"I feel like the reason why we're growing and the reason why we're able to continue to provide a high level of service is because we really are a ground-up organization, so each of our offices is really intertwined with our customers," Livingston says, adding that the ownership culture that exists within each of the company's offices promotes individualized solutions for each customer. "The idea of local empowerment versus top-down directives allows a focus on each customer's needs."
Livingston says the company's IT capabilities are another advantage that allows SBA to offer its customers highly customized solutions to their logistics needs. He says the company prides itself on having a larger, more capable IT staff than many of its competitors. All the experience those staff members bring to the table gives the company the ability to offer customers one-of-a-kind solutions. Livingston says many of its customers choose off-the-shelf solutions, but having the option to customize gives SBA an edge. "We're not trying to fit them into one box," he says. 
People Power
Although SBA has a significant number of advantages over other logistics service providers, Livingston says the company continues to work hard to gain and retain customers in the face of heavy competition on the pricing side. "What we struggle with is the kind of cheapest-option model and how to compete in an industry that moves more and more toward trying to be commoditized," Livingston says. "We understand that price is always a component of service, but we aim to deliver quality service above all else."
That trend is exacerbated by the amount of consolidation taking place within the industry. Livingston says many of SBA's competitors have been purchasing smaller companies to increase their footprints in the marketplace. Despite this trend, Livingston says SBA has a strong plan in place  centered on remaining  more "people-based" than many of its competitors. This is thanks to the ground-up customer service approach that stems from its agency model of operations as well as the skill and expertise of its people. "Loyalty has been our driver both internally and with customers for more than 40 years," Livingston adds. "Treating our employees with respect and empowering them, leads to better service, which leads to loyal, long-term customers that appreciate a group that goes the extra mile for them."
In fact, Livingston says people are going to provide SBA with its greatest driver for future success. Although the company is looking to make increased inroads into domestic and international markets, and continue to invest in improving IT solutions, he says its success has more to do with the personal touch and customizable services SBA offers than anything else. 
"We want to continue to grow," he says. "We've continued to grow at a tremendous clip over the last several years, and that's really been a function of finding the right people and allowing them to do their best work for the customer." ­­­