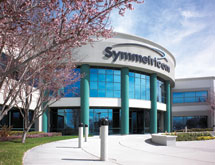 If you want to know what time it is, ask an atom. Atomic clocks base time on the movement of atoms in various gases and are the most accurate in the world. Supplying the raw materials and components for atomic clocks and GPS devices and delivering them to their destinations is the responsibility of Gerry Leo, Symmetricom vice president of operations and supply chain.
"We make multiple clocks based upon different gases," Leo explains. "These gases include rubidium, cesium and hydrogen. The market for our clocks is in communications, government, enterprise and power. Symmetricom supplies timing and synchronization solutions for many of the world's most well-known companies, including AT&T, Verizon, China Mobile, BT and Deutsche Telekom."
Among the challenges of the supply chain is availability. "Some of the gases come from other countries, and sometimes they can be restrictive and very expensive," Leo notes. Symmetricom manufactures a large variety of highly complex products in low to medium volumes.
"Manufacturing can take three months for an atomic clock," Leo calculates. "It's a very complicated product. It isn't something you can just build and ship the next day. Many of our products require 'aging' to achieve the required frequency, which extends the manufacturing time to months. As they run, they get more precise."
That aging could take from six or eight weeks to three months. "The littlest things could cause a product not to work precisely," Leo warns. "It could be contamination, component failure, process deviation or chemical application deviation. That is why we use clean rooms for physics package manufacturing."
High Precision
Symmetricom manufactures highly precise time-keeping technologies, instruments and solutions for GPS satellites, national time references and national power grids, as well as in military and civilian networks, including those that enable next-generation data, voice, mobile and video networks and services.
The company assists customers in more than 90 countries to generate, distribute and apply timekeeping. Symmetricom develops the technology, builds the products, optimizes the solutions to strict customer requirements and provides post-implementation training, maintenance, engineering and technical support.
Symmetricom's product offerings include atomic clocks, hydrogen masers, timescale systems, GPS instrumentation, synchronous supply units, standards-based clients and servers, performance measurement and management tools and embedded subsystems that generate, distribute and apply precise frequency and time.
Outsourcing Manufacturing
Because of the high level of intellectual property in Symmetricom's products, the company does much of its manufacturing in-house at its plants in Boulder, Colo., Tuscaloosa, Ala., and Beverly, Mass. In March 2010, Symmetricom entered into a business relationship to outsource its printed circuit board assembly and final assembly to Sanmina Corp.
Sanmina makes complex and innovative optical, electronic and mechanical products. It provides end-to-end design, manufacturing and logistics solutions for OEMs primarily in the communications networks, computing and storage, medical, defense and aerospace, industrial and semiconductor, multimedia, automotive and clean technology sectors.
The company integrates its logistics and repair services with its engineering, manufacturing and supply chain management processes. This integration allows for the assembly, configuration, distribution, aftermarket services and end-of-life management of products to be done faster, at lower cost and to the highest quality standards.
Sanmina's relationship with Symmetricom has enabled it to shorten delivery times and improve quality. In addition to manufacturing services, in 2011, Symmetricom engaged Sanmina as its domestic third-party logistics partner. This significantly shortened lead time, delivery to Symmetricom's end customer and eliminated the transportation time and cost to and from the former 3PL.
Symmetricom and Sanmina are continuously improving the relationship and manufacturing processes to act as if they are one company. The two companies' boundaries do not stop them from implementing changes that will lower cost and increase efficiencies. These improvements have resulted in on-time delivery-to-promise dates for Symmetricom's customers in the mid-90s, and in the 80s when measured to a customer request date. 
Additionally, lead times have been reduced significantly. Depending on the product family, customer delivery times have been reduced from 20 to 75 percent. Inventory levels at Symmetricom and at Sanmina of Symmetricom products have declined more than $38 million, or greater than a 35 percent reduction.
"Building a strong relationship with Sanmina, leveraging strengths, shortening the supply chain – which resulted in significantly improved customer delivery – is one of the factors of improved performance," Leo says. "Another major factor that improved customer delivery is the improved internal communication of customer product needs and wants (the S&OP process), and senior management taking an active role to ensure customer focus."
A third area of improvement is reducing the number of vendors. "We're narrowing down our vendor base to make sure that I don't have a large number of vendors building the same commodity," Leo notes. "It takes a lot of overhead to manage that vendor. Every time I add a vendor, it increases overhead." 
Additional Excellence
Other areas of excellence at Symmetricom include:
New product introduction excellence – The supply chain is involved with engineering and product management early in the design stages to influence component choices for quality, cost and availability, alignment with existing vendors and Sanmina's involvement for product design review. 
Commodity management – Symmetricom's organization includes a team of commodity managers specialized and knowledgeable about commodity and industry. These individuals have multiple years of experience, understand the technology, manufacturing processes and players in the respective commodity and utilize this knowledge and experience to improve quality, delivery and cost. 
Lean manufacturing techniques – These are employed for internal use and partnering with Sanmina for the outsourced products.
Operations efficiency – This focuses on inventory management, cash flow predictability and shipment management to ensure a very high level of customer delivery satisfaction and revenue predictability.
Quality certifications –ISO 9001, TL 9000 and AS 9100. ­­­