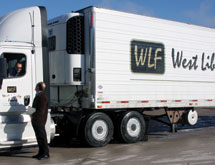 Although it was founded in 1996, West Liberty Foods has a legacy that stretches back for more than 70 years. When Rock Island Produce Company moved from Rock Island, Ill., to West Liberty, Iowa, in 1943, it set in motion a chain of events that would lead West Liberty Foods to where it is today.
"We strive to stay on top of our game so our customers receive food safe products on time that meet our rigid quality standards," Director of Supply Chain Management Tim Cox says. 
Cox's supply chain team oversees everything from purchasing and warehousing to transportation and production scheduling. 
West Liberty Foods came into existence after the Iowa Turkey Growers Cooperative of 47 Iowa-based turkey growers purchased the West Liberty facility in 1996 and began to run the business as West Liberty Foods. The company processed its first turkeys in 1997. 
In 2002, West Liberty Foods created the USDA-inspected Research and Development Center at its West Liberty facility. In 2003, the company opened a new facility in Mount Pleasant, Iowa, which it expanded in 2004. 
In 2005, West Liberty Foods opened a state-of-the-art quality assurance laboratory in West Liberty. In 2007, the company expanded westward, building and opening a facility in Tremonton, Utah. 
A year later, the company opened the Hearts & Hands Children's Academy in Tremonton to offer support to employees by providing daycare for children from six weeks to 12 years old.
Each West Liberty Foods facility strives to meet the highest food safety and quality standards. Its facilities can process more than 5 million pounds of turkey, pork, chicken and beef per week. Its West Liberty facility, for example, slaughters up to 24,000 large tom turkeys per day.
Support Systems
The company offers an array of products and services, as it is a leading co-packer, private label manufacturer and foodservice supplier of sliced deli meats and fully cooked IQF products. Its private-label service provides customers with innovative and custom packaging options, speed to market and brand protection. 
For foodservice clients, it offers turnkey solutions, unlimited slicing and packaging options, and food-safe infrastructure.
In addition, its co-packing expertise provides customers with start-to-finish product development from a low-cost, high-quality manufacturer that offers innovative food safety solutions. 
Beyond that, West Liberty Foods offers IQF value-added items thanks to its advanced solutions, fully cooked product capabilities, efficiency and productivity. The company also makes bulk commodity parts available on request.
"Our primary function is as a co-packer," Cox says. "We have foodservice and retail accounts, Subway being the largest."
To help West Liberty Foods gain insight into the movement of Subway products, it works with iTradeNetwork, a global provider of on-demand supply chain management and intelligence solutions to the retail, hospitality and foodservice industries. The iTradeNetwork system allows distributors, manufacturers, operators, retailers, suppliers and wholesalers to reduce cost, grow revenue and strengthen trading partner relationships. 
"This gives visibility into demand at the store level," Cox says. "With this information, we are able to provide better forecasts and more efficient production schedules."
West Liberty Foods is also hard at work on improving relationships with its suppliers. The company has a master scheduler who is responsible for inputting production and sales forecasts into its ERP system. 
"We can then take that information and share it with key suppliers so they understand our needs and be more efficient in their production process," Cox says. 
Clear Differences
West Liberty Foods has taken numerous steps to set itself apart. As of 2012, West Liberty Foods had become a landfill-free company. All of its facilities have been independently verified by NSF International Strategic Registrations, demonstrating that less than one percent of all company waste is being sent to a landfill. 
"Sustainability is a big focus for us," Cox says. "We were the first meat company to be certified as landfill free, and we are always looking to improve our carbon footprint and waste stream."
In 2013, high-pressure pasteurization (HPP) systems were installed in the Mount Pleasant and Tremonton facilities. The HPP systems provide enhanced food safety and a longer shelf life of products while reducing dependence on preservatives. 
The company also has a patent on an innovative cleanroom food-processing system that reduces the risk of pathogens contaminating food products. In addition, West Liberty Foods uses robotic technology to ensure sanitary consistency across all product lines and increase product quality and employee safety. 
Its robotic technology can transfer up to 4,131 10-foot product logs per day. In fact, the 10-foot log is another differentiating factor for the company. It was the first U.S. manufacturer to use 10-foot logs in everyday slicing operations. This enhances food safety because handling is minimal, as logs do not come into human contact until they are in ready-to-eat areas and put through a sanitation wash.  
West Liberty Foods' efforts have not gone unnoticed. For example, Subway and its Independent Purchasing Cooperative named the company its 2012 Vendor of the Year. Subway cited West Liberty Foods for its work with the brand on product improvements and food safety initiatives, as well as its commitment to corporate social responsibility. Subway indicated that West Liberty demonstrated its commitment to the Subway brand and a high level of excellence in all areas of its business while focusing on increasing efficiencies, decreasing waste and ensuring value for the Subway system.
The company continues to grow, too. In October, it announced plans for a $14 million expansion to the Tremonton facility, adding 3,750 square feet of welfare and mechanical space to a 34,000-square-foot addition that was completed in August. This expansion is a continuation of the previous expansion effort. West Liberty Foods felt that continued growth in sales and diversification in product lines had driven the need for the original expansion, as well as continuing that with 3,750 square feet of welfare space, equipment and additional mechanical space and systems.
To keep up with growth and ensure continued strong performance, the company is investing in its supply chain. It has invested in a partnership with LeanLogistics, global solutions provider of transportation management system applications and supply chain services. On the fleet side, it recently purchased new tractors from Freightliner. It also invested in Process Based Leadership software to help drive improvement. 
"For us to be successful, we have to provide superior customer service; that is where supply chain comes in," Cox says. "Providing quality and food safe products while maintaining high levels of customer service  is what keeps our customers loyal." ­­­