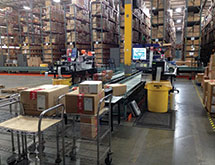 Helly Hansen has a strong history dating back to its founding in 1877, and it has grown into a world leader in outdoor apparel. It has specialized in apparel for professionals working in extreme environments ever since the company's founder and namesake, a Norwegian fisherman, engineered a water-resistant fabric to make coats. The roots of that legacy have allowed Helly Hansen to evolve into a leader in water-resistant cold-weather apparel that ensures comfort and warmth in any condition.
Today, the company makes action utility wear for survival, work and sports focusing on the needs of professionals, core athletes and enthusiasts. It works with a wide array of retail customers, including major department stores, sporting goods stores, and specialty boutiques and resorts, as well as its own Helly Hansen flagship stores, outlet stores and e-commerce channel. 
Helly Hansen is now in pursuit of growth in North America. Having developed a strong brand presence in Canada, Helly Hansen sees the United States as an emerging market where it is actively pursuing new opportunities to grow the business.
High Standards
Of utmost importance to Helly Hansen is living up to its core values of authenticity, dynamism, honesty, integrity, teamwork and pride in its heritage, as well as building business relationships based on trust and respect. The company strives to maintain high professional and ethical standards while meeting all legal requirements. 
"We start by sourcing responsibly," North American Logistics Manager Mike McGarvey says. "We require good security measures at factories, and we follow a strict social code that demands fair labor standards, no child labor, and good working conditions and pay."
At the same time, Helly Hansen's goal is to have the best shop floor presence of any brand in stores. To do that, it needs brand consistency and a polished look at any store, meaning consistency in store fixtures, appearance and maintenance across all distribution channels. In addition, it needs a program and assets to match its customers' order levels and in-store needs. Properly addressing these space management issues can help Helly Hansen to increase sell-through at its accounts in conjunction with meeting goals for growth at any account using its fixtures.
"We use the SAP business analytics tool, Business Objects, to look at the procurement and sales universes," McGarvey says. "We can see if there are delays or capacity issues at the supplier level. We have safeguards in vendor-supplier agreements, and we are transparent with customers so we can keep them up to date." 
The company's logistics operations are critical to its ability to grow in North America while maintaining its core values. Within Helly Hansen's logistics systems, there are several ongoing projects to improve operations. These include implementation of a new warehouse management system (WMS). 
"We selected Consafe Astro for our new WMS," McGarvey says. "It will be a big improvement for us compared to our 15-year-old homegrown system." 
The company is also working to improve its freight audit/freight payment operations and shipping system. In addition, it has added automation in its warehouse combined with intelligence to process garments for key accounts through its value-added department.
"The WMS will be a big part of helping us rotate product through the value-added area of the distribution center so it is bagged, tagged and hung quicker," McGarvey says.
Successful Trade
Helly Hansen also made a major decision in recent years that the company believes will benefit its ability to grow in North America. In 2010, the company looked to determine the future of its North American distribution system. It chose to consolidate distribution activities at its warehouse in Auburn, Wash., and to take advantage of the Foreign-Trade Zone (FTZ) program. 
In Auburn, a 110,000-square-foot distribution center includes 15 dock high doors and two drive-up ramp doors. It also has an early suppression, fast-response fire protection system and proximity card access on doors leading to the FTZ warehouse.
Among the key benefits Helly Hansen have realized since establishing the FTZ have been the deferral of customs duties, which helps cash flow and reduces interest costs. There has been a reduction in the amount of less-than-full-trailer-load shipments and an increase in the number of full trailer loads. 
Additionally, direct delivery allows for quick delivery of goods to the zone, while the merchandise processing fee is capped at $485 per week or $25,220 per year. Establishing the FTZ also eliminated the U.S. duty for goods exported to other countries and has reduced theft and lowered insurance costs through improved security. The company could also take advantage of inverted tariff savings opportunities should it choose to utilize this functionality of the FTZ program in the future.
"There are many rules and processes we must follow as a Foreign-Trade Zone," McGarvey says. "When items enter into the U.S., we submit our entries. But instead of having thousands of entries, as a Foreign-Trade Zone, we have a weekly filing with U.S. Customs. It saves us money by having to submit only 52 entries per year."
Currently, Helly Hansen's logistics and supply chain focus will remain centered on issues such as renegotiating inbound ocean and airfreight rates as well as conducting a network optimization study in North America. It is aiming to bring its new WMS on line in early 2014, and it plans to reassess its inbound model globally, increase direct shipments and cross-docking, and cooperate with key accounts on new supply chain concepts such as RFID and omnichannel.
"Vendor retail compliance is important, and we want to be able to serve companies with RFID as it is the way forward and can help manage and exceed customer expectations," McGarvey says. "We will also look at devising a true freight audit and payment program to streamline accounts payable, and we want a better audit tool to be sure we're not leaving any money on the table and getting the best deal from our transportation partners." ­­­