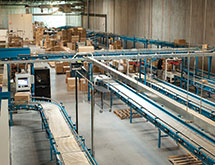 Shoe manufacturer Dansko was growing fast — so fast it couldn't keep up with demand. "We needed to change," COO Mimi Curry says. "We looked at the entire supply chain, customer backward, and asked ourselves, 'What can we do to serve our customers better, smarter, faster?'"
The answer: a new 200,000- square-foot distribution center, built in 2012. Located less than a mile from company headquarters in West Grove, Penn., the center has shaved order turnaround from nearly a week to same day. "It enhanced our quality of service and allowed us to grow," Curry says.
Dansko was founded in 1990 by husband and wife Peter Kjellerup and Mandy Cabot. The couple were horse trainers on the farm they owned in Pennsylvania, but after discovering clogs that suited their equestrian needs on a trip to Denmark, Kjellerup's native country, they decided to make this style of clogs available in the United States. 
The iconic-design shoe has a rocker-bottom sole, slightly raised heel and contoured arch support, which increases stability, absorbs shock and puts less strain on leg and back muscles. The clog has become mainstay footwear for workers who spend a lot of time on their feet, such as teachers, chefs and medical professionals. The company has added many other shoe styles including sandals, boots, heels and flats.
Inc. magazine named Dansko one of the 500-fastest-growing private companies in 1999 and 2000. In 2007, Dansko expanded its sales beyond North America and into Europe, Asia and Australia.
Robotic Fulfillment
Dansko's new distribution center uses 46 robots by Kiva Systems, a Massachusetts-based and Amazon.com-owned manufacturer of mobile robotic fulfillment systems. Kiva's handling systems are used by companies such as Walgreens, The Gap, Staples and Crate & Barrel. Instead of moving goods with conveyor belts or forklifts, Kiva robots locate and retrieve items that are stored in portable units.
"Our pickers used to run six to eight miles a day to pull product for orders, but not anymore," Curry says. "This new system didn't take jobs away. We've added positions because our improved efficiency has enabled us to do more."
All of Dansko's suppliers are overseas and require long lead-times. "We have to forecast our needs way in advance," Curry says. "There's nothing you can do about those transit times." Rather, it was Dansko's 2,500 brick-and-mortar and online retailers who felt the positive impact of the new center.
The distribution center, built in 2012, as well as the company headquarters, built in 2008, are both LEED-certified buildings. Environmental efforts have always been important to Dansko, which has been recognized by the American Sustainable Business Council and the Delaware Valley Green Building Council.
The headquarters, built first, were a test ground for the later construction of the distribution center. Some of the measures employed with the office building include:
+A vegetated roof covering two-thirds of the building, which reduces heating and cooling usage by insulating the building and absorbing rainwater to minimize runoff and soil erosion around the building.
+1,100 solar panels mounted on the former warehouse roof that supply 25 percent of the campus's energy.
+Modular carpet tiles that reduced waste during installation and which can be individually replaced and recycled when soiled or worn. 
+Pervious parking lot surfaces allowing rainwater to filter back to the natural water table.
The company also purchases renewable energy credits from local wind farms and recycles more than 85 percent of its trash. Kjellerup says he has always been passionate about the environment. "Being a Dane, I've always known about building sustainably. When I moved to the U.S. 30 years ago, I was horrified by how we treated the land and its resources. I am happy to report that today we are catching up."
It was crucial to Kjellerup to get independent, third-party validation from the U.S. Green Building Council. "It's not just us saying we are doing what's right," he says. "We want someone looking over our shoulders and measuring us."
"The distribution center, the building itself, inside and out, is a good environment. Natural light, good air supply, pleasing aesthetics – the people who work there feel good being there," Kjellerup says.
Dansko projected that the new distribution center would have 30 percent lower energy costs than a similar warehouse – and those models proved to be accurate. "The building is very energy efficient in both winter and summer, and our energy use for lighting is very low," Kjellerup says.
Universities and government officials often request tours of the center "to see how an operation like ours is functioning in a sustainable way," he says.
The same year the distribution center was built, Dansko became 100 percent employee owned – which is an extension of the company's community values and commitment to a healthy, happy work environment, Curry says. "Our employees are truly invested in the process of making our company better," she says.