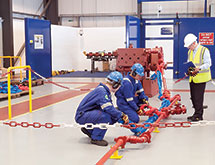 The nation's leading provider of pressure pumping equipment, including well service pumps and high-pressure flow-control equipment, to the oil and gas industry is meeting the needs of its existing customer base while expanding its sourcing and manufacturing capabilities. 
Fort Worth, Texas-based Weir SPM continues to implement sourcing and sales and operations planning procedures that allow it to address rapid changes in industry demand. 
"What I'm most proud of is our ability to respond to changing market conditions," Vice President of Supply Chain Grant Delbecq says. "I feel that we are able to understand market shifts and make moves that can support our customers, whether that means adding products or making shifts in volume."
Weir SPM's line of reciprocating plunger pumps is used in various applications including cementing, acidizing and fracturing. The company's flow-control product line features products used to safely transport fluids at high pressure into the wellbore during various well service applications, Weir SPM says.
The company recently established a demand segmentation approach that places its products into three categories. These are:
+Make-to-stock items, which are high-demand and can be delivered in a few days; 
+Assemble-to-order products, for which components are available but need to be assembled, tested and painted;
+Make-to-order products, for which it needs to source components. These products have the longest lead-time, Delbecq notes.
Components for make-to-stock and assemble-to-order products are procured through a kanban system the company has in place with its vendors. The kanban system is triggered by purchase orders the company issues and tracks through I2B, its supplier interface portal.  The portal also allows suppliers to communicate any changes to orders and confirm delivery dates, he adds.
Weir SPM also has enhanced its inbound supply chain by utilizing the information from a sales and operations planning process. That includes identifying its 10 top commodities and developing sourcing strategies for each.
The company manages its inbound shipments through third-party logistics providers. These providers schedule shipments, dispatch trucks and interface with suppliers. 3PLs in some regions also coordinate "milk runs" between multiple suppliers, which allows Weir SPM to combine less-than-truckload shipments into full truckloads, which saves it transportation costs, Delbecq notes.
A Broadening of Focus
With recent changes in market conditions, Weir SPM has had more opportunity to expand into the aftermarket industry. "Well service companies have increased the amount of equipment in operation because of the increase in horizontal drilling and fracking in the oilfields," Delbecq says. "We've gone from selling them the equipment to grow their capacity to now meeting the need for maintenance and replacement parts."
Weir SPM's main manufacturing operations are based in Fort Worth, though it also has manufacturing capabilities in Dubai, China and Canada to support local markets. The company also operates 35 service centers around the world located near shale plays and other oil and gas industry hotbeds. Those centers enable the company to offer shorter lead-times for products and services, he adds. 
The company recently began sourcing components from global manufacturers. "We were previously sourcing through oil and gas suppliers in North America; now we're looking globally to make sure we're finding the best suppliers both in and outside of that industry," Delbecq says.
Global Growth
Weir SPM has grown considerably in size and sales since 2007, when it was formed following the acquisition of manufacturer SPM by the Weir Group. The Weir Group is a global provider of services to the oil and gas, power and industrial and mineral industries. "The Weir Group is one of the world's leading engineering businesses," the company says. "We are committed to creating innovative engineering solutions." 
Between 2009 and 2011, Weir SPM greatly increased its revenue, which Delbecq attributes to the growth of equipment capacity in the oil and gas industry.
Although roughly 85 percent of the company's sales are made to the North American market, Delbecq anticipates that base will change within the next five to 10 years as the company grows internationally.
"We've evolved in the past five years from being a privately owned company that had no supply chain infrastructure to one that can globally source and manufacture our products," Delbecq says. "We've already come a long way to be able to support the global growth of the oil and gas industry. We're developing strategies that will allow us to be just as responsive around the globe as we have been in North America."