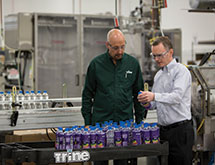 Barry-Wehmiller (BW) is in the business of supplying manufacturing technology and services, but it strongly focuses on people, Vice President of Global Supply Chain Mark A. Green says. "Our culture is a very unique and positive culture [that is] very people-centric," he states.
The leadership of Chairman and CEO Bob Chapman has driven that philosophy, which enables BW's success. "[We've earned] 15 percent compound growth in share value over 25 years and significant national attention for our Truly Human Leadership [THL] culture where everybody knows that who they are and what they do matters," he says.
Based in St. Louis, BW supplies multiple industries, such as packaging, paper converting, sheeting, corrugating, engineering and IT consulting. Founder Thomas J. Barry started the company in 1885 as a machine shop that provided conveying and transportation equipment to malt houses.
With the help of his brother-in-law, Alfred Wehmiller, he expanded BW's product line with a machine that soaked and washed refillable bottles. In 1963, ownership of the company passed to the Chapman family, and Bob Chapman took on his role in 1976.
Over the years, BW completed acquisitions of more than 70 firms. Today, the company has 10 independent subsidiaries and more than 100 locations worldwide. "We serve a large number of end-markets, including life sciences, beverage, packaging, food and household products," Chapman says.
"Our investments in new technology have allowed us to experience healthy organic growth, combined with a historic pace of acquisition," he says. "We always felt the game of value creation was played best with a healthy balance of acquisition growth and organic growth."
A Positive Force
BW's THL culture strives to bring out the best in its employees — or team members, as the company calls them – through the values of trust, respect, recognition and teamwork. This makes associates feel more empowered and offers them more autonomy, Green says.
"You're encouraged to make decisions and take action," he says. "And calling out and recognizing our peers is also encouraged. [When] employees or teams feel like they will be recognized for their contributions to the business and our overall vision, it's very motivating." 
The THL culture also focuses on continuous improvement, which is reflected through BW's focus on lean. "We've embraced lean practices throughout our global organization through a more people-focused approach to lean, which we call L3, for Living Legacy of Leadership," Green says. "We've found this to be the best way to engage our team members as true partners in creating meaningful work for themselves and a sustainable future for all of us."
Team Players
BW's supply chain differs from other firms, Green says. "We do not have your traditional centralized supply chain," he says. "Our Global Supply Chain team executes national and global agreements and policies for recommended utilization across the company and then serves as advisors, mentors [and] guides to our supply chain partners within our divisional companies as they implement these policies and initiatives."
These initiatives include BW's corporate best practice teams, which "share supply chain best practices across all the divisions," Green says. The Global Supply Chain team modified and strengthened the program more than a year ago when it saw a need to bring all of its divisions together, in a more focused, all-inclusive way.
At the time, many of the divisions purchased similar products and services, but used different suppliers. Some even used the same suppliers, but the pricing was still inconsistent, Green recalls.
After recognizing that many of the divisions' supply chain teams were not communicating to each other, the Global Supply Chain team started employing practices that helped build camaraderie between them. "Everything has come together," Green says. "We were able to explore and take advantage of synergistic opportunities, greatly streamline the supply base [down to] the best of the suppliers, and negotiate and leverage our global [spending] across the company, versus a division-by-division approach."
BW has brought the best supply chain partnership relationships to its forefront, he adds. "[We're enjoying] tremendous cost advantages, program continuity and efficiency, and shared best practices through those partnerships and relationships we have established on a domestic and global basis," he says, noting that some of its key supply partners include:
Each BW division, including its Forsyth Capital Investors group of companies, has equal representation on its best practice teams, which is critical in a very decentralized company such as BW, Green says. "They're sitting right at the table with their counterparts, with equal say and equal voice in programs and agreements that we institute across the global company platform," he says.
Going Overseas
The Global Supply Chain has brought the team concept and programs overseas as BW has grown rapidly through acquisitions in Europe. This October, it held three major workshops with divisional supply chain leaders and key supply partners across Europe so they could "learn and understand what we've done in North America and how we want to apply those to their operations," Green says.
"We're trying to get ahead of the curve so as recent and new acquisitions join our company, we can have a plug-and-play process," he says. "They can [plug] into programs and agreements immediately instead of doing so in a catch-up mode, which [is how it was] done in the past."
As BW has branched out to Europe, the Global Supply Chain team has not gone after the continent as a whole, Green says. "We're going after it in a three-regional approach," he says, explaining that it targeted the United Kingdom, north-central Europe and the south Europe region, including Hungary and Italy. "Obviously, the ultimate goal is to bring it all together as a unit."
As BW expands, there may be some challenges as it attempts to "mirror" its supply chain initiatives overseas, Green admits. Although many agreements established in North America also apply overseas, "They may require displacing legacy agreements or legacy relationships," he says.
In addition, some key North America service programs and Europe-specific programs are in various stages of global expansion and implementation. 
"Obviously, if it is determined that a European operation has something in place that may be more beneficial than what we're proposing, we'll certainly take a much longer, harder look at that," he says. But nine times out of 10, Green says, it is better for companies to adapt to BW's supply chain systems.
Many, he notes, have to be informed, educated and helped into BW's global supply chain agreements, practices and culture. "Some of them are coming from a traditional management type of platform; a somewhat regimented environment where key strategy and decisions were being made at the corporate or senior level and disseminated down," he says.
BW has to work closely with the newly acquired company to help it adapt. "It's something, in many cases, unique to them," he says. "[But ultimately], they've come to see and enjoy the very positive benefits."