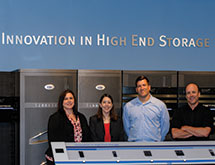 When a disaster occurs, a company's supply chain can be devastated and suffer from blind spots. But EMC Corp. has taken steps so that it knows exactly what is going on, Senior Program Manager of the Global Product Operations Sustainability Group Matthew Mills says. "We can very quickly identify what our impact is [after] a given event," he says. "We monitor our supply chain 24/seven."
Hopkinton, Mass.-based EMC is an information technology company that helps businesses and service providers change their operations so they can deliver information technology as a service, it says. Today, 94 percent of the Fortune 50 companies and 90 percent of the world's 20 largest banks use EMC's products and services.
EMC helps its clients store, manage and analyze their information in more dependable and cost-efficient ways. "Our role is to help businesses make more informed decisions, and make sure the internal units are better aligned," Chief Procurement Officer Steve Cleary says.
EMC Focused
A 25-year veteran of the industry, Cleary joined EMC Corp. three years ago after working for Oracle. "At EMC, I'm focused on all of the product spending, all of the suppliers and commodities that go into making EMC's products, as well as the partners that build, test and ship those products," he says.
Cleary's duties also include making sure EMC Corp. is cost competitive, which can be challenging. "It's more and more becoming about enabling the business to adopt the right technologies," he says.  
"The role that supply chain plays in the organization has changed," Cleary continues. "While cost is a major component, it is no longer enough to only focus on cost.  We need to partner with our business units and engineering teams to provide the best overall solution for EMC.  
"As the business looks more and more to [the] supply chain to provide market intelligence, analytics and financial models or alternative sourcing options, skills sets required to deliver on these value propositions are quite different from traditional supply chain and procurement organizations," he states. "People need to become [subject matter experts] in their respective categories and then turn that knowledge into insight and influence. 
"Helping the business make more informed and better decisions is a top priority," Cleary says. "We do this by ensuring that the internal business units and external supply chains are always in alignment." 
Evaluating the Chain
One way that helps EMC fulfill its mission is by using Resilinc, a supply chain mapping and global event monitoring solution, Mills says. After the 2011 Thailand floods and the earthquake and tsunami in Japan, EMC discovered it had blind spots in its own supply chain. 
"We had difficulty determining where our parts were being manufactured in a timely manner," he admits, noting that the software shows EMC its suppliers' manufacturing locations mapped to EMC part numbers and products. "We know at any given time what our supply chain looks like."
It also gives EMC a sense of its recovery capabilities, Mills adds. "Before we had experience with the tsunami and other events, it could take several weeks to truly understand [what the impact was]," he says. "[Now] we can know in minutes."
That ability recently helped when a large customer experienced a supply disruption, Cleary says. "They wanted to know where we were in our recovery from this situation," he recalls. "We had 100 percent recovery."
This impressed the client, which praised EMC. "They made a statement that we were far ahead," Cleary says. 
Getting the Details
EMC has advanced the level of information it receives by implementing BIQ, a spend and data analysis tool from Opera Solutions. When EMC previously made purchases through external manufacturers, it had difficulty "getting details of our component spend," Principal Program Manager of Supply Chain Business Operations Tina Carlucci recalls.
With BIQ, EMC now has detailed spend visibility that has not only improved its leverage with suppliers but also helps them to better manager spend compliance. "This has led to saving opportunities that we would have otherwise missed," she says. That enabled EMC to find more than $1 million in extra costs that its partners overlooked.
EMC also has implemented Archer, a governance, risk and compliance tool from RSA. Together with the system, "We can efficiently analyze, manage and communicate supply chain risk," Senior Director for GPO Sustainability Lisa Brady says.
Archer includes a third-party risk management solution that helps to manage multiple business operations for EMC, including the evaluation of supplier performance. 
Industry Evolution
The information technology industry is undergoing a major transformation, EMC Public Relations Associate Christine Carosella says. It is making "a secular shift from the client server PC era of computing to the mobile cloud, big data [and] social networking era," she says.
"This new era is being called 'the third platform of IT,'" Carosella says. "This IT transformation is not cyclical shift and thus business as usual will not be a viable strategic option."
The company's competitive advantage of helping customers manage their information in more agile, trusted and cost-efficient ways is more relevant with the rise of the third platform, Carosella says.