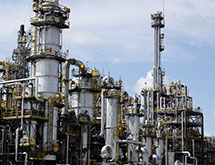 Established in 2004, MEGlobal is a joint venture between The Dow Chemical Company of the United States and Petrochemical Industries Company (PIC) of Kuwait. MEGlobal's sole focus is on the manufacture, supply and marketing of merchant monoethylene glycol (MEG) and diethylene glycol (DEG), collectively known as ethylene glycols (EGs). As MEGlobal would say, it is all about "everything EG."
"We are one of the top players in our industry," Head of Supply Chain for the Americas, Antulio Borneo says. 
The purpose behind the joint venture that created MEGlobal was to manufacture and commercialize EG products. MEGlobal manufactures more than 1.2 million metric tonnes of ethylene glycols per year at its three manufacturing plants in Alberta, Canada. In addition, MEGlobal markets in excess of 3 million metric tonnes from its world-leading supply partners.
"We seek to be efficient in everything we do, from manufacturing to supply chain and finance," Borneo says. 
Enhancing Operations
From a supply chain perspective, MEGlobal focuses on optimizing its production efforts and channels to market thanks to its investments in infrastructure and logistics. The company's supply chain and logistics operations are based on the concepts of efficiency of scale and serving the customer in the best way possible. 
Among the improvements MEGlobal has made to its distribution network was a recent expansion to a terminal in the southeast United States that allows it to bring in product from Canada by ocean vessel. This is an alternative to rail transportation. 
"We can't rely on just one mode of transport," Borneo says. "Marine transport is key, and being in the southeast U.S. makes for greater efficiency."
Additionally, MEGlobal has made improvements to its plants to increase output. The company is better handling strong demand and storage needs as a result. "We must be creative because we handle a commodity and have to find ways to lower cost per ton to survive in a cost escalating environment and better serve customers," Borneo says. 
Focusing on safety is another imperative for MEGlobal. It seeks to move, handle, store and transport product in the safest manner possible. 
"There are several different aspects to safety," according to Borneo. "You need the right training, mindset and work processes in place." 
MEGlobal audits partner locations and reviews transportation routes. All partners' vessels are vetted before being utilized for shipment. The company also pays close attention to maintenance of railcars in its fleet. 
"All suppliers and vendors go through these processes and reviews," Borneo says. 
Increasing Demand
Borneo says the EG market is poised for growth. In 2013, about 16.5 million pounds of EG served the market, but that number is expected to reach more than 22 million in the next few years. Much of that growth is coming from the Asia-Pacific region because of the textile market demand. 
"We have to make sure we have the right partnerships with transporters and we must be able to adapt to market growth," Borneo says. "We have to. We are also doing a front-end engineered design study for a new glycol plant."
MEGlobal will continue to invest in people and bringing in upgraded technological systems. For example, it recently engaged in an SAP upgrade initiative. 
"We have new planning tools worldwide, and we believe that bringing new tools in is all about continuous improvement," Borneo says.