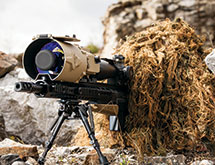 Although the six business segments of FLIR Systems Inc. manufacture a variety of products and systems for many commercial and military uses, they are united in their ability to make what is normally invisible to the human eye visible. Many of the company's products use infrared thermal imaging to show what in a camera's view is hot or cold.
"Andrew Teich, our CEO, has been driving his vision of FLIR becoming the world's sixth sense," says Jim Faraudo, vice president of operations for surveillance airborne products. 
Obtaining the materials and components for the company's disparate manufacturing operations worldwide is the task of the FLIR supply chain. "FLIR has really done a significant amount of vertical integration within our technologies," Faraudo points out. "The main core is the infrared camera sensor, which is all FLIR-designed at the FLIR Santa Barbara, Calif., site. They design and manufacture the focal plane arrays – which is the core of the infrared system – and deliver them to Wilsonville, Ore., as well as other FLIR sites, where they are packaged into the form factor we need for our camera systems. We have a laser facility in Bozeman, Mont., where we design and manufacture laser modules that are options in many of our camera systems." 
Many of FLIR's products rely on camera optics. "We have a very deep capability for design, fabricating and coating optics," Faraudo says. 
Manufacturing many of the key components of FLIR products allows the company to innovate in their design, lower their costs and control their supply chain. However, many of the thousands of components that go into FLIR products are purchased as complete assemblies or as components from various suppliers.
"We have a large number of components that we buy turnkey per FLIR proprietary specifications and drawings, such as machined components, printed circuit board assemblies, and cable assemblies to interconnect internal modules and connect our products to the systems they support," says Robin Tate, director of materials for surveillance airborne products and co-leader of FLIR global procurement. "We make many of our optics internally, while we source some externally, as well. We also source off-the-shelf mechanical, electromechanical and electronic components, such as motors, connectors, fans and bearings."
With FLIR's many divisions in locations distant from each other, such as in Wilsonville, Santa Barbara, Calif., Bozeman, Boston and Sweden, the company tries to consolidate its suppliers.
Besides economies in pricing, this also enables different FLIR sites to share information and sources. "We share best practices regularly among the different locations," Tate reports. "If multiple sites are buying a larger percentage of a supplier's business, you get more of their mindshare. You're more important to them."
Lean Techniques
FLIR's use of lean techniques varies based on the types of products and quantities produced at each location. "We utilize industry-standard practices – point-of-use material replenishment, kaizen events, value-stream mapping and back-flushing – to reduce cycle time and increase efficiency on the production floor," Faraudo says. "We provide critical data to suppliers in advance so they can be prepared for our order. Some of our sites where they have higher volumes and repetitive production have extensive supplier replenishment programs." All FLIR sites use the same enterprise resource planning system.
FLIR also keeps its key supplier teams up-to-date on the next generation of products it is developing. "We count on them to help come up with solutions from a process standpoint to be able to end up with a successful outcome for a complex part," Faraudo says.
At some FLIR locations, a vendor day is held so vendors can tour the facility and review engineering and technology plans for the coming year. "We try to involve our suppliers in our business, since they are critical to our success," Tate declares. "This is just one way of partnering with them."