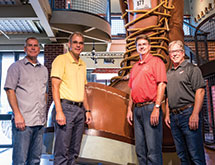 A supply chain, like any other kind of chain, is only as strong as its weakest link. Many manufacturers must depend on the strength of numerous vendors throughout their supply chains to ensure the entire operation is strong. That's not as much of a concern for Red Wing Shoe Company, however, as the company's integrated supply chain maintains tight control over virtually every stage of production. As Director of Logistics Dewey Rothering explains, Red Wing's vertically integrated supply chain makes it unique not only in the footwear industry, but in the manufacturing sector as a whole.
"I would say one of our largest strengths is that we have nearly full integration of everything we do in the company. We source raw material cattle hides which are tanned in our owned tannery, followed by shoe manufacturing in our plants, with finished goods shipped to our owned retail stores and mobile shoe trucks for sale to our many consumers in the United States and around the world," Rothering says. "We are vertically integrated throughout the entire supply chain from beginning to end."
Celebrating its 110th anniversary this year, Red Wing is a family owned, private company in the business of crafting purpose built  footwear and workwear for specific applications. Red Wing boots are in service around the world on factory floors, construction sites, railroads, farm fields, refineries, oil rigs, receiving and shipping docks, as well as hunting, hiking and trail running sites.  Red Wing's workwear can be found protecting oil & gas workers on rigs across the globe.  Having a large portion of its manufacturing in the United States, the company has a global reach with a presence in 110 countries. In addition to its footwear factories in Minnesota and Missouri, Red Wing has long-term footwear manufacturing partners in China, Vietnam, Cambodia and the Dominican Republic; workwear partners in China, Mexico and Pakistan and distribution centers throughout the United States, the North Sea, Dubai, Asia and Europe.
Even though the company's operations are spread around the globe, Red Wing maintains a firm grip on its supply chain thanks to the company's vertical integration. The levels of control and the collaborative culture that integration creates give Red Wing a significant advantage over many of its competitors and is one of the primary reasons why the company continues to enjoy success today. Dave Magness, Senior VP of Supply Chain says that, "Our vertical integration is a competitive advantage for the company.  Although vertical integration results in a higher level of complexity, it enables us the ability to better control our quality, cost and ultimate service to our customers."
All Together
Red Wing's vertically integrated supply chain gives the company a significant amount of control over its entire manufacturing process because it doesn't have to rely on as many outside vendors or suppliers to provide significant inputs into the process. With Red Wing firmly in charge of almost every aspect of the process – from sourcing cattle hides, to tanning, to manufacturing, to  selling in its company-owned retail stores – Rothering says the company knows it can expect the same level of quality in each step every time.  It starts with Bob Hawley, Director of SB Foot Tanning, (A Red Wing Shoe owned company) providing finished tanned leather along with other raw materials procured by Darwin Fox, Red Wing's Director of Planning and Procurement, which is sent onto to Mark Malde, Senior Director of Manufacturing, and then onto Rothering for distribution to retail stores. "We're dealing with the upstream supplier and downstream customer all along the chain… and it is us.  We're all in collaboration to produce the best footwear and workwear in the world," he says. "It's important for all of us to bring our best to each other because we're all stakeholders owned by the same company." 
Malde says the tanning and manufacturing teams meet on a regular basis, which is something that wouldn't always be possible if the company contracted tanning out to a third-party. By getting together regularly, the manufacturing and tanning teams are able to foster a culture of continuous improvement because they understand each other's processes and both work for the same ultimate goal. "We're always looking at how we can improve," Malde says, adding that vertical integration also makes it possible for Red Wing to shift gears faster than many of its competitors. "We can be more responsive to demand changes." 
Senior Manager of Global Footwear Sourcing Jay Tauer adds that having all tanning operations in-house means Red Wing also has absolute control over the quality of the leather it uses in its boots and shoes. Many of the company's products manufactured by its partners in other countries utilize SB Foot leather.  This ensures the best-quality product.
Making Improvements
In recent years, Red Wing has made a number of strategic changes to further improve its supply chain operations. For example, the company recently implemented Foreign Trade Zones for its Salt Lake City distribution center and all of its Red Wing, MN warehouse facilities. "It's a way for us to become much more efficient in building and improving our world class supply chain to better serve our customers," Rothering explains. 
Last year, Red Wing also made substantial improvements to its Salt Lake City distribution center, expanding it by more than 60,000 square feet and updating its equipment. Rothering says this was necessitated by the success of its Irish Setter Work and Hunt product lines along with growth in its Vasque hiking boot line.  All of these products are shipped out of the Salt Lake City location. 
Another successful initiative for Red Wing's supply chain was the implementation of forecasting software from Logility. Through the use of Logility's demand planning software, Red Wing is able to forecast demand down to the SKU level. Prior to the implementation of Logility, the company utilized complicated spreadsheets that weren't able to handle all of the SKUs it had in its product line, Rothering says. 
Logility recently recognized Red Wing for its successful implementation of the software, presenting the company with its Logility SAILS (Superior Achievement Implementing Logility Solutions) Award. At the time of the award, Red Wing Executive Vice President Mark Urdahl said the Logility platform had been a game-changer for the company. 
Another game-changer for Red Wing is the company's recent investment in e-commerce. Prior to this year, Red Wing shoes were available only in stores, but the company recently instituted a direct-to-consumer channel through its website for several of its brands. Although online sales don't yet have the type of volume that would necessitate changes to Red Wing's supply chain, Rothering says the company anticipates needing to adjust soon because its e-commerce presence is growing significantly.
Overcoming Challenges
Keeping American-made products in its offerings is important for Red Wing and its customers, but doing so has become more difficult with the shrinking base of suppliers in the United States and the number of suppliers that have moved offshore. Director of Planning and Procurement Darwin Fox says maintaining the deep-rooted relationships Red Wing has with the suppliers that are left in the United States is crucial. "We need to have high quality 'Made in the U.S.A.' products in our stores to keep our consumers in high-performance footwear built specifically for their work environment" Fox says. 
Despite the challenges that the company faces, the strength of Red Wing's vertically integrated supply chain means it has the capability to weather almost any storm better than its competitors.  Thanks to recent efforts throughout the organization, Red Wing's supply chain has been one of the keys to putting the company on solid footing for the future.