Pirelli Tire North America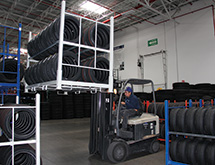 When the rubber meets the road, drivers want tires that they can rely on. They often turn to Pirelli Tire, which has earned a reputation for quality, high performance products, John Godfrey says. "It's a very-well-respected brand globally," he states.
Godfrey is the vice president of logistics for Pirelli Tire North America in Rome, Ga., which serves as the NAFTA region arm of its Milan, Italy-based parent. After more than 140 years in the industry, Pirelli Tire stands as the fifth-largest tire producer in its market, with products for cars, trucks and motorsports.
"We're one of the [world tire] leaders," he says. "We're also very well respected in the motorcycle channel, where we have Pirelli and Metzeler products."
The company manufactures many different tire sizes that are not found "in the lower end of the market," Godfrey says. These include its "marked size" tires, which are made for a certain vehicle or manufacturer, including BMW and Ferrari. "We get a lot of repeat business," he says, noting BMW and Mercedes-Benz tires lead its sales "in the U.S. market."
Getting Closer
Pirelli Tire's current initiatives include increasing its focus in North America, Godfrey says. "We're really looking to gain marketshare and value," he says. "This is a region that's really taking on a renewed importance for Pirelli globally with the growth of our [factory in Silao, Mexico]." 
The company is making a $400 million investment in its facility in Silao, which will be equipped with Pirelli Tire's most advanced technology and product processes. This includes its "Green Performance" project, which is focused on the production of environmentally friendly tires.
According to the company, the Silao facility will create 1,800 new direct and indirect jobs in Mexico. In addition, its production will reach more than 5 million tires annually by 2017.
Pirelli Tire also plans to add a third warehouse in the United States. "We have a one in Georgia and one in California," he says. "We're going to open [the third] in the Northeast next year, possibly in Ohio or Pennsylvania." 
Pirelli Tire also wants to get closer to the end-users. 
"We're focusing less on selling to the wholesaler and selling more to the direct retailer," Godfrey says.
But this can be difficult, he admits. Compared to its work with wholesalers, "You're selling much smaller, but more frequent shipments," Godfrey says. "This can be challenging with lead times, [because] you're selling to a retailer that doesn't buy as many tires."
Bolstering Its Capacity
Pirelli Tire is expanding its reach overseas with a new factory in Indonesia that will bolster its motorcycle tire capacity, Godfrey says. 
"Many of those tires will not be coming to North America," he explains. "They'll be staying in the Asia-Pacific region."
As Pirelli Tire implements new equipment at the facility, its factories in Egypt and Brazil will be updated as well. "They're all getting investments," Godfrey says. 
Staying Flexible
Godfrey joined Pirelli Tire in 2002 and previously spent three years in Italy working for Foster Wheeler Ltd. and Eni S.p.A. He also served as a supply chain management consultant for Accenture.
He credits Pirelli Tire's success to its ability to provide the appropriate levels of service. "Different customers have different service requirements," Godfrey says. "You can't treat everybody the same way. You have to determine what's important and what that customer requires."
The company manages this while maintaining a good cost structure. "It can be difficult to balance that, especially when you've got changes in your market channels," Godfrey admits.
"You have to be very adaptive," he says, noting that the auto industry has undergone many changes since he joined Pirelli Tire 13 years ago. "You have to have rules, but you also have to have flexibility."
When the recent auto industry crisis occurred in 2008, Pirelli Tire closed warehouses and looked at different transportation methods "so that we were providing the same service with basically the same, lower-fixed cost structure," he says, noting that the company once had eight warehouses. "Now we're down to three."
Big Growth
Godfrey sees a strong future for Pirelli thanks to the operation's strategy. 
"We're investing in regions that are seeing growth," he says. "Our original equipment customers are building more technologically advanced vehicles that require advanced tires."
The company also plans to grow its presence in the truck tire market. Its majority owner, China National Chemical Corp. (ChemChina), is working with the company to create Pirelli Industrial to manufacture the tires. "With the combination of ChemChina's truck business and [our] truck business, we're going to be a much larger player in the truck tire market," he states.