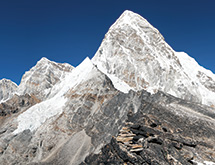 In 1953, Nepalese climbing guide Tenzing Norgay guided Sir Edmund Hillary to the top of Mount Everest. Norgay's experience in the Himalayan mountains, as well as his leadership and other positive qualities, proved invaluable during the historic summit.
Today, more than 60 years after Norgay assisted Hillary's accomplishment, a consulting firm inspired by his spirit and bearing his first name is similarly dedicated to bringing its clients to the top. Founded in 2002, Tenzing Consulting draws on the experience and know-how of more than 500 independent consultants and industry experts worldwide to provide solutions to its clients' biggest operations, supply chain and procurement challenges. 
Tenzing's teams are composed entirely of subject matter experts, which distinguishes Tenzing's approach from traditional consultant firms. "Traditionally, firms put project teams together with the available resources they have on hand, which include everyone from the most senior members of management to people who recently graduated college, so teams might be working with 23-year-olds as well as 60-year-old firm partners," says Thom McLeod, co-founder and managing director of the Pittsburgh, Penn.-based company. "We feel that in order to fix a problem quickly and confidently, your entire team should be experienced."
Building the Right Team
All of the independent consultants within Tenzing's network have a minimum of 10 years of first-hand consulting experience, industry expertise, or both across the value chain from operations through procurement and supply chain operations. The company carefully selects the consultants it works with based on their expertise, work style and other factors, then teams them with complementary consultants to tackle client needs. 
"A typical client of ours might be a global manufacturing executive with a service level performance issue in one of their distribution centers," McLeod says. "Once we understand a client's issue, we will assemble an expert team with the specific industry-, function-, and issue-specific experience that they need to quickly understand the situation and implement practical solutions to the problem. We also make sure that our teams fit together culturally and style-wise – this is very important to us."
The company uses an extensive online database to organize independent consultants by specialty and background. "We know our people well because we recruit them, screen them, and invite them into our network," he adds. "They are not just resumes in a drawer to us, they are our team in every sense of the word. When we search our database to find the right people to help our clients, we can be confident of who we are assigning to the engagement." 
Consultant teams typically travel to client locations for specified lengths of time, but increasingly engage remotely for shorter periods of time, days or even a few hours. "We don't have just one way to solve a problem," McLeod says. "We feel there are as many creative ways to solve a problem as there are creative experts in our network. We use what our experts' experience tells them will work and combine that with what our clients think is best for them."
Tenzing's clients are typically large, billion-dollar national or global manufacturing, retail or service providers with large and complicated supply chains. The company also often works on the behalf of private equity firms. "Investors like that a smaller team of our highly focused experts can go into one of their companies and quickly improve performance working at a peer level with the management team," McLeod says. 
A New Model
McLeod and co-founder, Bill Angeloni, started the company in 2002 after working together at consulting firm A.T. Kearney as well as at FreeMarkets, a pioneer in the use of online bidding in the procurement world. "We had worked together so much and had such an enjoyable career in consulting we decided to start a firm together," McLeod says. "When we were getting started, we realized that some of the best people we ever worked with in previous firms were still out there as independent consultants."
At the time of the company's founding, the independent consultant market began a period of high growth. The ubiquity of cell phones and emerging availability of high-speed Internet connections, made mobile and home office setups easier and more viable for everyone. Many veteran consultants also opted not to work for a single firm permanently after previously being laid off from large consulting firms amid changes to that industry in 2001.  "Our model of working with independent consultants started as a practicality, but has really evolved and worked well for us," McLeod adds. "We began to realize that this could be stronger than the traditional firm model, so we decided to develop it, commit to it, and be the best at it."
The company's success in using an independent contractor-based model has earned it positive attention from clients as well as its peers in the consulting world. "Consulting firms typically don't work well together, but the fact that some of the largest and most prominent consulting firms in the world have partnered with us, trust our capabilities and our ability to serve their clients well is an incredible source of pride for us," McLeod says.
Expertise Demonstrated
Tenzing's project expertise includes consulting on matters from lean manufacturing to distribution strategy and strategic sourcing. "We can pretty much cover any issue in the value chain of a client that involves improving performance, cost and capabilities," McLeod says. 
The company's recent projects include an 18-month-long analysis of a global manufacturer's use of industrial gases within its operations. The client, who spends $300 million annually on industrial gases, engaged Tenzing's team of experts to execute more effective and standardized ways to buy, handle, and use gases. In addition, Tenzing developed better ways to design its fabrication plants to optimize the storage and placement of the gases.  This effort resulted in more than $30 million in benefits to the client.  
Tenzing is also consulting a first-tier automotive manufacturer on the best way to configure its sales and operations planning process (S&OP). This client also approached Tenzing about finding a new supply chain leader for the organization. "Many of our experts possess significant industry leadership experience — we call it having 'sat in the chair.' So, instead of a consultant, we assigned to them a new interim head of supply chain that will both lead the improvement efforts and the client's people while they search for a permanent replacement," he adds. 
Purposeful Growth
Tenzing continues to build its network globally, which is now over 500 experts worldwide. Its network in Europe comprises nearly 50 independent consultants, experts and interim managers.
The company believes in growing its network in an "inside-out and outside-in" manner. "We start with the people we trust, and through them, are introduced to people they know and trust," McLeod notes. "We make sure that everyone we meet has been referred from someone already in our network. This has allowed us to develop a consistent culture and set of values in our network."
Tenzing also recently retained a professional recruiter to find consultants who have skillsets the company currently does not possess.  "When we do bring experts in from outside the network, we do so in a very purposeful way; we may comb through 30 consultants to find two or three that are the best fit," he adds.
The company's purposeful approach has ultimately given it a network of which McLeod and Angeloni take great pride. "Every time I go out to a project or meet one of the consultants in our network personally, I'm amazed at the talent and skill they have," he says. "I sometimes refer to myself as being the 'dumbest guy in the room,' because the talent in our network is far beyond what Bill or I could hope to have."