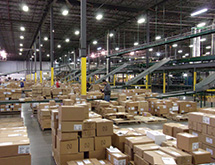 Whether it's a Fortune 500 company or a smaller warehouse operation, transportation is crucial for any business. A company needs to be able to assure customers that the goods they need will be where they need to be when they need to be there. That is why companies of all sizes have turned to Novotran Solutions to provide critical transportation management software (TMS) solutions that meet their every need. Company president Gord Myrah says the company has come a long way from its origins as a provider of freight audit payment solutions in the early 1990s, and the strengths of its people and products have allowed it to grow into a full breadth in-depth TMS solution.
Novotran Solutions' TMS products help customers with virtually all aspects of transportation management, including distribution/shipment planning, shipment execution and freight invoice/cost management. Founded as Kitimat Systems in 1990, that company eventually shifted its focus from freight tariffs and invoices to distribution planning and manifesting solutions. By the end of the 1990s, the company was acquired by a material handling systems company, and in 2011 its employees bought back its intellectual properties and customer contracts, reorganizing as Novotran Solutions.
Myrah says the reorganization has proven to be a boon to the company in more ways than one. "That has given us the independence to rapidly advance the product while retaining the skillset to continue providing great service and software," he says.
Myrah has been with the company since 1995, having joined after spending 10 years serving customers with software solutions for industries such as transportation, waste management, banking and insurance. Co-founder Karyn Maunders, a 19-year veteran of Novotran and director of software operations, is also a driving force behind Novotran's success, ensuring quality of consulting, development, and customer service.
Although Novotran Solutions is far from the only provider of TMS solutions in the marketplace, Myrah says the company's multiple strengths serve to set it apart from its competitors and put it in a strong position in the TMS sector.
People and Products
Myrah says there are two key factors that make Novotran Solutions as successful as it is: its products and its people. "[We have] a strong team of staff, each averaging 20 years of experience with Novotran's solutions in our industry," he says. "That allows us to apply a knowledgeable, experienced perspective when creating solutions for our customers."
"We work with companies that value robust, high-performance, cost-effective solutions with white-glove customer service so that they, in turn, can profitably deliver products to their own customers with the right delivery service at the lowest freight cost."
"Epson America has utilized Novotran's TMS application for more than twelve years," Epson America says. "Our business has experienced significant evolution over that time, and Novotran demonstrates tremendous capability and flexibility to provide the system functions our changing environment requires. We find that any issues are resolved quickly and completely by their highly responsive production support."
Novotran's solutions also deliver virtually any transportation processing need customers require, and can be configured to fit almost any operation. "Our TMS is a multi-carrier, multi-channel, true full-breadth TMS, spanning planning, execution and freight cost management, much more than just manifesting," Myrah adds.
Maunders says, "Our flexible configurability ensures we can tailor our solution to customer-specific needs with little or no customization, including multi-process 3PL operations."
Myrah describes the solutions as "industrial strength," meaning they can be found in high-volume distribution centers running automated processes. "Our combination of full-breadth functionality, stable software and highly responsive service makes for very satisfied customers," he says.
New Ideas
Novotran Solutions continues to look for new ways to ensure that its customers are satisfied, and Myrah says the company is working hard to help its customers keep up with the increasing demand for multi-channel distribution while still keeping their costs down. "Novotran is constantly adapting and creating new technology and new features focused around methods to reduce cost of distribution operations or freight costs themselves, helping customers operate at a lower total cost, whether that is through easier-to-run software, increased automation, transportation optimization or improved value carrier services," Myrah says.
"Novotran has been researching and adopting in-memory database technology for improved throughput and scalability, and we are constantly adding new features large and small," Myrah continues. "We recently invested in greatly expanded planning modules based on our audit-capable, 100 percent accurate freight rates to bring real-world cost savings to optimized transportation plans."
"Our business has grown significantly over the last several years," Hatchette Book Group Executive Director of Distribution System & Strategies Ron Olsen says. "We anticipated that our nightly batch process would become the bottleneck for our throughput. Novotran's carrier selection jobs are a big part of our nightly batch process and we went directly to them with our projected volume increases. As always, the support team was interested and responsive. They delivered improvements that exceeded our new benchmarks, and were ahead of schedule as well. At HBG, we consider the people of Novotran to be valued partners more than a vendor. Our companies work as one team together."
Standing Strong
As the company looks to the future, Myrah says Novotran Solutions knows the key to continued success lies in remaining true to the principles and values that have brought it to where it is today. "We continue to focus our products and services on improving the bottom line by helping customers achieve better delivery service at lower operating and freight costs," he says.