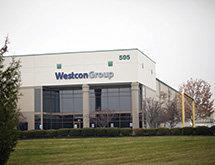 Westcon Group Inc. focuses on continuous improvement in inventory management and strives to provide value-added services as the industry demands more than just pick, pack and ship services. "From a supply chain perspective, vendors and resellers define quality around inventory and shipment accuracy, supply chain visibility and how agile we are," Vice President of Operations Kevin Brzezinski says. "Along with that, they measure how fast we can get a product on the shelf and ship to the end-user."
Celebrating 30 years of supporting its partners, the Tarrytown, N.Y.-based company is a value-added distributor of category-leading unified communications, network infrastructure, data center and security solutions with a global network of specialty resellers. "We have 27 logistics facilities on six continents, the ability to transact locally in 74 countries and deploy products in 191 countries on an annual basis," Brzezinski adds. "We have a very strong portfolio and a very strong brand."
Tom Dolan, Phil Raffiani and Roman Michalowski started Westcon from a two-car garage and it soon became one of the first companies to sign a distribution agreement with a technology manufacturer. It also became one of a number of small, early distributors that changed the way technology products were sold. By 1997, Westcon – which goes to market under the Westcon and Comstor brands – generated close to $200 million in revenues and today generates about $6 billion.
"Over the last three decades, we've evolved from a startup company helping enable PC networking in and around New York City to a global powerhouse of value-added technology distribution and services," CEO Dolph Westerbos says. "Westcon and Comstor have created billions in new commerce – which has grown our customers' and vendors' businesses and improved the lives of millions of people helped by our technology solutions. It is with tremendous pride that we celebrate this milestone in the history of our company."
Valuable Transformations
Westcon has evolved its supply chain in recent years to include value-added services that its customers are demanding. The company adds value by offering full lifecycle services from staging and inventory control to asset management. "A full lifecycle of services adds value and that's really how the industry is changing," Brzezinski says. "It's all about where you can add value to that product and not just about the traditional pick, pack and ship."
Westcon recently implemented SAP at its Asia-Pacific and North America logistics operations to improve inventory management. The inventory management system allows the company to monitor the flow of products into and out of the warehouse. "We transitioned the business from a reorder point to more of a forecasting and supply chain planning process," Brzezinski explains. "By implementing SAP, that's really to connect our business globally and now focus on business improvement."
SAP has helped Westcon operate more efficiently and improve its processes. "It used to take 24 hours or longer to receive a product and now we receive it in four to six hours," Brzezinski says. "We are trying to get to best-in-class so we can receive the product in four hours, get it on the shelf, draft an order and ship it in the same day. We have a more competitive model that drives more orders and more sales revenue."
Westcon has increased productivity by about 40 percent after re-slotting inventory in its warehouses. The company looked at sales velocity and re-slotted products based on how much and when the product is ordered. Now that the company has all the fundamentals of SAP in place, it is working to implement these practices at all of its locations. "We are standardizing our process across the globe so that we all do the same thing and customers come in and see the same thing at any location," Brzezinski adds. "We want to create a flawless experience."
Tools for Improvement
To continue increasing efficiency, Westcon is automating a number of its processes, including work with switches and routers that it previously had technicians and engineers performing. Automation has lowered cost, reduced cycle time in the supply chain and gets products out faster. "We reduced lead time to four hours," Brzezinski says. "For example, we used to do 25 phones in a day and now we can do 20,000. That's the transformation. We were scaled to do 10 routers and switches, and now we are doing 1,000 routers and switches in a day. To quote our CEO, 'It's revolutionary.'"
Westcon is also upgrading its e-commerce and customer relationship management tools, as well as cloud technology. The company in 2014 acquired Verecloud Inc., the developer of an advanced channel distribution platform for cloud and services solutions that processes millions of concurrent transactions in real-time, including subscription and usage-based services.
The platform formed the foundation of Westcon's cloud digital distribution solution that is designed to help value-added resellers generate significant revenue from cloud-enabled services. "Our services distribution solution sets us apart from the industry, hence we decided to 'in-source' that intellectual property through this acquisition," Westerbos said. "Coupling our channel cloud enablement services with Verecloud's acquisition will position WestCon Group Cloud Solutions to drive the business models of tomorrow."
Increasing Visibility
In addition to software tools, vendors are key to inventory management and Westcon maintains long-term relationships with them by remaining in constant communication and hosting regular meetings. The company keeps a vendor scorecard to rate how well they are performing and provide feedback. "We classify our vendors by what they bring to the table, but all of them are extremely important," Brzezinski notes.
"Our largest vendor is Cisco and we constantly communicate with our Cisco partners through the entire supply chain process," Brzezinski explains. "We changed one of our carriers out in Houston because we were having erratic issues with the carrier and Cisco. We worked with the Cisco team and consolidated, so now we do constant, daily runs from Houston. We consolidated and improved visibility into our logistics centers and supply chain."
Westcon is driving visibility into its supply chain by enhancing SAP and e-commerce tools, going further into the supply chain with its vendors and improving its connectivity to vendors through application programming interfaces. "We are getting good lead-time, doing total lead-time analysis, and focusing on time in transit and logistics operations to ensure our lead times are accurate," Brzezinski says. "With greater visibility through e-commerce tools we can provide a more accurate experience."
Moving forward, he says, Westcon will continue to operate with good working capital, a focus on inventory management and provide more vital information that will take the company to the next level.