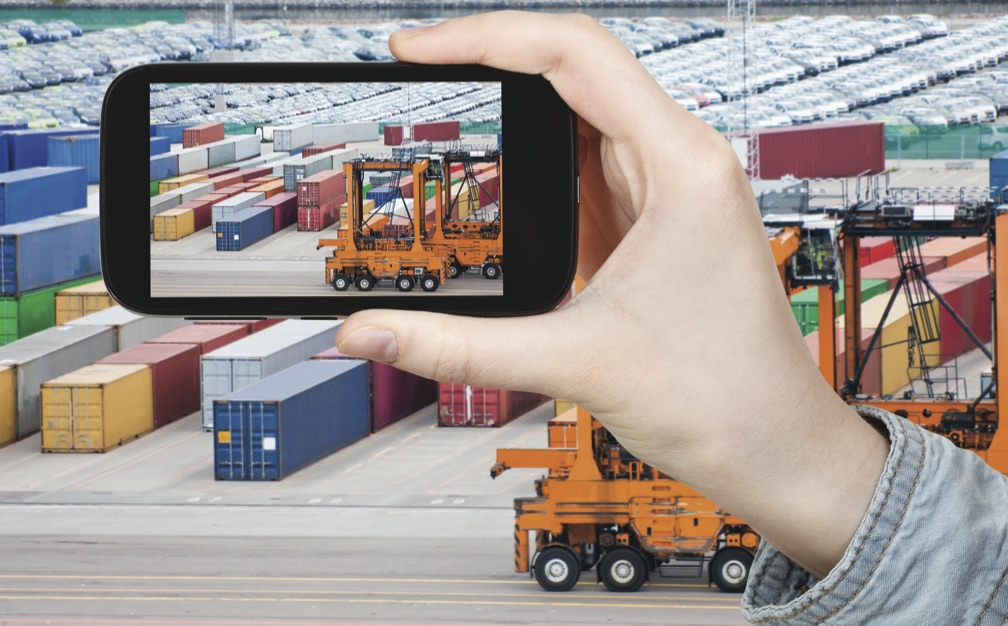 Technology services firm Tribridge assists its clients in choosing the best solutions that support their unique business needs.
By Jim Harris
Companies have no shortage of options when it comes to available technology. However, while there may be a number of products on the market that seem to fit the bill in a broad sense, finding a solution that fits a company's specific business needs can be challenging. More manufacturers, distributors and retailers are looking to enterprise resource planning (ERP), consumer relationship management (CRM) and cloud-based storage options to help them address the challenges of doing business in today's economy.
Since 1998, Tribridge has provided visionary leadership and technologies to help make their customers' operations streamlined through the optimization of supply chain visibility and best-in-class manufacturing and distribution process and procedures. The company's value add is its years of consulting in functional areas including business and technology, customer engagement, finance and operations, business intelligence and analytics and human capital management.
"We're not the only people in the world reselling Microsoft products," says Matt McNulty, the company's senior director of consumer and industrial products (CIP). "What makes us unique and a go-to partner is not only the ability to find, recommend and implement solutions that offer the best value to the customer but also make sure they get the best performance out of that investment. This not only includes software but also the cloud strategies necessary to take these companies to the next level."
For manufacturing and distribution companies, Tribridge – Microsoft's Partner of the Year for multiple years running – offers not only Microsoft's full line of products, but other partner solutions it has developed in-house specific to industry needs. Tribridge also partners with Concerto Cloud Services for its cloud strategies. Concerto's governance, compliance and security architectures are customized to meet and exceed industry requirements, with high system performance and data integrity. Concerto Cloud offers powerful private and hybrid application platforms that help organizations gain the agility and flexibility needed to improve and scale the performance of mission-critical applications.
An Experienced Team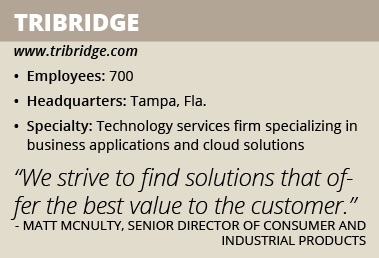 Tribridge has more than 4,000 customers and services mid-market and enterprise companies globally across all business lines, with specific solution expertise in consumer and industrial products, healthcare, professional services organizations and the public sector, which includes state and local government and public safety agencies.
The company has a practice dedicated to each of these sectors. McNulty leads the CIP group, which makes up a large percentage of Tribridge's customer base. McNulty's professional background includes 20 years in the consulting and professional service fields, with a heavy emphasis on supply chain activities. During his career, he has worked with firms ranging in size from Fortune 100 corporations with large and complex global operations to small businesses, he notes.
McNulty's industry experience is in line with that of many of his team members. Tribridge hires experts with industry pedigrees for its practices and regularly provides them with training and development opportunities. "What sets us apart is that we've made a conscious decision to create a team of people focused on consumer and industrial products," he says of his team. "We hire people with 10 to 15 years of experience – industry veterans with experience on the shop floor or in procurement that have real-world experience and understand the trials and tribulations our customers go through on a daily basis."
The consumer and industrial products team, like all of Tribridge's industry practices, applies its industry experience and knowledge directly to its work with customers. "Our customers expect us to know their business, first and foremost," McNulty says. "Their No. 1 expectation is that we can deliver on what we sell, from a quality perspective. They want measurable results and a return on the investment they are making."
Tribridge's experienced team helps customers identify their business and manufacturing objectives and requirements, and configures their delivered solution to meet these requirements by partnering with its customers throughout the implementation process and manages the complete product lifecycle from engagement and deployment to support. "We've been successful in our ability to deliver value along with implementation," he adds. "We are able to see where inefficiencies exist that have grown within a customer's business and work alongside them to see how to address those inefficiencies."
Future Growth
Tribridge is evolving its consumer and industrial products group, as well as its other industry-specific teams by examining industry trends such as automation, machine learning and the Internet of things, and developing additional technology products around these trends.
"We continue to look for ways we can improve our business and the solutions we offer to our customers, including the development of additional intellectual property," McNulty says.
Ingenuity and entrepreneurial spirit continue to drive the commitment to provide exceptional service and support, drive measurable results and build lasting partnerships with its customers.