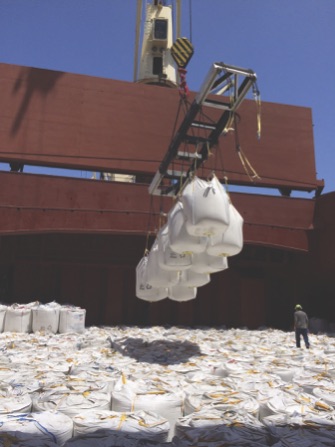 Understanding customers, a strong supply base and an exceptional team drive growth for CSC Sugar and Sugaright. By Eric Slack
For more than 15 years, CSC Sugar has been a leader and innovator in sugar trading, distribution and refining. CSC Sugar introduced Sugaright to the food industry in 2009, which was immediately accepted by several major food companies due to an innovative approach to sustainability, logistics and cost management. In 2016, the refining division had evolved enough to establish it's own corporate identity as Sugaright LLC.
"We asked the industry to change the way they thought about liquid sugar and they did," says Paul Farmer, CEO and founder of CSC Sugar. "We offered a variety of liquid sugar colors as an alternative to water white liquid sugar, giving the customers what they need. Additionally, our micro-refinery strategy allowed us to build our refineries quickly, efficiently and in close proximity to key customer locations."
Today, Sugaright has micro-refineries located in Fairless Hills, Pa., Covington, Tenn., Fort Worth and El Paso, Texas, and Chicago, Ill. In support of these sites, it has logistics operations in Cordoba and Juarez, Mexico, with port operations in Houston, Memphis, Chicago and Philadelphia.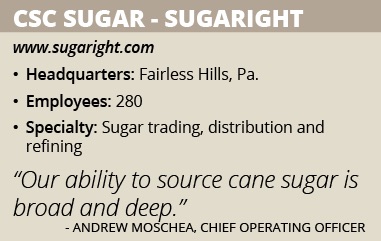 Focal Points
Sugaright says there are three key sourcing and supply chain activities that provide a competitive advantage: diversification of sourcing options to minimize risk associated with changing government trade policies, sustainability concerns of customers and increasing demand for non-GMO cane sugar.
To help deal with changing government trade policies, Sugaright sources sugar from Mexico, Central and South America where it has long-term and highly valued relationships with suppliers and supplier organizations. It works closely with these mills to produce sugar that is conducive to effective processing in its refineries, reducing costs and improving throughput.
"Our ability to source and process cane sugar is broad and deep," says Andrew Moschea, chief operations officer.
As for sustainability, Sugaright understands that Bonsucro and Fairtrade are the standards that its customers are demanding. That is why Sugaright has made a major commitment of resource to communicate to supplying mills the importance of taking the necessary steps towards meeting those defined indicators.
"We have also encouraged other end users of sugar to make similar commitments to drive transformative change where it is needed most," Director of Sustainability Diane Stevenson says.
Then there are the non-GMO requirements, which has forced food companies to either remove GMO ingredients or label them. In the sugar world, almost of the sugar beets grown in the U.S. are GMO, whereas all cane sugar is non-GMO. This has increased the demand for non-GMO sugar and lowered the demand for beet sugar.
"Since we have a significant source of cane sugar in our supply chain, we can meet the non-GMO requirement for customers who need it," Stevenson says.
Ongoing Evolution
Aside from the technology, significant investments have been made in people processes and resources in recent years. In 2014, the company transitioned all of its U.S. production employees from temporary status to full-time employees of Sugaright. Although the cost was significant, it has enabled the company to introduce organizational stability, establish a learning organization and accelerate growth while exceeding industry safety and quality standards.
"Employees now feel valued because we invest in their development, and our attrition has been dramatically reduced, driving safety and productivity improvements," Moschea says. "Over the past two years, we have built out our leadership team with industry leaders in each function. This has helped us create the informed, collaborative culture, one much more poised for profitable growth."
As the company has transitioned from start-up to a sustainable, standalone business, Sugaright went through a typical leadership transformation. New functions were necessary or enhanced, such as in safety, logistics and finance. In other cases, as the company evolved, the type of leader/employee changed, requiring different skill-sets in some cases.
"Although we have invested heavily in new refineries and expanded decolorizing capabilities, the key has been in the quality of the good people to whom we have entrusted the business and the employees who aspire to excel every day," Moschea says.
Sugaright's operational strategy going forward will be driven by increased flexibility resulting in expanded optionality incoming supply, while controlling costs and preserving customer service and quality standards. The flexibility will provide the company's trading team with optionality of source sugar qualities, which in turn will provide the opportunity to persevere in the face of changing geopolitical and trade environments.
Food and beverage companies will need to adapt to the ongoing fragmentation of the consumer space caused by the non-GMO/GMO paradox. Sugaright's ability to service customer needs efficiently, be it omnibus supply or non-GMO, will be key to its business expansion. The company believes in the end consumer will determine what is best, GMO or non-GMO, and ultimately how they choose to spend their food and beverage dollars. Being flexible on sourcing and processing will permit Sugaright to compete in both GMO and non-GMO space.
"Simply, our service motivation is to give our customers what they want, when they want it," Moschea says. "At the same time, many food and beverage companies are looking for ways to provide the customer with an equivalent or better experience, while reducing input costs. We intend to provoke curiosity about the real amount of sugar processing their products really require. Our business model and process, by nature, uses less of everything, which presents the customer with favorable economics. On top of that, the process is conducive to a leaner, more nimble organization and entrepreneurial culture that can adapt quickly to changing customer needs."
Among the major priorities for Sugaright is to continue to attract customers who see the company as long-term partners in their businesses. That means creating value by delivering excellent customer service, high quality liquid sugar, and a guaranteed supply at a reasonable price. Most of its first customers continue to be the company's largest customers today, as it has been able to grow and adapt according to their needs.
At the same time, Sugaright's biggest challenge going forward is balancing its growth with the overall company performance. Its customer community is hungry for a supplier that is flexible and capable of servicing them, within reason, when and how they want to be served.
"Our customers are beginning to look at our micro-refinery concepts and question whether we can be more than a one ingredient company, harnessing our operational and logistics capabilities," Moschea says. "We are fully staffed for growth with a high caliber team and efficient operations. We are a company that prides itself on its entrepreneurial and innovative spirit, so we are excited about new opportunities ahead."