Proprietary software and vendor reviews help HealthSouth realize substantial savings in its supply chain. By Russ Gager
Rapid growth and innovative systems are keeping supply chain savings high at HealthSouth. The provider of post-acute rehabilitation healthcare services has expanded into home-based patient care through its acquisition in 2015 of Encompass Home Health and Hospice. Further expansion followed with the acquisition of Reliant Hospital Partners in October 2015, a chain of 11 inpatient rehabilitation hospitals.
The current total for HealthSouth is 122 hospitals in 29 states and more than 200 home health/hospice locations, covering a total of 34 states and Puerto Rico. "We have a presence from California to Maine to Puerto Rico and in between," National Director of Operations Support Elaine Prince says. "We've got a large presence in Texas, over 20 hospitals, and a big concentration in Florida and Pennsylvania. We operate where the patients need us."
With this many locations, supply chain savings can be substantial. HealthSouth has been saving from $7 million to $9 million each year of its approximately $200 million annual spend in the supply chain for the last few years. "We started out with savings of $4 million to $5 million a year," Prince recalls. "As we've gotten more aggressive and more clinical buyoff, we're seeing larger savings."
Prince's nine-person supply chain department manages a proprietary online catalog called SmartSystem for the company that highlights preferred products in green and products that are not recommended for purchase in red.
"We have over 90 suppliers now that are in our catalog and over 60,000 products," Prince calculates. "We have over 98 percent pricing accuracy." Purchasing is handled by non-supply-chain employees at each location. "Each hospital has at least one purchaser whose daily function is to actually place the orders and do the receiving and stocking of shelves, but we provide the guidance from a supply chain function," Prince says.
Hospitals are free to purchase items that are highlighted in red in the online SmartSystem catalog. "Our 'red spend' is less then 4 percent in aggregate across our hospitals," Prince says. "When products are purchased, the controllers at each hospital have to approve every purchase order."
Usually, the controller inquires with the person ordering a red product at the hospital why it is necessary. Such spending can alert the supply chain to a problem that might involve green products being on back order or clinical issues with them.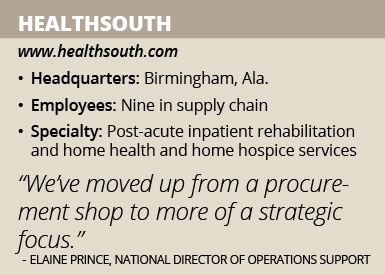 Busy People
The SmartSystem is managed by supply chain employees trained in analytics. They also manage the SharePoint site on which the supply chain department communicates with those doing the purchasing at individual locations and on which user surveys of key suppliers are done. "We slice and dice our data to look for opportunities ," Prince says. "These are our Beacon management tools, which are a host of applications pulled from a central data warehouse that our hospital leadership uses to trend, analyze and benchmark key metrics."
Other supply chain employees work on contracts with vendors and HealthSouth's group purchasing organization called Vizient. Another employee group performs value analysis. These employees sit on more than seven leadership boards including ones for leadership, nursing, infection control, wound care and pharmaceuticals that evaluate products or services.
The final group of people in the supply chain department helps provide day-to-day customer service to hospitals. Some people are responsible for more than one function. "It's a good group of folks," Prince declares. "We've moved up from a procurement shop to more of a strategic focus. We've got people with engineering and business backgrounds that are really more creating processes rather than people that historically only had a purchasing-type background."
In April, HealthSouth evaluated its medical distributor, which it usually does at least every three to five years for most of its vendors.
HealthSouth also evaluated its distributor of pharmaceuticals, on which the company spends more than $50 million annually. "We were able to bring some good financial savings to our hospitals and stay with our current distributor," Prince says.
She plans to evaluate new categories, such as mobile imaging and transportation services. With growth in the rehabilitation market from aging baby boomers and the emphasis on providing a continuum of care with the home health and hospice segment – which the Encompass Home Health and Hospice acquisition brings to HealthSouth – Prince sees much growth in HealthSouth's future.