Using its technology and expertise, DataSolutionsCorp can help its healthcare clients get a better handle on their inventory. By Eric Slack
Thanks to a keen focus on the healthcare industry, DataSolutionsCorp (DSC) is able to work with hospitals, medical centers and surgical centers in measuring and monitoring their consumable inventory. DSC is able to help hospitals and medical facilities with their inventory needs because it can help them to understand, identify and control supply chain costs by performing a clinical data capture of inventory. Additionally, its follow-up comparative analysis services help customers to identify risk factors, costs savings and learn how to better manage stock locations.
"Our company's background is outside of healthcare, but we have committed ourselves to healthcare inventory," President and CEO Jim Jones says. "Our people are trained in the clinical areas of hospitals."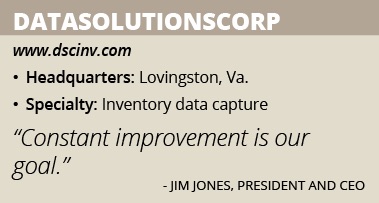 DSC's services are critical for healthcare organizations that are looking to get better control on cost of inventory in all areas including ORs, cath labs, PACU, ASU, anesthesia, IR labs, labor and delivery, SPD, pharmacies and all other clinical supply areas. Additionally, Owens & Minor has chosen DSC as an exclusive provider of physical inventory and data capture.
The process may seem daunting, but DSC has everything under control. Upon receiving a client's current item master files, it can begin conducting a data capture and count. Typical inventory counts for a medium-sized hospital take one or two days, but the company can staff accordingly depending on the needs of the client.
"The easiest part is counting, and the benefit is the comparative analysis we can provide for customers," Jones says. "We can help them to get a baseline that is accurate, and our comparative analysis can show where the gaps are and help clients work with suppliers and determine where they need to focus."
Reports listing unpriced items and items not on file are provided daily throughout the inventory, with final reports including in-depth analysis of the entire inventory sent within 72 hours of completion of the count. Reporting for perpetual inventory areas are usually provided the same day, and an executive summary is provided after all reports are reviewed by the client.
The in-depth analysis report allows clients to view data for all items within each department and cost center, within each storage area and procedure room, in each section, in multiple locations, and by manufacturer.
DSC also captures both consigned and owned inventory, and its proprietary software allows for consigned items to be flagged and segregated in the analysis report. DSC works with customers on updating pricing and not-on-file (NOF) information, too.
"Technology will continue to improve, and we will continue to grow based on our performance," Jones says. "Our people can help hospitals improve and work on supply chain issues."